Haunted House Summertown Tennessee: McKamey Manor Waiting List Details and How to Visit the Scariest Attraction in America
Halloween is approaching and it's that time of year when you might be up for a little scare at a funfair haunted house or otherwise frightful attraction.
But there are haunted houses and then there's McKamey Manor. The former would seem like a walk in the park compared to the disturbing horror the latter has come to be known.
Deemed to be America's scariest attraction, visitors on a tour of McKamey Manor are willing to be physically, psychologically and emotionally tortured in any number of ways from being chained, dragged and slapped to being buried alive by several actors playing a part in the tour.
The scary antics that unfold can be so unbearable that all visitors are said to be allowed a safe word to stop the tour at any point and are required to sign a detailed 40-page legal waiver and must comply with a host of strict rules (including completing a sports physical and having an official medical note from a doctor stating you are mentally and physically cleared to participate) "for your own safety and the safety of the other guests," the McKamey Manor website states.
Created in San Diego by Russ McKamey, who claims to have a military background of 23 years, the McKamey Manor tour was first launched on the grounds of his San Diego home. It has since been launched in Summertown, Tennessee and Huntsville, Alabama, with the San Diego branch now permanently closed.
McKamey has introduced several tours since as far back as 2014 but the latest incarnation of the tour is titled Desolation. Among the legal requirements to do the Desolation tour is to watch one of the company's latest films which paints a graphic picture of what the experience entails, featuring footage of previous visitors attempting their way through the house (every person is filmed during every tour). The film claims to show actual clips from every visitor's experience at the Summertown outpost from July 7, 2017 to August 3, 2019 and every visitor will be quizzed on the content in the video before the tour in order to be sure they have watched the nearly 2 hour-long film..
The latest tour is said to be very different from previous tours and a lot more psychological and tougher, McKamey notes in the video.
"Desolation is truly frightening in a different kind of way. There won't be any rough stuff in terms of a physical way, as it's a much more "isolated, desolated tour...it's all about abandonment," he adds.
The movie shows various guests in the heat of the action, subjected to all manner of torturous, gruesome and painful situations followed by the moments when they succumb to giving up on the tour, saying they quit and "you really don't want to do this" which are said to be the words everyone who quits must recite at the moment of their surrender.
One unnamed visitor screamed (having a wet pile of mud thrown over his face and body while blindfolded): "I really can't handle getting buried alive. I don't like it at all. I don't want to be here...don't go, don't sign up."
So why would anyone in their right mind want to go through such a horrific experience? Curiosity? Masochism? Cheap thrills?...since the tour doesn't require a fee (apart from a bag of dog food which is said to be donated to a local dog charity) but donations are welcome. Perhaps a combination of all, but those brave enough to give it a go and successfully complete the tour will also be awarded with $20,000, according to the company.
"In my opinion, Mckamey Manor is the best haunted attraction in the world! It's tough, but still fun. Russ McKamey has a lot of talent at creating some of the most genius stunts I have ever experienced. At one point my body was pushed so hard I had hallucinations and that's not easy to do," Jamie Tuck posted on Facebook, according to the McKamey Manor tour video.
Guests up for the challenge need to fulfill a list of requirements, as listed below on the website:
21 and above, or 18-20 with parents approval.
Completed "Sports Physical" and Doctors letter stating you are physically and mentally cleared.
Pass a background check provided by McKamey Manor.
Be screened via Facebook face time or phone.
Proof of medical insurance.
Sign a detailed 40 page waiver.
Pass a portable drug test on the day of the show.
It's unclear exactly what the aforementioned background check entails but McKamey notes in the video: "I do need to know what you're about because every show is different. And I will make your show specific to what you can or cannot do."
It has also been alleged that McKamey chooses "the weakest ones" during this screening process, according to a post by Akephalos on a thread about the attraction on the online forum Reddit.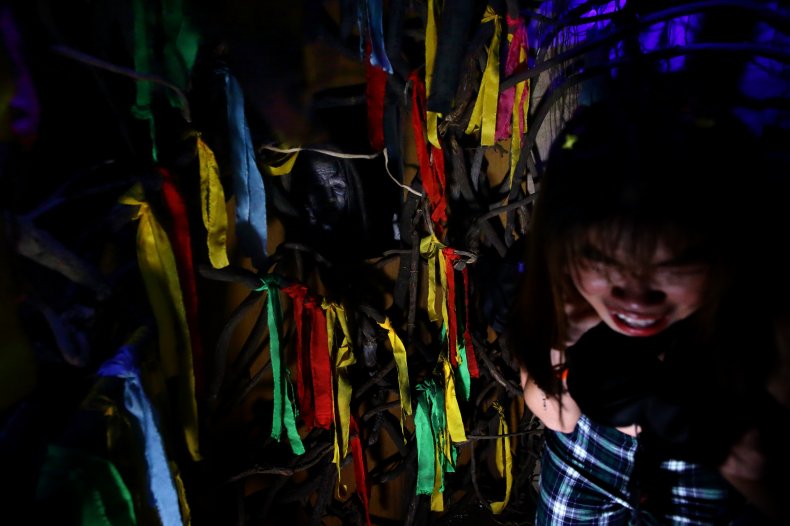 "Russ puts every applicant through a series of interviews and such before picking the right people that he can torture. He most definitely chooses the least likely people to cause trouble after the fact. He chooses the weakest ones that he and his buddies can break in a way that makes them completely submissive to him," the user said.
"These dudes are literally there to break you until Russ decides you've had enough. As the victim you **do not ** get to decide when you've had enough. Russ basically calls it when he thinks they are a tad too close to actually killing you. It's said that they also stop when they've broken you psychologically, but I've never seen it not go past the person's breaking point.
"When Russ thinks they've had enough, and only then, as there is no safe word and no actual way for the victim to put an end to it short of dying, then they are released. Everyone puts on a happy face and they are free to go," the user added.
It's also unclear whether any guest has ever required medical help on site during the course of their tour or if there are safety measures in place should anyone be in need of medical attention on site.
While the dramatic scenes portrayed in the film are difficult to watch, some of the most horrifying moments are claimed to have been omitted from the video, according to a previous guest. Back in 2015, Amy Milligan alleged she was waterboarded, forced to lay down in a pool of water with a cage over it and with her hands tied, while the actors repeatedly pushed her head under water, with her long hair wrapping around her neck and choking her.
"I'm going to die here," she told The San Diego Union Tribune she recalled thinking.
"I'm going to drown. My hair is wrapping around my neck and I start freaking out. I'm telling them I can't breathe and they're just laughing and doing it more," she added.
Reddit user Akephalos also makes a similar allegation: "The victims are subjected to acts including, but not limited to, beatings, choking, cutting, ingestion of foreign substances, forced vomiting, and waterboarding.
"All of this is filmed and heavily edited, as Russ only releases footage that wouldn't harm his operation. The edited video footage is then ONLY released if the victim looks into the camera and makes a speech written by Russ about the operation and how everything was voluntary. If they refuse the speech at the end of the video then the footage is not released. This forces a choice on the victim to either be cooperative, say what needs to be said, and then have what happened *mostly * on video, albeit edited, as proof, OR not be cooperative and therefore not be filmed saying that they were okay with everything that happened, BUT the video is never released by Russ and therefore there is zero proof that they even touched you," the user added.
McKamey has denied the waterboarding claims made by Milligan. "We do not water-board, we do not even kind of water board," he said. "It's psychological what we're doing. They're safe all the time," he told The San Diego Union Tribune.
The attraction is 1,000 percent transparent about what visitors to the manor can expect on this tour, McKamey claims in the video.
To date, no one has completed any of the McKamey Manor tours and the longest ever anyone has lasted was said to be about 6 hours. But the appetite for the challenge is reportedly growing, having gone from 24,000 in 2014 to 27,000 in 2015, according to Fast Company.
Newsweek has contacted McKamey Manor for further comment and more information about the tour.