Halloween Movies on Disney+ For Those Who Don't Like Horror Films
Halloween is by and large seen as a time for kids, and yet most horror movies are full of blood, guts and other adult content. Luckily, however, Disney+ U.S. has plenty of movies that are spooky rather than scary ready for families (and anyone who wants to get into the Halloween spirit without being terrified) to watch this October. From established classics like Hocus Pocus to weirdo oddities like Mom's Got a Date with a Vampire, here are some great Halloween pics who kids and the horror-verse.
10 Halloween movies to watch on Disney+
Frankenweenie
Tim Burton is the confirmed king of Halloween, with his movies like Edward Scissorhands, Beetlejuice and The Corpse Bride high on many viewers' October rotation. Disney+ offers one of his more recent spookier selections, Frankenweenie. A remake of his own 1984 short film, the movie is a fun Frankenstein parody that sees a boy bring his dead dog back to life.
Halloweentown
If you were a child any time in the '90s, you have seen Halloweentown on heavy rotation. For a Disney Channel Original Movie from that decade, it has some high-wattage talent working on it, with Return of the Jedi editor Duwayne Dunham directing and screen icon Debbie Reynolds playing a grandma with a secret witchy secret.
The Haunted Mansion
Remember the time when Disney's trick to force money out of our pockets was not making bad live-action remakes but turning Disneyland rides into movies? The Haunted Mansion comes out of that, with Eddie Murphy playing a realtor trying to see the eponymous spooky house. Though panned by critics, kids may get a kick out of the slapstick specters in the movie.
Hocus Pocus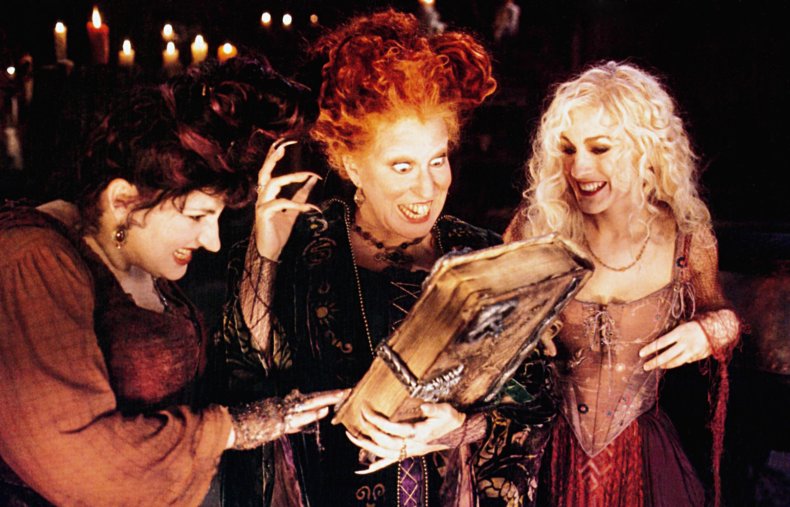 Depending on how old you are, Hocus Pocus is either a beloved Halloween classic or a sign of everything that is wrong with the tastes of millennials. The former group is winning, however: A recent reissue of the movie became a surprise cinema smash, but those still a little scared to head to theaters can watch the Sarah Jessica Parker and Bette Midler witch comedy on Disney+ this October.
Maleficent
The witchiest of the Disney live-action remakes and one of the better ones (though that's not a high bar), Angelina Jolie plays the famous Sleeping Beauty baddie with a villainous glee in a look that has launched a thousand Halloween costume imitations.
Mom's Got a Date with a Vampire
One of the joys of Disney+ is discovering oddities from the Disney vault that were completely forgotten until their streaming debut. Alongside bizarre curios like Mr. Boogedy (another Halloween pick), The Million Dollar Duck and The Shaggy D.A. is Mom's Got a Date with a Vampire starring Sabrina the Teenage Witch's Caroline Rhea as a woman whose new romantic suitor really sucks...blood.
Monsters Inc
Monsters Inc might not seem like a Halloween movie, but it's about monsters who live to collect screams from children, which in other hands, could be generally terrifying. In Pixar's hands, however, it is a pure delight from the time where the studio was incapable of putting a foot wrong.
The Nightmare Before Christmas
Debate rages about whether The Nightmare Before Christmas is a Halloween or Christmas movie, but the only answer is to watch it both in October and December. Directed by Henry Selick (whose creepy James and the Giant Peach is also a good watch this month on Disney+) and produced by Tim Burton, as one of its songs goes, "this is Halloween."
Pirates of the Caribbean: The Curse of the Black Pearl
"You better start believing in ghost stories: YOU'RE IN ONE." Curse of the Black Pearl combines the Halloween costume classics of ghosts and pirates and puts them together in one thrill-ride of a movie that for better for worse gave us Johnny Depp as we know him today in an Oscar-nominated (!) performance.
Return to Oz
....Actually, this one might be genuinely horrifying. A 1985 sequel to the beloved Wizard of Oz, the movie takes the pure delight of the first one and somehow manages to make it inadvertently terrifying and bleak, with an MTV article about the film calling it "the most potent nightmare fuel possible."