Halloween Music: A Spooky Party Playlist, Featuring 'Monster Mash' and Other Classics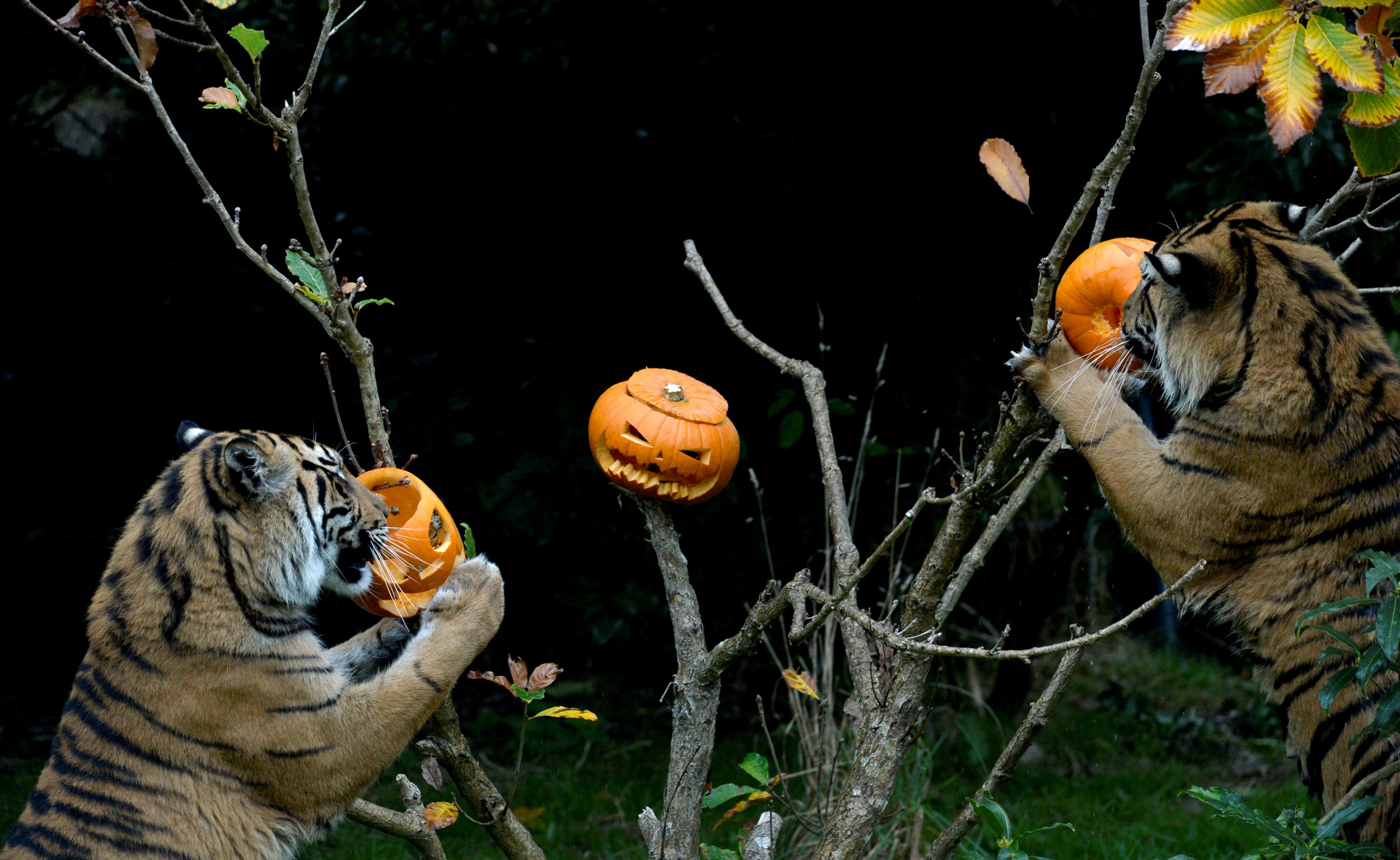 Are you planning a Halloween party? Put down those novelty sound effects CDs. We've made a spooky, genre-bending playlist for you to use. It's the Halloween playlist to end all Halloween playlists.
Note: You can listen to this entire song list as a Spotify playlist here. Feel free to use that for your party.
1. "Monster Mash" by Bobby "Boris" Pickett (1962)
You know it, you love it, and if you don't, stop reading this immediately and seek medical care. Bobby Pickett couldn't have imagined that his 1962 graveyard smash would still be a beloved staple of Halloween parties 55 years later, but some things are just immortal.
2. "Season of the Witch" by Donovan (1966)
A macabre psychedelic classic by the then-20-year-old folkie Donovan. The guitar accompaniment is by a then-unknown session guitarist named Jimmy Page.
3. "Halloween On The Barbary Coast" by The Flaming Lips (1992)
This Flaming Lips Halloween tribute is characteristically surreal, with bizarre imagery ("Well, the clowns roll in / And the line never ends") and a piercing guitar riff by Jonathan Donahue. It's loud, psychedelic and scrappy, like the best of the band's pre-fame music.
4. "Thriller" by Michael Jackson (1982)
Creaking doors. Howling animals. Thunder and lightning. A zombie nightmare of a music video. A spooky monologue by Vincent goddamn Price. Michael Jackson truly went all the way with this horror-themed epic. Weird but true: The song was initially supposed to be titled "Starlight," which doesn't have the same ring to it.
5. "Waking the Witch" by Kate Bush (1985)
Hounds of Love, Kate Bush's 1985 masterpiece, was intended as a loose concept album in which side two represented the tormented inner monologue of "a person who is alone in the water for the night" and trying desperately not to drown. Not exactly typical '80s pop fare. This track, reportedly inspired by an eerie 1958 novel called The Witch of Blackbird Pond, is an unsettling piece of hallucinatory terror.
6. "Smooth Criminal" by Michael Jackson (1987)
Did Michael Jackson write songs in the horror genre? His estate would like you to think so, considering it is releasing a Halloween-themed compilation and CBS special this month. "Smooth Criminal" chronicles a domestic sort of horror: the horror of the violent intruder. For more on this, see our 25th anniversary tribute to Bad.
7. "Burn the Witch" by Queens of the Stone Age (2005)
'
Not to be confused with the Radiohead song of the same name, this track has a sinister blues stomp to match its Salem-themed lyrical subject ("Burn the witch / Burn to ash and bone").
8. "Zombie Dance" by The Cramps (1980)
The album is called Songs the Lord Taught Us, but don't be fooled: This is not Christian rock. It does feature one of the finest couplets of the early punk era: "They tap their toes / But they don't get sweaty / They don't give a damn / They're done dead already."
9. "I Was A Teenage Werewolf" by The Cramps (1980)
Same band, same album, different macabre nightmare. Love those hysterical howls near the end.
10. "A Nightmare on My Street" by DJ Jazzy Jeff & The Fresh Prince (1988)
Will Smith included this lovably goofy tribute to A Nightmare on Elm Street on his second album and got himself sued for copyright infringement. Oops.
11. "This Is Halloween" by Marilyn Manson (2006)
When mainstream artists record a horror-themed song, it often turns out to be their darkest or most disturbing material. Not so for Marilyn Manson: This cover of the Nightmare Before Christmas tune is one of his most lighthearted and tongue-in-cheek recordings to date.
12. "Halloween" by Sonic Youth (1985)
Bad Moon Rising isn't really a party album, but this song is creepy as hell and references the devil and is named "Halloween," so we're inclined to include it.
13. "Red Right Hand" by Nick Cave and the Bad Seeds (1994)
Nick Cave delved even deeper into the macabre on 1996's Murder Ballads, but he never made a song more delightfully creepy than "Red Right Hand." There's a reason it was used in three separate Scream movies. Other good Halloween-appropriate songs from Cave: "Up Jumped the Devil," "Song of Joy," "Jack the Ripper."
14. "The Devil" by PJ Harvey (2007)
PJ Harvey captured ghostly Victorian terror on the 2007 album White Chalk and this opening track in particular.
15. "Werewolf Bar Mitzvah" by 30 Rock (2007)
BuzzFeed has crowned this novelty 30 Rock classic the "greatest Halloween song of all time," and who are we to argue?
16. "Reagan's Skeleton" by Yeasayer (2012)
This 2012 Yeasayer track envisions a right-wing nightmare in which Ronald Reagan's reanimated skeleton leads an army of the undead. Let's, uh, not give Trump any ideas.
17. "The Purple People Eater" by Sheb Wooley (1958)
The oldest track on our playlist poses a timeless mystery: Is the Purple People Eater, in fact, purple or does it simply eat purple people? Historians will still be debating this in the year 3017.
18. "Zombie Jamboree (Back To Back)" by Harry Nilsson (1976)
Harry Nilsson used horror movie imagery on his 1972 album Son of Schmilsson but included this underheard zombie gem on a later album. The best part is the opening, where Nilsson cries: "Oh my God, there's a zombie on my belly. Get him off! Hit him with a shovel!"
19. "Zombie" by Fela Kuti (1977)
Put this 12-minute afrobeat gem on at your party and it's guaranteed to get the room moving. If it doesn't, your guests may not have a pulse... or maybe they're undead.
Once again, here is the Spotify link for this entire playlist.