New York Halloween Parade 2019: Route, Road Closures, How to Live-Stream Village Procession
On Thursday, monsters will mash their way down New York City's Sixth Avenue for the 46th Greenwich Village Halloween Parade. The yearly spectacle draws thousands of participants and viewers, so it's important to know the details before you go.
Each year, New Yorkers mark the Halloween holiday with the Greenwich Village procession. The parade will include hundreds of puppets, 35 bands, dancers, artists and thousands of other people, all coming together in the spirit of being a "wild thing," this year's theme.
"The Village Halloween Parade has always been a wild place, but this year we call on our revelers to put on your bear-shirts, don your horns and antlers, your cloaks of fur and straw," organizers wrote on the parade's website, speaking about the theme.
Joining the parade is free, but people must be dressed in a costume that fits the theme. Participants can also purchase a $35 ticket to join a special section. Or, for $100, they can skip the line to join the parade and use a private entrance. Participants can start lining up at 6:30 p.m. EDT on Sixth Avenue and Canal Street, with the procession set to begin at 7 p.m.
Given the number of people that are expected for the parade, both participants and spectators are urged to take the subway, PATH trains from New Jersey or a bus and leave the car at home.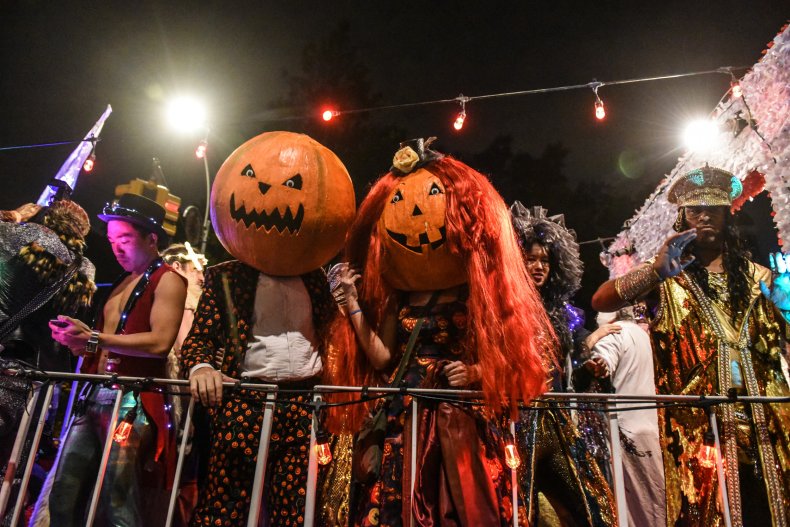 Route
The parade route spans about a mile of New York City's streets. It begins on Spring Street and Sixth Avenue, although people may be lining up for blocks before the official start.
From the starting point, participants will venture north past Houston Street and ultimately stop at 16th Street.
Given the crowds that can form to watch the parade, organizers are encouraging people who want to watch from the sidelines to get there early. They also recommend watching from somewhere that isn't between Bleecker and 14th Streets, the most crowded area.
Road Closures
As of Wednesday afternoon, the New York City Police Department hadn't released a specific list of street closures. However, streets running along the parade route will definitely be closed, as it would be a major safety hazard to have cars and parade revelers in the same spot. It's also likely side streets located along the line-up and route will be closed to vehicular traffic.
How to Watch, Live-Stream
If fighting hordes of people isn't your thing but you still want to see a multitude of costumed revelers take over Sixth Avenue, you can tune in from the comfort of your home through NY1. Coverage, according to NY1, will begin at 8 p.m. and conclude at 10 p.m.
To access the live stream, users must provide login credentials for a cable account with either Spectrum or Optimum.