Halloween Cocktail Recipes: Frighteningly Delicious Drinks To Give Your Friends the Chills at Your Next Costume Party
Halloween is right around the corner, and kids across the country are excitedly preparing for a night of ghoulish fun on October 31.
The children aren't the only ones excited to fill their pumpkin buckets with candy, though. Halloween marks a time when adults get to tap into their inner-child and enjoy a night of ghostly revelry and treats, too.
While some grownups are likely putting the finishing touches on their costumes as people plan to attend party after party before the spooky season transitions into the more cheerful holidays. While some may be getting their glitter together to pull off the perfect Euphoria Rue and Jules looks, Halloween party hosts should be stocking up on all the proper ingredients to make their costume party pop, like decorations and—most importantly—libations.
Cocktails at Halloween parties can be creative and colorful as costumes, but they can also be as challenging to concoct, too. The latter doesn't have to be an issue thanks to the handy cocktail recipe list featured below. All the drinks are as simple to make as the tissue-wrapped mummy you were planning on dressing as this year.
Check out the list of frighteningly delicious cocktails to serve at your Halloween party below.
Nightmare on Orchard St.
True, this cocktail created by the master mixologists at New York City hot spot Las Lap, will probably give you nightmares—the reoccurring kind in which you find yourself constantly craving this drink long after Halloween ends.
Ingredients
1 1/2 ounce of Bacardi Superior Rum
3/4 ounce coconut milk
3/4 ounce fresh lime juice
1/2 ounce grenadine
1/4 ounce pimento dram or AllSpice Dram liqueur
Directions: Shake all ingredients and strain into a highball glass. Fill with crushed or cracked ice. Garnish with a Peychaud's bitters float, orange peel and mint sprig.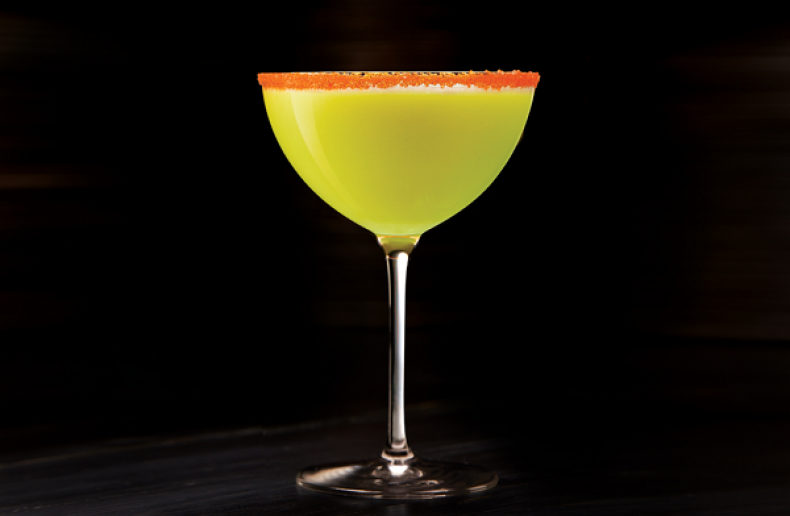 The Goblin
Although not nearly as terrifying as a real goblin, it might scare you to see how quickly this refreshing and juicy potion runs out once party guests get their hands on it.
Ingredients
1 1/5 ounce Bacardi Superior Rum
1/5 ounce Pindori Liqueur
1/5 ounce Reàl Coco
1/5 ounce fresh lime juice
1/5 Dole pineapple juice
Directions: Shake all ingredients with ice and strain into a coupe or martini glass. Garnish with bat or ghost gummies.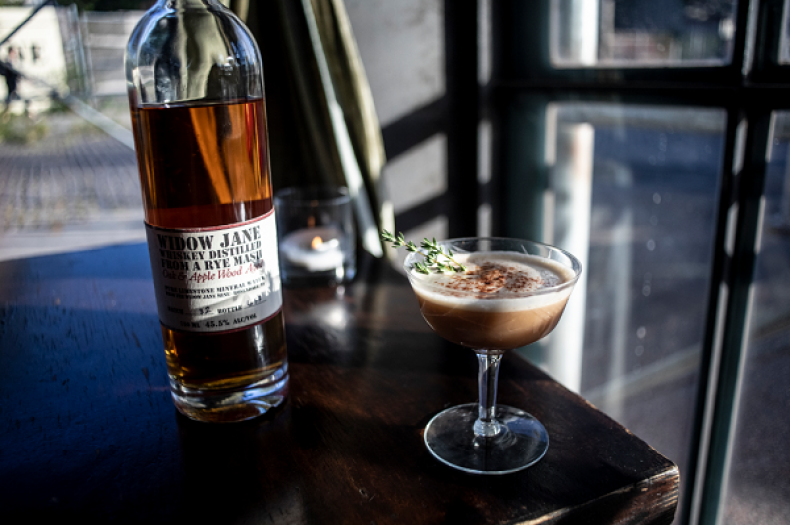 Caramel Apple
This cinnamon and fruity take on caramel apples, created by Natalie Raslina of Brooklyn bar Botanica, let's adults skip the tedious bobbing for apples so they can just drink them instead.
Ingredients
1/2 ounce St. Elizabeth or AllSpice Dram liqueur
1 1/2 ounce Widow Jane Oak + Applewood Rye
1/2 ounce caramel
1/2 ounce lemon
1/4 ounce Cherry Heering liqueur
Directions:
Add St. Elizabeth All Spice Dram, Widow Jane Oak + Applewood Rye, caramel, lemon, and cherry liqueur. Shake for 10 to 15 seconds and pour into glass. Garnish with cinnamon and thyme sprig.
The Blood in Hand (Blood in Sand)
Created by Tullamore D.E.W. Ambassador Tim Herlihy, this beverage can easily serve as a cocktail or a punch. Fortunately, the recipe doesn't call for any actual blood.
Ingredients
1 ounce Tullamore D.E.W. Irish Whiskey
1 ounce Cherry Heering liqueur
1 ounce Sweet Vermouth
1 ounce fresh squeeze orange juice
Directions: Add all ingredients to a shaker filled with ice. Shake and strain in rocks glass.
The Spooky Neighbor
Possibly more enjoyable than the actual people living next door, this classy cocktail was created by Glenfiddich ambassador Allan Roth.
Ingredients
2 ounces Glenfiddich 12 Year
1 ounce China China
1 ounce Suze
1/2 spoon coffee liqueur
Directions: Stir all ingredients over ice and strain into a double rocks glass with ice cubes. Garnish with an orange and lemon twist.
NOLET'S Silver Corpse Reviver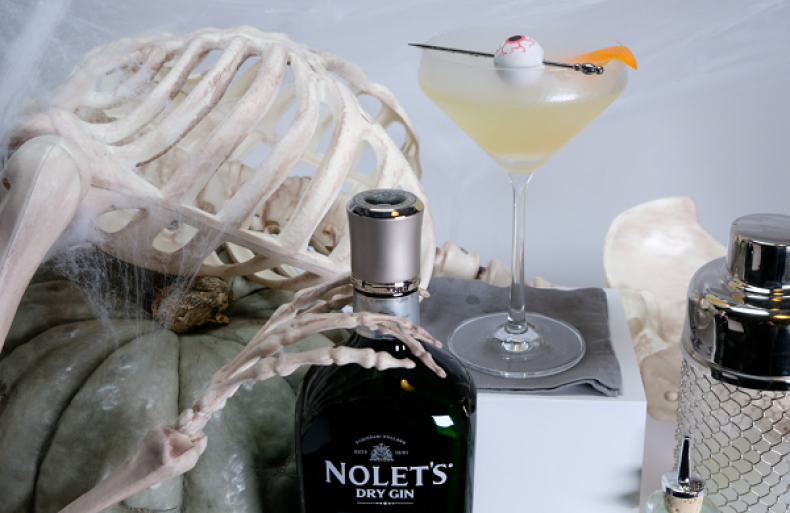 As its name suggests, this gin cocktail is the secret sauce to revive anyone losing steam at the Halloween all-nighter. It gets extra points for also being tasty.
Ingredients
1 ounce NOLET's Silver Gin
1 ounce Lillet Blanc
1 ounce Cointreau
1 ounce fresh lemon juice
1 dash of Absinthe
Directions: Shake all ingredients together in an ice-filled shaker and strain into a martini or coupe glass. Garnish with an orange peel.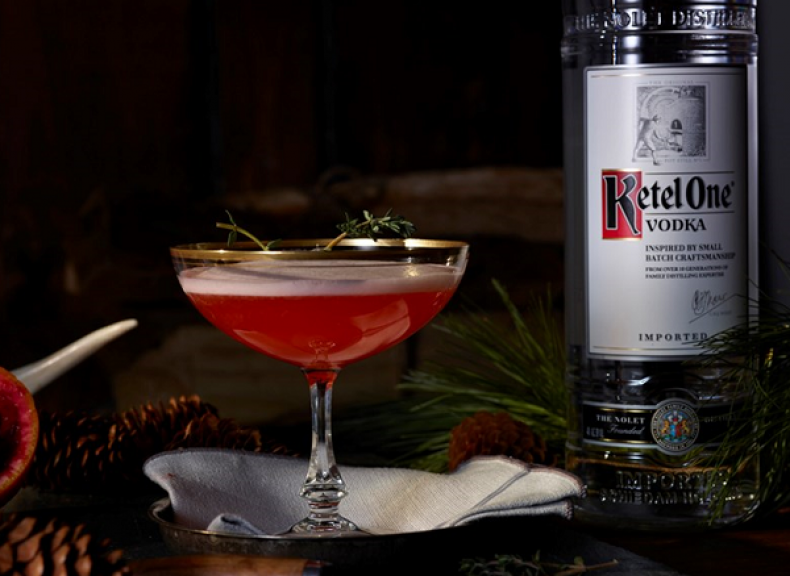 Bloody Duch Sour
Every Halloween party needs something that is both sour and sweet. That's where this Ketle One cocktail steps in as it is equally zingy and sugary.
Ingredients
1 ounce Ketel One Vodka
1/2 ounce Aperol
1/2 Lillet Blanc
3/4 fresh lemon juice
1/2 blood orange reduction simple syrup
1 egg white
Directions: Combine ingredients in a shaker filled with ice. Shake and pour in a martini or coupe glass. Garnish with thyme sprig.