Halloween 2018 Party Guide: Costume Parties and Haunted Festivities in New York
Halloween is approaching, which means New York City will soon be flooded with an array of ghosts, goblins, witches, Kylie Jenner lookalikes and every other type of costume imaginable.
Adults in the Big Apple enjoy the yearly holiday as much as the kiddos, if not more. Granted the grownups aren't necessarily parading around town for buckets of candy, but they certainly get to enjoy some tricks and treats at the many costume parties taking place in the days leading up to Halloween. There's plenty of events occurring on the holiday too, despite being on a Wednesday this year.
Check out a list of a few top Halloween festivities taking place in New York City below.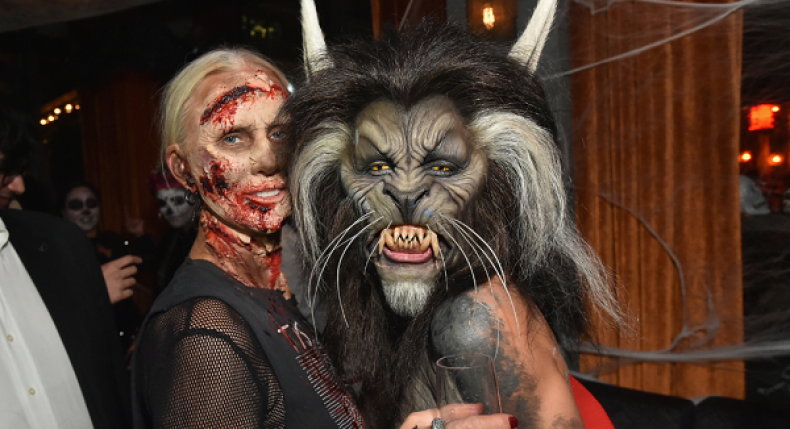 Get your unlimited Newsweek trial >
Ghost Ship at Mr. Purple
The idea of being stranded on a ship haunted by the dead in the middle of the ocean is slightly terrifying. The idea of boogie down at a rooftop bar, equipped with 360-degree views of the New York City skyline and fully decorated to resemble a ghost ship, is a lot more appealing. NYC hotspot Mr. Purple is giving partygoers an opportunity to experience the latter on October 26. Get tickets and more info HERE.
Inferno at McKittrick Hotel
Why celebrate one night of deviant witchcraft when you can do it for three? McKittrick Hotel, home of the famous Sleep No More production, is throwing three devilish masquerade balls in honor of Halloween on October 26, October 27 and, of course, October 31. For tickets and more info, check HERE.
Get your unlimited Newsweek trial >
Playboy's Masquerade Ball
If you've always wanted to party like a Playboy bunny, then October 27 is your day. For the first time ever, the lavish and brand new Playboy Club is giving guests one luxurious Halloween experience the late Hugh Hefner certainly would have approved of. The party will feature a surprise guest DJ, special live entertainment and a premium bar from 9 p.m. to 2 a.m. Check HERE for ticket prices.
NightWav – A Synthwave Halloween Party
Dance with the devil at Saint Vitus' Halloween party on October 27. DJs Valentine, BLK SLK and Khadija are expected to spin dark, deep house vibes of your horror dreams for a reasonable price. Tickets range from $5 to $10. The function kicks off at 11 p.m. For more info, check HERE.
Up & Down The Rabbit Hole
Heads will surly roll at Up & Down's psychedelic wonderland of a Halloween party on October 27. The Manhattan hotspot is offering a more creative, immersive experience for partygoers who don't mind painting the town red with the Queen of Hearts. Party hosts Duckie Thott and Jordan Barett will also be on hand with the neon flowers and blacklights of Alice's dreams. Festivities kick off at 10 p.m. Don't be late to this very important date. For ticket info, check HERE.
Night of the Crawling Dead
Why settle on one single costume party when you can throw on cat ears and hit dozens of bars for a Halloween themed bar crawl? The crawl, along with the strip of bars and pubs in NYC's Murray Hill neighborhood, will allow crawlers access to drink specials at participating bars all day long on October 27. The crawl runs from 2 p.m. to 2 a.m., so vampires needing to wait till dusk to terrorize the streets will have more than enough time to enjoy a bloody brew special or two after dark. Check HERE for more info.
Titanic Masquerade
Put on your best early 20th-century maiden attire and hop abroad the resurrected Titanic, otherwise NYC's Hybrid Hornblower Yacht, for a cruise ship party on October 27. Kate Winslet and Leonardo DiCaprio likely won't be seen at the boat party, but viewers will at least get stellar views of the Freedom Tower and Statue of Liberty. Check HERE for tickets.
Hospital 849
Money can't buy you class, but it can buy you a costume worthy enough to party with the Countess, otherwise known as Real Housewives of New York City's Luann de Lesseps. The reality starlet is slated to perform at the All Hallows Eve ball, along with Lil Kim, while her castmate Sonja Morgan serves as the mistress of ceremony on October 31. If the reality roster isn't convincing enough, the shindig will take place at the Rifkin Psychiatric Hospital, equipped with an open bar to help guests relax in the mid psychotic patients and medical oddities. Get the rundown on tickets and prices HERE.
Gala of the Gone
There's no place that throws a party quite like Brooklyn's House of Yes. On just about any night of the week, guests can expect to see aerialists, dancers and a lot of glitter, but the legendary dance club is going all out for Halloween. Partygoers will be enlightened with a performance séance, massages, body art, Ouija boards and tons more at the event while DJs Carry Nation, Justin Strauss, DJ Bruce and Leo Leite spin tunes all night long. Find more info, check HERE.
Halloween 2018 Party Guide: Costume Parties and Haunted Festivities in New York | Culture