This Halloween, Racism Went Viral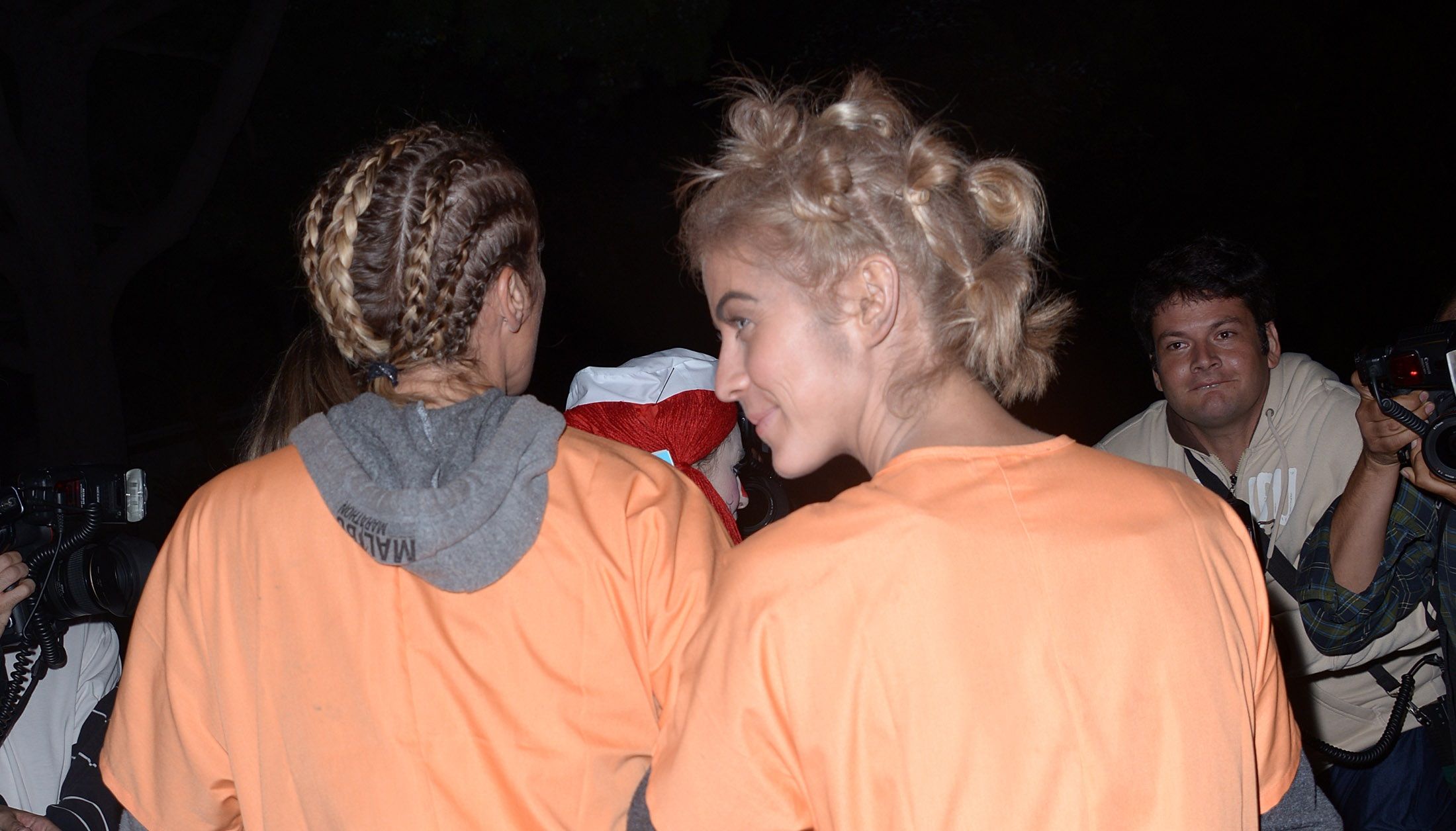 If you donned blackface at a Halloween party this year but no one snapped a photo and shamed you by posting it on social media, does it still count as offensive behavior?
Of course it does.
Blackface, originally a form of theatrical makeup used by white vaudeville actors to caricature African Americans in the 19th century, has been problematic ever since it became massively popular as a way for white people to poke fun at disturbing racial stereotypes: Popular minstrel characters were lazy, lying buffoons and subservient mammys.
But this Halloween it seemed like more people were calling out blackface than usual.
• Actress Julianne Hough had to publicly apologize after smearing self-tanner on her face and dressing up as Crazy Eyes from Orange is the New Black.
• Two Floridians who went out as a murdered Trayvon Martin and George Zimmerman deleted their social media accounts after the photo went viral.
• The San Diego High School football coaches who darkened their skin to dress as the Jamaican bobsled team from the 1993 movie Cool Runnings may lose their jobs.
Why are Americans paying more attention to blackface this year than, say, "too-sexy" costumes for kids, another Halloween hot topic?
The clickable outrage is linked to a painful summer for racial justice, said author and activist Jeff Chang, executive director of the Institute for Diversity in the Arts' Committee on Black Performing Arts at Stanford University. The Supreme Court's reactionary decisions on affirmative action and the Voting Rights Act, coming fast on the heels of the Zimmerman acquittal, added to widespread racial anxiety that's been bubbling since Barack Obama was elected president in 2008, Chang said. Combine all that with social media, and you've got yourself viral fury.
"These debates feel like they've reached a critical mass," he said. "People who were on the sidelines before have their gloves off now."
Does that mean those who might have worn blackface a few years ago would think twice today? A young woman who wore self-tanner when dressing up as Beyonce for Halloween in 2009 said she darkened her skin because she knew no one would care. "Not to sound terrible, but I felt like there was probably no one at my party that I would have been offending," she said, adding that she felt like "the costume wasn't about being black, it was about being Beyonce."
But now, a single disgruntled partygoer is likely to leak a blackface photo to mainstream news outlets. Chang thinks this sort of public shaming is productive, since it allows us to define blackface as unacceptable.
"People can still think what they want to think, but if you reset boundaries of civility, it's an opportunity for folks to move in a different direction," he said. If we create a culture in which blackface is definitely uncool, "at some point that becomes the mainstream and allows people to grow the f*** up."
But not everyone thinks public shaming is that effective. Caity Weaver, who recently answered a question about whether bronzer was blackface for "Thatz not Okay", her Gawker advice column – ("While it's true that your friend isn't literally applying black shoe polish to her hands and face in order to look black, you hopefully realize that the color black is not really the bad part of blackface") – said she thinks public shaming can be boring and ineffective.
"I guess it's good in the sense that if people worry they will be publicly shamed for something, they won't do it, but that's not the same as understanding why it's wrong," she said, adding that Halloween is a difficult time to teach these lessons, because people get particularly defensive.
"I think you need to be educating people that blackface is bad even when it's not Halloween," Weaver said. "Live every month like it's Blackface History Month."