'Halloween' Trilogy Release Dates Confirmed: Michael Myers Returns in Sequels 'Kills' and 'Ends'
The 2018 reboot of Halloween will be the first in a trilogy of sequels to the 1978 original.
John Carpenter, director of the original Halloween, who composed the music for the 2018 version with his son Cody, made the announcement on Twitter. "The saga of Michael Myers and Laurie Strode isn't over," he wrote.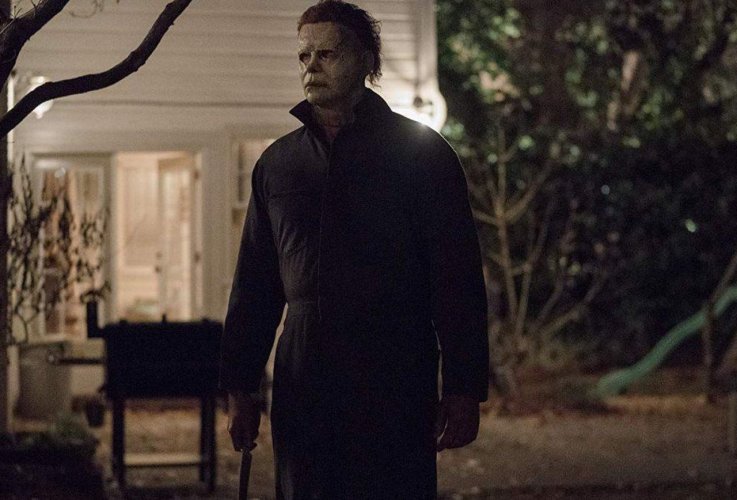 Nothing has yet been revealed about the new entries in the saga, save for release dates and titles. The first Halloween sequel, Halloween Kills will be released on October 16, 2020, which will be followed by Halloween Ends on October 15, 2021.
An accompanying video focuses heavily on the end of the 2018 Halloween, during which Michael Myers was trapped in the basement of Laurie Strode's forest fortress and burnt alive. We saw the flames wrap around Michael, seemingly consuming the unstoppable killer. It now appears Michael Myers survived, somehow, but a real answer will have to wait for Halloween Kills in 2020.
"I'm just warming up," Jamie Lee Curtis wrote on Twitter, confirming her return for the sequels. "Happy Halloween 2020/2021."
It's unlikely that the freshly rebooted Halloween series will come up with a supernatural explanation for its killer's survival, since less grounded stories like the Thorn cult introduced in 1995's Halloween 6: The Curse of Michael Myers are considered a big part of the decline of the series. Sure, lightning can resurrect Jason Voorhees, but Halloween movies have always worked best on as elemental a level as possible: Michael Myers is evil incarnate, no further explanation needed.
The description of a "Michael Myers and Laurie Strode" saga seems to close off the possibility of a copycat killer as well, though Dr. Sartain's (Haluk Bilginer) violent turn suggests Myers' homicidal nature can be spread to those around him.
Whatever the explanation for Michael Myer's return in Halloween Kills, the reboot series remains in good hands. Producer Jason Blum confirmed director David Gordon Green and writer Danny McBride have returned to work on the sequels.
Those release dates again: Halloween Kills on October 16, 2020 and Halloween Ends on October 15, 2021.
'Halloween' Trilogy Release Dates Confirmed: Michael Myers Returns in Sequels 'Kills' and 'Ends' | Culture