Halsey Says She's G-Eazy 'Person' of Support Amid Mac Miller Death
The death of late rapper Mac Miller shook the music world Friday, pop singer Halsey included. In the wake of the tragic news, she said she stands by boyfriend G-Eazy despite his similar experience with substance abuse like Miller.
Miller, born Malcolm James McCormick, died Friday of a suspected overdose. He was found unresponsive at his home in the Los Angeles neighborhood of Studio City. The Pittsburgh native, who had struggled with addiction, was 26.
On Sunday, Halsey was approached by TMZ upon exiting Los Angeles International Airport. TMZ asked the pop songstress whether celebrities struggle to find people around them who can "mitigate" behavior related to substance abuse.
"I think any kind of person, celebrity or not, feels like they're bothering people when they talk about their problems," Halsey, 23, told TMZ. "So you make sure you have good people around you who won't make you feel like you're bothering them, you know?"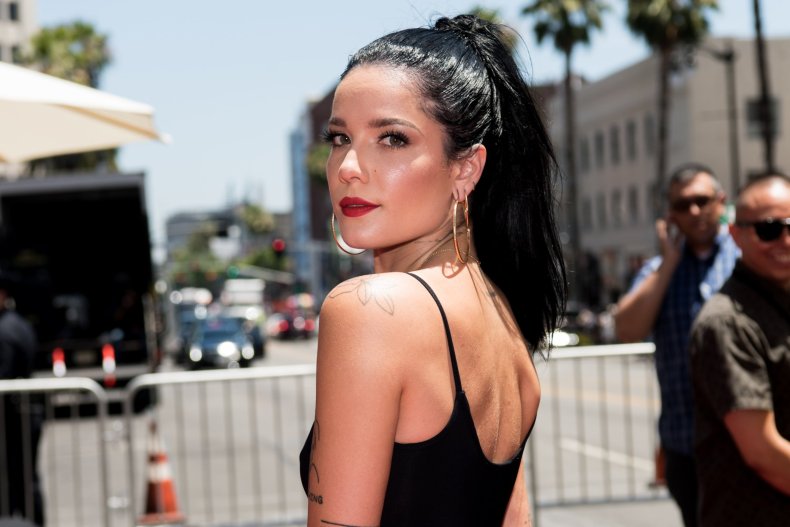 The TMZ employee then asked whether Halsey was G-Eazy's "no person," and to that, she said: "I'm definitely his person."
Before this, Halsey took to Instagram on Saturday amid the news of Miller's death to pen a heartfelt message about the late artist. She thanked Miller for maintaining a friendship with G-Eazy, and referred to his death as a "bad dream."
"Thank you Mac. For being a visionary. A smiling, laughing, kindhearted individual," Halsey wrote Saturday. "Thank you for being the soundtrack to my high school years. For giving me songs I knew every single word to and screamed at the top of my lungs in my first car the year I got my license...I thank you from the bottom of my heart for being such a good friend to Gerald. For making millions of people happy even when you were suffering."
G-Eazy, prior to Halsey's comments, addressed Miller's death Friday via Instagram. The "No Limit" rapper said he was "devastated and heartbroken" over the loss of the "Donald Trump" artist.
"I'm at a loss for words mac you were like a brother to me and were there for me in the hardest of times, especially this summer," G-Eazy, 29, wrote Friday. "I can't believe this is real. Please tell your friends and the people you care about you love them life is so fucking fragile. You will be missed and your music will live on forever through the millions of people you touched. Thank you for all you gave us, love you bro."
In May, The "Me, Myself & I" hitmaker was convicted for drug possession, assault and resisting arrest. Back in 2012, the rapper mentioned in his song "Lady Killers" how he's "where the coke and smoke" are. On Halsey and G-Eazy's paired track "Him & I," the 2017 song mentions how the duo does "drugs together."
During a January appearance on The Breakfast Club, G-Eazy detailed his battle with drug addiction. At the time, host Charlemagne Tha God questioned whether the frequent drug references on his album were "recreation or if you're trying to escape something."
"I think that's a blurry line, it's not black and white," G-Eazy said on The Breakfast Club. "I think sometimes the line between recreation or just tapping in turns into leaning on or depending on or escaping from...It's a balance, it's a vicious cycle, I'm not gonna lie. Sometimes I'll just be smooth and tap out for a couple weeks and just be."
If you or someone you know is struggling with substance abuse, contact the Substance Abuse and Mental Health Services Administration (SAMHSA) National Helpline at 1-800-662-HELP (4357).