Halsey Provided Injured Protesters With Medical Treatment, Says 'I Have Been Covered in Innocent Blood'
Halsey is giving her social media followers a brutally candid look at the protests in Los Angeles. She is one of the many celebrities who have taken to the streets to protest the death of George Floyd, who was recently killed in police custody. But the "Eastside" singer isn't just marching alongside people—she's also been tending to injuries and providing people with impromptu medical treatment.
In an Instagram post shared on June 1, Halsey noted that since doctors are busy and worn down from the coronavirus pandemic, those who are getting hurt during the protests are not receiving proper medical attention. So, Halsey has taken it upon herself to tend to some of the injured, despite the fact that she isn't a health professional.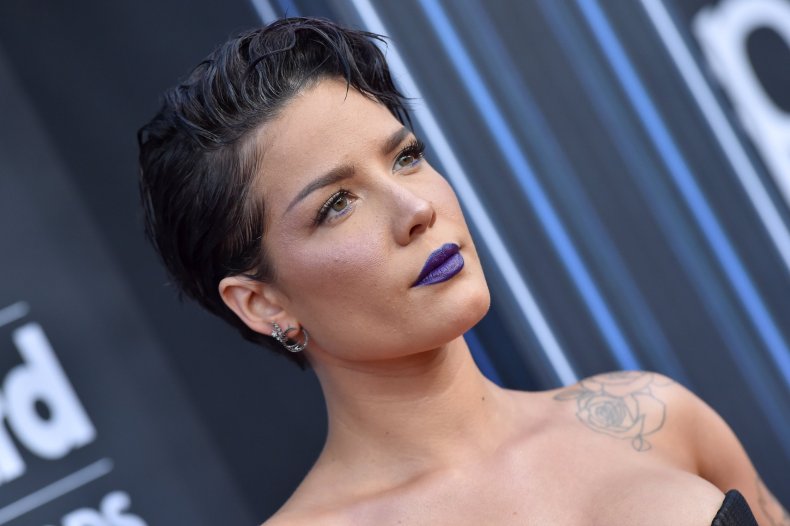 "I have first hand treated men women and children who have been shot in the chest, the face, the back. Some will lose vision some have lost fingers. I have been covered in innocent blood," she wrote on Instagram. Halsey's caption appears alongside a series of videos capturing moments from the L.A. protests and also photos of her tending to other people's injuries.
In her lengthy caption, Halsey noted how violent the protests have gotten. "It's become very clear to me that some of you need to see what I've seen. Please swipe through this," she wrote at the top of her post. "These pictures and videos don't even scratch the surface. It's easy from the comfort of your home to watch looting and rioting on television and condone the violent measures being taken by forces."
The singer continued: "But what you don't see is innocent peaceful protestors being shot at and tear gassed and physically assaulted relentlessly. You think it's not happening, it's only the 'thugs' and the 'riots,' right? The police are keeping you safe right? You're wrong. This is happening everywhere. And innocent people exercising their rights to speech and assembly are facing violence and abuse of power."
Halsey mentioned in her post that her father is a black man and her mother is an EMT. "This week I had to put those two associations together in ways that have horrified me," she lamented. The "Without Me" singer also explained that her Instagram update was not meant as a "virtue signaling post"—she just felt compelled to share what she saw with her followers.
"With Trump's decision today to enforce the mobilization of armed forces on our own citizens, this has escalated beyond your privilege and comfort to not care. Please care. We are begging you to care," she concluded. "This is war on Americans. This is everyone's problem. Everyone's. #BLACKLIVESMATTER"
The Badlands hitmaker has been very vocal about what she's experienced over the past few days. She's been raising awareness about the protests and how intense they have become.
"Do not underplay these rubber bullets bc you have been told they are 'not lethal.' I had to bandage a man who looked like his entire face had exploded today. So before you say, from the comfort of your home, that we're exaggerating, please consider the injuries some have suffered" she tweeted on May 31.
Halsey also told protesters what kinds of medical supplies they should bring with them to the front lines, so they could be prepared for a variety of situations.
Newsweek reached out for further comment from Halsey, but did not receive one by time of publication, as the music industry is observing Blackout Tuesday.