Hamas Says Jerusalem Bus Bomb Shows Commitment to Third Intifada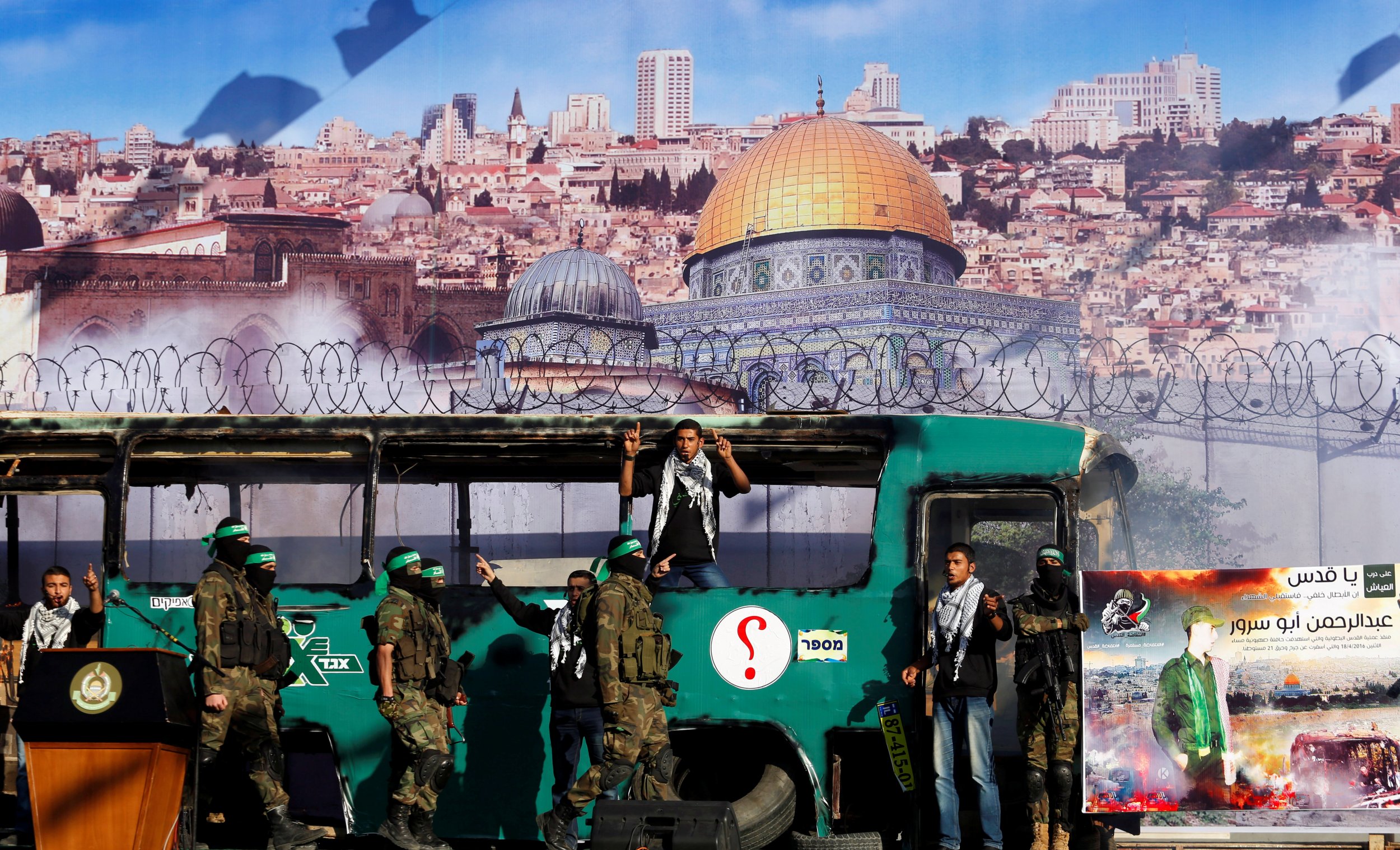 Palestinian militant group Hamas held a rally on Thursday in which the leader of the faction in the Gaza Strip said that last week's Jerusalem bus bombing showed the group's commitment to pursuing a new Palestinian uprising, or Intifada.
Speaking to thousands of supporters in the coastal enclave, Ismail Haniyeh lauded the member of Hamas who detonated an explosive device during Jerusalem's rush-hour, leaving at least 21 people wounded on April 18.
He called 19-year-old Abdel Hamid Abu Srour's bomb blast a "heroic action" that the group said it came in response to Israeli crimes against Palestinians.
The Gaza leader said that the bomb blast "shows that Hamas and the sons of Hamas are committed to resistance and determined to pursue the Intifada." The Palestinians have launched two uprisings against Israel's military occupation in the past three decades, one from 1987 to 1991 and the second from 2000 to 2005.
He continued: "We say to the Zionist occupier that our people can no longer stand the blockade," in reference to the Israeli naval blockade on Gaza's coastline. "It is our right to have a port and an airport."
Israel says that the naval and air blockade on the militant group is required to prevent them from acquiring arms used to target Israeli territory.
Following the bomb attack, Hamas announced that Srour was a member of the group from the West Bank. Israel's domestic Shin Bet security service arrested several Hamas suspects from Bethlehem after the attack.
It was the first Palestinian bombing attack since the latest wave of violence against Israelis began in late September. The majority of attacks by Palestinians against Israelis have been stabbing, shooting or car-ramming attacks.
Palestinian militant group Hamas states in its founding charter that one of its aims is to remove the state of Israel to regain Palestinian land in a campaign of "liberation."
The Gaza Strip has been the location of three wars in the last seven years—in 2008, 2012 and 2014—between Hamas and the Israeli military. In last summer's seven-week conflict, more than 2,100 Palestinians—including at least 1,585 civilians, of whom 530 were children—were killed, according to U.N. and Palestinian reports. On the Israeli side, 72—of whom all but five were soldiers—were killed, according to Israeli accounts.