Hamas's Attack on Israel Stress-Tested the Abraham Accords | Opinion
Hamas, the terror organization ruling the Gaza Strip, escalated its campaign against Israel last month by launching over 4,000 missiles into the Jewish state. Among its goals was to drive a wedge between Israel and its new Arab friends, and thereby scuttle the Abraham Accords—the normalization agreements Israel signed over the last nine months with the United Arab Emirates, Bahrain, Sudan and Morocco. Not only did Hamas fail, it allowed the Arab states to demonstrate their commitment to a new order in the Middle East.
The true test of normalization is whether the Abraham Accords will outlast efforts by Palestinian leaders to sabotage them. So far they have. Benefits continue to accrue to the five Abraham Accords countries.
The premise of the accords is that Israel's diplomacy with Arab states can flourish without being constrained by the Israeli-Palestinian deadlock. Hamas had hoped to prove that premise wrong by attacking Israel, provoking it to retaliate across military targets embedded in Gaza's densely populated neighborhoods and inflaming Arab publics to rally around the Palestinian cause and force their own governments to nullify the agreements. Though many Arabs denounced Israel's military operation, no country downgraded its relations with Israel. Compare this with the outbreak of the Second Intifada in 2000, when four Arab countries (Tunisia, Morocco, Oman and Qatar) dissolved the less-than-full diplomatic ties they had established with Israel in the 1990s.
Indeed, official Arab voices were some of the most moderate, especially compared with their reaction to Israel's last major operation in Gaza in 2014. That was when the UAE's foreign ministry disparaged the Israel Defense Forces operating in Gaza as "occupation forces" exacting "collective revenge" on the Palestinians. Emirati officials have changed their tone on Gaza since normalizing relations with Israel in 2020. Their mild press releases about the fighting resembled standard U.S. State Department calls for deescalation and "restraint." Emirati foreign minister Abdullah bin Zayed doubled down on the Abraham Accords, citing the conflagration as a "somber reminder of the urgent need for peaceful dialogue." Another official accused Hamas of "dooming the residents of the [Gaza] Strip to a life of suffering." Behind the scenes, Emirati officials reportedly worked to restrain Hamas, threatening to withhold future investments in Gaza if it continued attacks on Israel.
It's clear that Israel benefits from Arab leaders who soothe, rather than inflame, public sentiment when it is forced to defend itself from terrorism. But what's in it for those Arab leaders?
Most of them view Hamas in a context broader than its terror war on Israel. Hamas is a proxy of Iran, alongside Yemen's Houthis and Lebanese Hezbollah. Sunni Arab leaders watched Iran-backed Hamas perform better militarily in the latest conflagration than ever before. In besieged Gaza, Hamas leveraged Iranian equipment, financing and training to develop new missiles with heavier payloads and increased ranges. Gulf leaders know that with more access to trade routes and sea ports, the Houthis on Saudi Arabia's border and Hezbollah in Lebanon could constitute an even greater threat to their rule. They approve of the message that crippling Hamas sends to Iran's mullahs.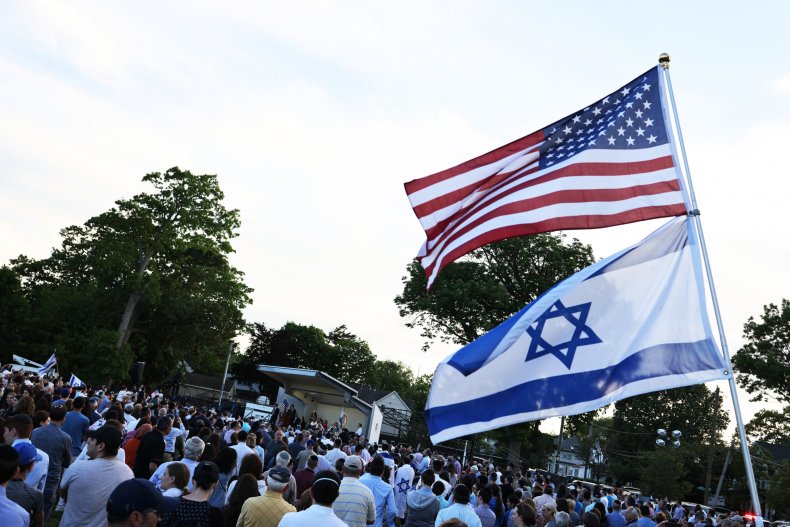 The Iranian threat will continue to sustain the normalization agreements of the past year. Commercially, Israel and the Gulf States are forming economic and trade blocs through greater regional integration. They have also facilitated investment and formed joint ventures—including at least one since the Israel-Hamas ceasefire on May 21. Around 130,000 Israelis have visited the UAE since the accords were signed in September. Universities have formed research partnerships in areas like artificial intelligence, water, agriculture, cybersecurity and climate.
Israeli innovation is finding its way into Arab markets that had previously been closed, and those markets are responding eagerly. Citizens are seeing concrete benefits in the form of economic growth, expanded job opportunities, enhanced tourism and genuine partnerships and friendships.
Palestinians, meanwhile, continue to be left behind by their leaders. Hamas chose to put the Abraham Accords through its first major stress test despite knowing its war would necessarily cause much destruction in Gaza.
The Palestinians now have an opportunity to dislodge the terroristic and corrupt leaders who have only brought them misery. Israel has never emerged from a war with Hamas with so many Arab countries willing to work with it. The UAE, Jordan and Egypt share an interest in undercutting Iran as well as their Sunni rivals—Turkey and Qatar—that provide Hamas diplomatic and financial support. Israel should partner with those states and the U.S. to identify Palestinians who can rebuild Gaza without enriching Hamas.
Hamas's end would be a blow to Iran, Turkey and Qatar, but it would also be a tremendous relief to the Palestinian people. There is a delicious irony in the fact that Hamas launched this war in part to destroy the Abraham Accords. In so doing, it could have led—and could still lead—to the end of Hamas and the strengthening of the accords.
Now is not the time to throw in the towel on normalized relations between Israel and Arab countries. Now is a time to double down on the Abraham Accords. It is through those accords that peace and stability will be restored in the Middle East.
Bonnie Glick is a Senior Advisor at the Center for Strategic and International Studies. She served as the Deputy Administrator and Chief Operating Officer of the US Agency for International Development from January 2019-November 2020. Dore Feith is a researcher for The Public Interest Fellowship. He was a special assistant to the Deputy Administrator of the U.S. Agency for International Development from 2019–2020.
The views expressed in this article are the writers' own.