Hamilton is the Broadway success story of the year, maybe the decade. And it's about to become the hottest item on your 11th grader's U.S. history syllabus. In classrooms from New York City, where the show packs the Richard Rodgers Theatre nightly, to the West Coast, Hamilton is making educators rethink how they teach early U.S. political history—and making students rethink how much they care.
"I first heard about it the way most of us did—from rapturous reviews," says Jim Cullen. A high school teacher at the Ethical Culture Fieldston School in the Bronx, where he chairs the history department, Cullen's interests range from U.S. political history to popular music. (He's probably the only New York City schoolteacher who's published a book on Bruce Springsteen.) So when a group of Fieldston middle schoolers and faculty scored a block of tickets to Lin-Manuel Miranda's hit musical about Alexander Hamilton, Cullen tagged along.
He was startled by how much he loved the show. That was in the spring, before Hamilton debuted on Broadway. Then, in his advisory class in the fall, Cullen noticed his students had caught the bug. They blasted the Hamilton cast recording from their phones and devices. "They were singing these songs the way they might sing the latest release from Drake or Adele," Cullen says. After noticing the Hamilton soundtrack made a dent in the Billboard 200 sales chart, he realized, "This has got tremendous cultural currency."
So Cullen did the inevitable: He designed an entire course centered on Hamilton (the figure) and Hamilton (the show). He'll be teaching Hamilton: A Musical Inquiry in the fall. Students will be asked to sift through primary sources like George Washington's farewell address and show tunes like "One Last Time" and "Washington on Your Side"; one essay assignment is to pick a song from the cast recording and analyze it. And Cullen isn't the only teacher mining Hamilton fever to get 16-year-olds enthused about the profoundly unsexy details of Revolutionary-era nation-building.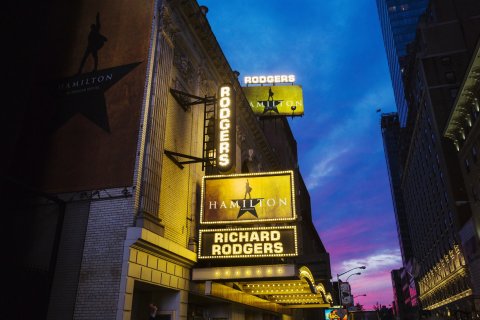 For theatergoers, Hamilton has been a revelation. The show has drawn universal acclaim—a New York Times reviewer stopped just short of urging readers to "mortgage their houses and lease their children" for the chance to see it—and tickets routinely go for $400 or more on StubHub and eBay. (No wonder, since it's sold out at least until September.) Celebrities ranging from David Byrne to the late Alan Rickman have been spotted in the audience; President Barack Obama deemed the show "fabulous."
But for educators, the play's success is ripe with untapped teaching potential. Yes, it takes creative liberties—the Founding Fathers didn't really spit rhymes or use phrases like "John Adams shat the bed"—but the story is historically sound. ("The thing about Hamilton's life," Lin-Manuel Miranda tells Newsweek, "is the truth is invariably more interesting than anything I could have made up.") Historian Ron Chernow (whose 2004 biography of the first secretary of the treasury inspired the script) has praised the musical for capturing Hamilton's ambition and his obsession with controlling his legacy. And along the way, Hamilton delves deep into U.S. history–friendly issues like the Constitutional Convention, the Federalist Papers and the bitter Adams vs. Thomas Jefferson presidential election of 1800.
"It brings history to the classroom in such an exciting and engaging way," says Patrick Sprinkle, who teaches U.S. history and public policy at the NYC Lab School for Collaborative Studies. Sprinkle recently played his students a few tracks from the show, including a back-and-forth between Hamilton and Jefferson. He's used songs from another Broadway show with a historical spine, Bloody Bloody Andrew Jackson, in previous years, and once he schlepped 82 students to see All the Way, which starred Bryan Cranston as Lyndon B. Johnson. But Hamilton is different, both because it's fashioned from hip-hop and rap (a genre largely absent on Broadway) and because it casts actors of color to depict, as Miranda put it, "old, dead white men."
The show ruminates heavily on Hamilton's status as a West Indies–born bastard child, and the immigration themes have resonated in the year of Donald Trump. "Many of our students are first-generation or second-generation Americans," Sprinkle says. "The story speaks to them."
The irony? Miranda, who also plays the title role, wasn't much of a social studies student in high school. "I basically lived in the English and communications department," he tells Newsweek. He was a first-generation city kid attending Hunter College High School and then Wesleyan University, where he wrote and directed an early draft of the play In the Heights, which opened on Broadway in 2008. "It's been kind of amazing to have my social studies teachers reach out."
Miranda realized Hamilton would be useful for educators years before the show was completed, when he performed what would become its opening number at a White House event in 2009. Since that video surfaced online, "the No. 1 YouTube comment has been, 'My teacher showed us this in APUSH,'" Miranda says. "I think teachers used just that one clip for the past six years as their intro to Hamilton."
What he never anticipated was the scope of the Hamilton teaching phenomenon. The playwright has heard from "lots of teachers and educators" about bringing Hamilton into their curriculum. "I get videos from 4-year-olds to college students ... of them performing songs from this show," he says. "They're learning songs they like and weirdly learning U.S. history in the process."
Over the holidays, Miranda received a text about students raising money to buy their social studies teacher tickets to Hamilton for Christmas. "It's very surreal and beautiful."
The trend has made its way to the opposite coast. In Los Angeles, Angelica Davila, an eighth-grade teacher and self-professed musical theater nerd, heard the Hamilton songs and immediately began planning an American Revolution unit. Davila works at a small charter school where faculty teach a variety of subjects and 95 percent of students are Hispanic. So she handed out a packet dividing the characters and songs into three categories—political, military and personal—and had them choose one figure on whom to write a five-page biography. "I teach a lower-income Latino population," she explains. "They're really into hip-hop and R&B—especially '90s hip-hop—and [Miranda] draws a lot from classic hip-hop. There are Biggie and Tupac references everywhere in the show. My kids were really drawn to that."
The eighth-graders started requesting Hamilton as background music even when they weren't working on those projects. When it came time to choose a song to perform in the school's annual winter concert, they picked Hamilton's opening number. And though they are young, the kids picked up on the show's racial inclusivity (Davila made a point of showing YouTube clips and interviews).
"Not only is this the music they love to listen to on their own free time, they're seeing faces that look like theirs telling American history," Davila says. "It's really challenging for them to relate to American history when their stories are not being told. With this musical and with the casting of the show in particular, they finally have a chance to see themselves in our country's history for the first time."
The material has been embraced by younger kids as well. "As soon as I saw it, I knew I had to find a way to use it in class," Molly O'Steen, a fourth-grade teacher at Rodeph Sholom School in Manhattan, tells Newsweek. Though some of the songs aren't age-appropriate, the kids have latched onto a playful series of songs sung by King George III. "[The class] is a pretty homogenous demographic of 9-year-old Jewish kids," O'Steen says. "I wasn't sure how into musicals they were. Or how into rap music. But they really love the music of it."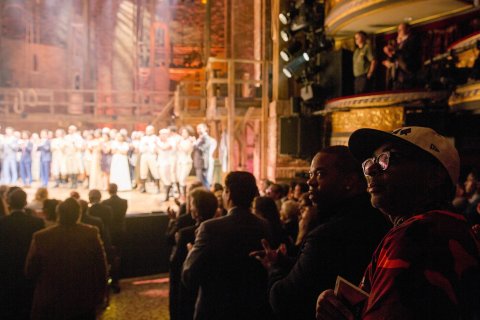 Most students, thwarted by distance or prohibitive ticket prices, won't wind up seeing Hamilton on Broadway. There'll be a movie someday, but not too soon (there are no plans to film the current cast, Miranda says, contrary to a widely spread misquote). A book containing the script and photos from the show is being published in the spring, but that's hardly the same. Fortunately, educators and benefactors have found ways to bring some lower-income students to see the show in person.
The Rockefeller Foundation in October joined forces with the show's producers to commit $1.5 million to subsidize tickets for 20,000 New York City students. (The Gilder Lehrman Institute of American History has been involved, creating a Hamilton-related curriculum as an online resource.) And a theater teacher at the Democracy Prep Charter High School in Harlem took a group of more than 100 students to see Hamilton during its off-Broadway run last spring.
"That was the first [show] that didn't make me want to go to sleep when I was in it," says 16-year-old Pedro De Los Angeles, a student at the school. "It just stuck in my head, and I found history interesting. If history class was like that every day, I'm pretty sure the Regents wouldn't be a problem." The student is an actor himself, and Hamilton inspired him to perform in a school production of 9 to 5. "Once I saw Hamilton, I was like, Whoa—a musical is just on a whole 'nother level. I was like, Maybe I should try, even though I can't sing."
The Democracy Prep outing was courtesy of a Theatre Development Fund program, says the teacher who coordinated it, Lisa Kowalski. The students were later assigned to imagine writing their own obituaries, to consider their legacies, as Hamilton does throughout the show. Some of the kids stayed after the show to meet Miranda. ("They're obsessed, as I am, with his work," Kowalski says.) One African-American student reportedly told principal Natasha Trivers, "Hamilton made me realize that this is our country too."
This show has done more than any work of pop culture to bring Alexander Hamilton out of the ivory tower and into the popular consciousness. It's shown how the founder helped shape and articulate the country's ideals, and regardless of whether or not it helps kids understand the Federalist Papers, Miranda is happy to be bringing theater to the 11th-grade masses. "The hope is always to expose theater to new audiences," he says. "It's the oldest thing we got going. If the robots win, if Terminator 2 comes true, if the robots take over, we're still going to tell each other stories in the dark.
"There's going to be kids who see this show, [and] this will be their first Broadway show," he adds. "That's just what musicals are going to look like for them. Of course it's a cast full of actors of color. Of course it's music that uses hip-hop and contemporary music but also tells a story. That's just going to be their default experience of what a musical is. That just blows my mind."