'Hamilton' on Broadway: What's All the Fuss About?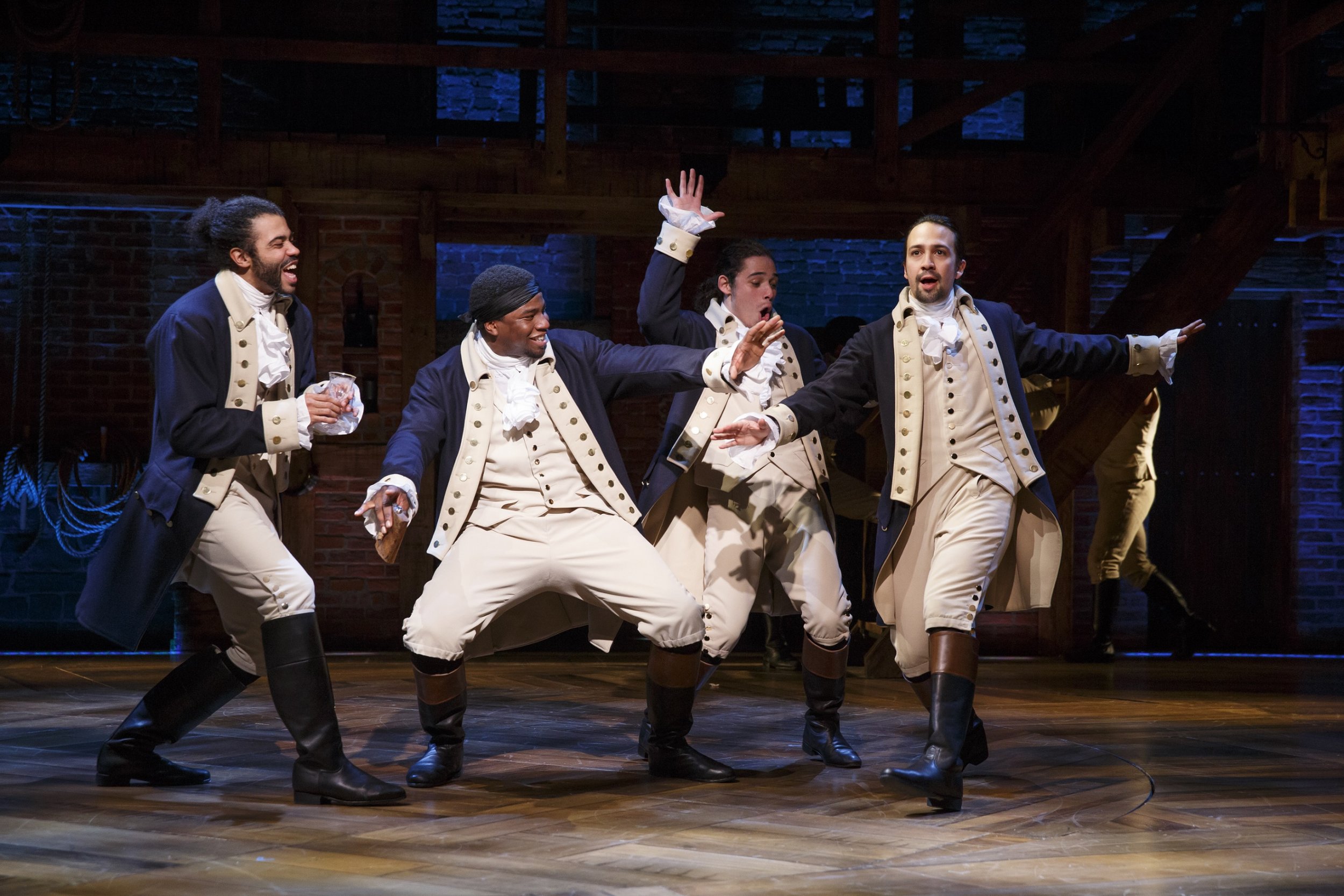 While Alexander Hamilton's remains rest quietly in Trinity Church cemetery at the top of Wall Street in Lower Manhattan, uptown the spirit of our nation's first Secretary of the Treasury has been exhumed for a street-wise Broadway spectacle that The Wall Street Journal has already deemed "the most exciting and significant musical of the past decade."
Slightly tempered but still wildly enthusiastic, The New York Times stated in its review of last February's original off-Broadway production that Hamilton "aims impossibly high and hits its target."
Whoever—besides book, music and lyrics writer and title star Lin-Manuel Miranda, that is—would have thought the creator of the Bank of the United States would lend himself to the show-tune treatment? Come to think of it, what might be next: Janet Yellen—The Musical? Ben Bernanke, Unreserved? But forget a singing, dancing Goldfinger—rights issues recently have put the kibosh on James Bond ever coming to Broadway.
Meanwhile, audiences are apparently predisposed to lap up this latest addition. As of Thursday night's official opening at the Richard Rodgers Theatre, Hamilton has racked up a nearly $30 million advance, buoyed, no doubt, by: the show's attendance by President Obama and his daughters and (separately) Vice President Joe Biden; widespread debate fueled by outraged conservatives over their hero's possible removal from the $10 bill; the current relevancy of the contribution of immigrants to America (Hamilton was born illegitimate in the West Indies) and what is arguably the loudest pre-opening Broadway buzz since that for The Book of Mormon, The Producers and even A Chorus Line—which, like Hamilton, carried the pedigree of having been nurtured at the Public Theater, whose own influential founding father, minus the powdered wig, was Joseph Papp.
Yet even with all that, with its single, monochromatic set and largely sung-through hip-hop-jazz-R&B score—which even Hamilton's staunchest admirers in their original reviews admitted lacks melody—will this 18th century rapping romp be everyone's cup of mead?
Gauging by the impassioned reaction of a preview audience this week—then again, this being such a hard ticket, anyone simply able to get in the door is likely to stand up and cheer—yes, but with a caveat: The show definitely skews young. These kids, having outgrown Beauty and the Beast and Aladdin, may be sitting in the Richard Rodgers Theatre, but don't even bother to suggest they head over to Lincoln Center's Tony-winning revival of Rodgers and Hammerstein's The King and I or else risk they're doing to you what Aaron Burr did to Alexander Hamilton.
What they have instead is director Thomas Kail and choreographer Andy Blankenbuehler's constantly kinetic production that rarely bothers to catch its breath and trudges through the War for Independence at such length that you may secretly find yourself rooting for the British.
Loosely based on journalist-historian Ron Chernow's 2004 Alexander Hamilton, Miranda's book traces his subject practically from cradle to that fatal 1804 duel with Burr, played here by Leslie Odom Jr.—who, like the rest of the cast, purposely makes no effort to resemble the actual historical figures they are portraying.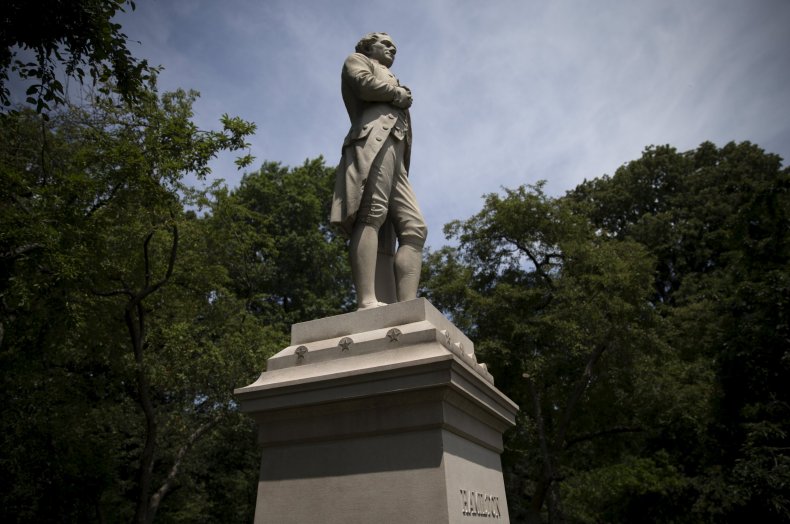 In between, there's Alex's remarkable—albeit not entirely explained—rise to the ranks of George Washington's aide-de-camp, his prolific contribution to The Federalist Papers, his cautious formation of the nation's financial system, as well as his courtship, marriage, fatherhood, even sex scandal that manages to rhyme a certain four-letter expletive without ever pronouncing it (not once, but at least twice).
In true democratic fashion, there are no star turns, unless you consider Jonathan Groff, late of Glee! and HBO's Looking, as King George. Crowned, caped and cross-eyed, his George seems more intent on charming the audience than keeping the Colonies part of the Empire.
And so it goes. When Hamilton was still at the Public, critics and audiences alike carped in print and on theater blogs about its prolonged two-hour-45-minute running time. The Times even decreed it could lose 15 minutes, and the reason for the show's post-Tonys deadline move to Broadway was said to be because some fine-tuning was in order.
With the finished product continuing to clock in at 2:45, it still is.
Stephen M. Silverman is a critic and journalist whose latest book, The Catskills, will be published by Knopf in October.