'Hamilton' Maestro's Process an Open (Song) Book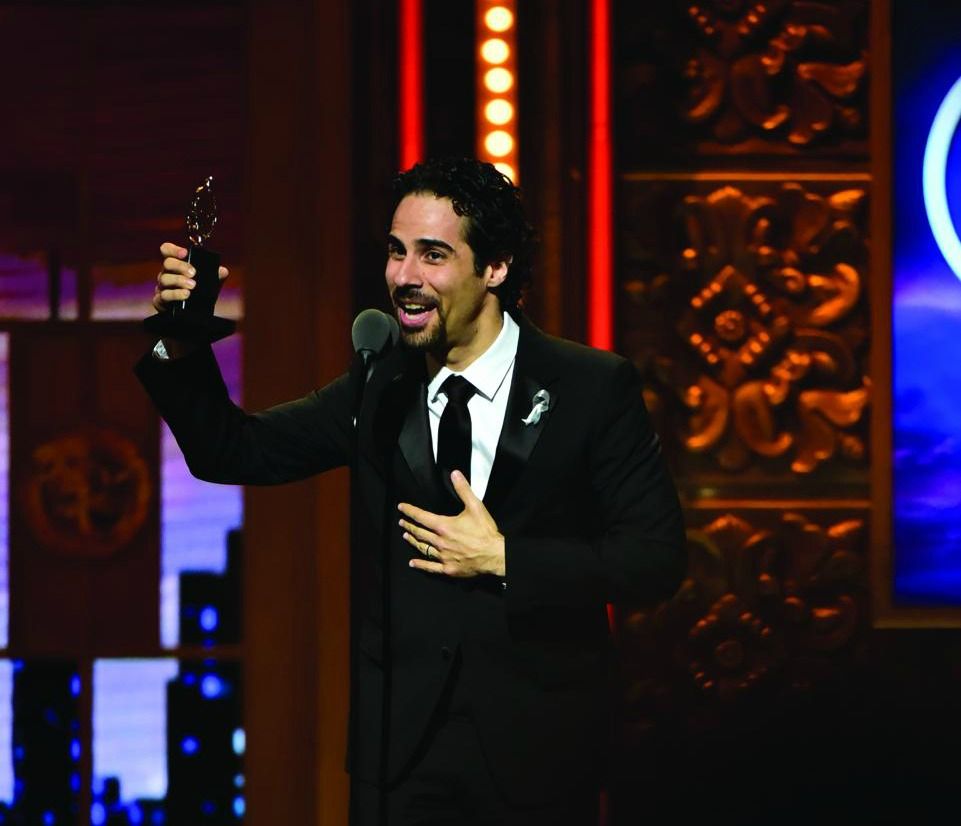 This article, written by Senior Editor Tim Baker, and other articles about the Broadway phenomenon are featured in Newsweek's Special Edition Hamilton.
Alex Lacamoire is easy to talk to. He smiles, nods and says "great question." When he's expounding on a musical challenge, his eyes light up and his mop of tangled curls jumps and swings around. He's unfailingly complimentary about everyone involved with Hamilton, from Lin-Manuel Miranda on down to the company players in the new touring cast. Sitting across the table from him, the only thing that would alert someone to his role as Miranda's musical right hand and the conductor on the most famous show on Broadway in a generation is the intricate passion for music he finds different ways of expressing with almost every new sentence. But behind the mild manners and the equalizing grin lies the musical mastermind behind both In The Heights and Hamilton, the man who takes Miranda's musical ideas and unpacks them into Tony-sweeping scores that combine classic, Great White Way musical tradition with as much pop, R&B and (since Miranda instigated a love of the genre in Lacamoire almost a decade ago) hip-hop, into something the theater world has been yearning for—something entirely new; something that excites first-time theatergoers as much as veterans and jaded Broadway critics.
That's why it seems a little too humble when Lacamoire describes himself as being "the traffic controller" of Hamilton. Because while it's true Lacamoire held the baton for almost every show until Labor Day—his backup, now in charge of the pit, handled one performance a week before Lacamoire's departure to focus on the Chicago and touring companies of Hamilton—it's only true in the figurative sense. There is no conductor's baton in the Hamilton pit—Lacamoire's hands are a little busy playing the musical's demanding keyboard parts to worry about a baton. He largely conducts, as high-school drama teachers do, with his head, nodding cues at the nine-person pit orchestra below him and the actors onstage above him. It helps that he arranged the music himself and knows it better than anyone on the planet, but if Lacamoire's position really can be compared to that of a traffic controller, he's more like one of the programmers responsible for keeping every traffic light in a city in synch than a mere traffic cop.
And his onstage duties only constitute a fraction of his involvement with the musical phenomenon of the forgotten Founding Father. In fact, he's been around since the very beginning of Hamilton, when it was still just an idea for a mixtape. "When Lin originally read Ron Chernow's biography, he was inspired to create music for it," Lacamoire begins. "And the best way to describe [the impulse] is that it was based on Jesus Christ Superstar, which was a concept album before it was a play. Same thing with Evita. It would allow people to just listen and experience the story, experience the lyrics, experience the music on its own and be able to jump from moment to moment without necessarily having the connective tissue between things." It was this raw material that got Miranda and Lacamoire a chance to perform at the White House in 2009, the very beginning of the Hamilton phenomenon.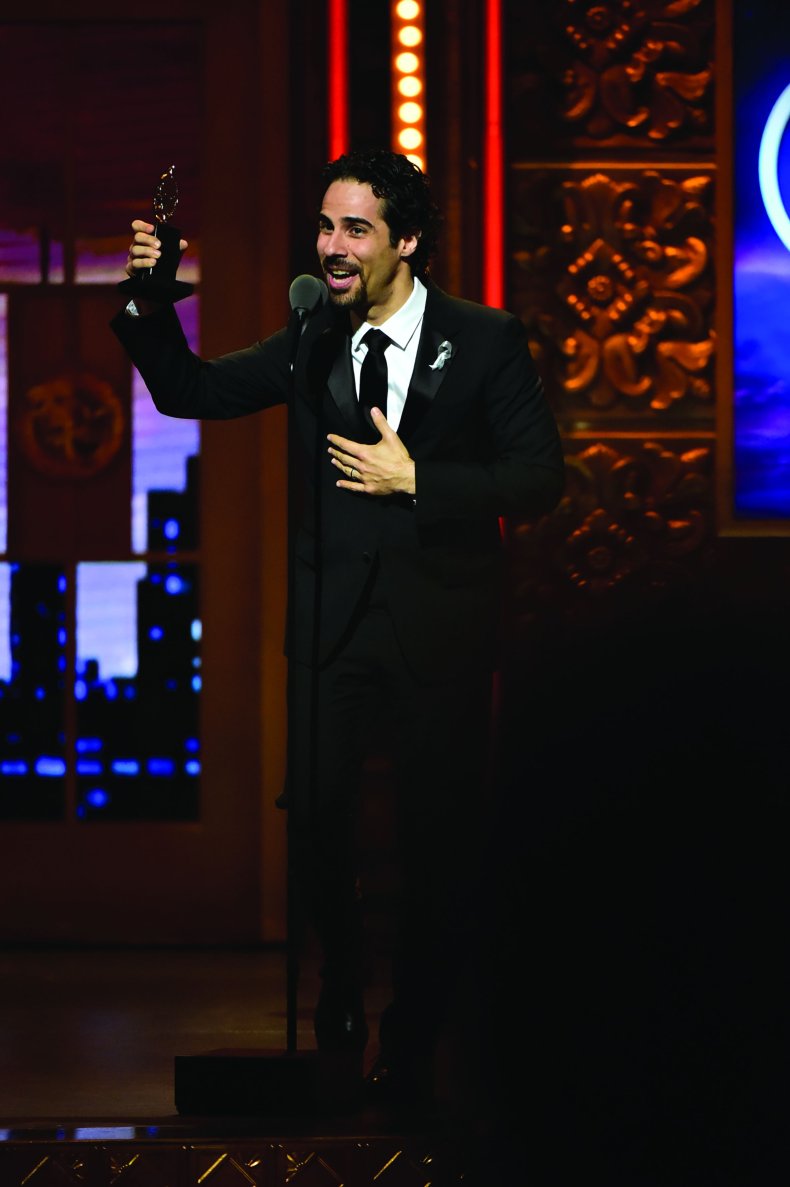 After the performance at the White House, which featured Lacamoire playing each of what would become 10 different parts by himself, director Tommy Kail suggested that Miranda flesh out the Hamilton mixtape concept into a complete two-act play. So as Miranda wrote his lyrics and musical themes, it fell to Lacamoire to unravel this raw material into polished musical charts to be used by his pit orchestra as well as the cast. And the more the pair wrote, the more they realized was still to be written. "There was a moment where we thought we were going to be a more traditional book musical," Lacamoire explains, meaning that there would have been dialogue between the written music. "We did at one moment try a workshop with a book writer and had scenes in between the songs. We found that anytime we weren't in music the energy just kind of didn't sustain. It [was decided] to just have the whole thing be through-composed and be music from beginning to end. I think it really makes the piece into something special that way." It did, however, add no small amount of work to Lacamoire's process. Through-composition— beginning-to-end music—meant his orchestrations would have to be able to fit seamlessly into both show-stopping numbers when each member of the band would be playing their hearts out and more sparse arrangements when the singing onstage contains a bit more exposition.
"One of the clues that Lin had given me at the beginning was that he wanted the strings to be to Hamilton what the horns were to In the Heights," Lacamoire explains, referring to the raucous Latin-inspired wind section in Miranda's first play, which added much of the local color to the show. "I thought to myself, 'OK, In the Heights was a pop or Latin rhythm section with a bunch of horns.' So I thought that Hamilton should be a pop/rhythm section with a bunch of strings. We tried to ask: What were the instruments of the era?"
With his 10-piece orchestra set, Lacamoire's work began in earnest. His people were in place, so the fine-tuning could begin. In some cases, this fine tuning took years. Lacamoire has been very open about his multiple speed bumps in composing "The Schuyler Sisters," Hamilton's show-stopping "Destiny's Child-themed number." But in other cases the progression from nascent chart to finished product has been more natural. Lacamoire is particularly proud of the evolution undergone by the Act Two song, "It's Quiet Uptown."
"That's an arrangement and orchestration that just flowed out of me naturally," Lacamoire says before giving Miranda his due. "Much in the same way that composition flowed out of Lin in a very natural way—he wrote that song in a day. There weren't many changes that happened lyrically or structurally." It's been dealing with these different kinds of progressions that has posed the most potent challenge to Lacamoire, and the one to which he feels the greatest responsibility.
Over Labor Day weekend this year, Lacamoire took his place half above and half below the stage for the last time. He hadn't grown tired of Hamilton and he wasn't ready to move on—in fact, it was just the opposite. He was going out of the frying pan and back into the fire of building a show from scratch by dedicating his time and energy to the Chicago and traveling productions of Hamilton, trying to coax new nuggets of brilliance from the music he and Miranda originated. In fact, re-interpretation of the Hamilton idea seems to be Lacamoire's (to say nothing of Kail and Miranda) next great challenge, and Lacamoire could not be more excited to face it. "What's wonderful about the way Lin writes is that he didn't write the role of Hamilton for himself," Lacamoire says. "He wrote a role. It's a role that he happens to be able to play and that is what it is. But I thought it was really wonderful for people to see very early on in having our wonderful alternate at the time, Javier Muñoz, go on once a week. It was great for people to see that the show was not about Lin-Manuel Miranda and that it was bigger than that. That's why I'm very jazzed about this cast. These people look very differently, sound very differently and feel very differently than the people on Broadway. It's not because we're trying to find another Renée or trying to find another Daveed; we're just trying to find another Angelica and another Jefferson." It's a principle that Lacamoire also brings to his own role, even though he's not leaving his spot in the Cabinet anytime soon.
This article was excerpted from Newsweek's Special Edition Hamilton, by Senior Editor Tim Baker. For a backstage pass to the Broadway musical sweeping the nation, pick up a copy today.