'Hamilton': Meet the Man Behind Broadway's Hip-Hop Masterpiece
This article first appeared on RollingStone.com.
Lin-Manuel Miranda hasn't had to devote much thought to decorating his dressing room at the Richard Rodgers Theatre, where he's currently starring as a singing, rapping Alexander Hamilton, "the 10-dollar Founding Father without a father," in eight sold-out performances a week. There's the couch where he takes his pre-show naps, a PlayStation he occasionally fires up, a cassette boombox he just bought to play old tapes he dug out of his parents' place, a bottle of arthritis-strength Tylenol for his choreography-afflicted neck and shoulders. And when you're the creator and star of the most revolutionary Broadway hit since Rent, people send you stuff: bobblehead Hamilton dolls, high-end headphones, flowers, "1776" whiskey, a Hello Kitty toaster, stacks of books. "Someone sent me a rhyming dictionary," Miranda says one Tuesday afternoon in late summer, a few hours before a show. He pulls the volume from a shelf and arches his eyebrows. "Do I look like I need a fucking rhyming dictionary?"
Related: The 50 Greatest Hip-Hop Songs of All Time
There are nearly 50 songs in Hamilton (its Playbill lists only 34, in the interest of not scaring audience members out of their seats), most of them drawing on hip-hop and R&B, all of them stuffed with lines like, "I'm in the Cabinet, I am complicit/In watching him grabbin' at power and kiss it/If Washington isn't gon' listen to disciplined dissidents . . ." There's a song called "Ten Duel Commandments" that plays off the Notorious B.I.G.'s "Ten Crack Commandments"; George Washington introduces a Cabinet meeting that turns into a rap battle by paraphrasing Jay Z's "Izzo (H.O.V.A.)."
Miranda is equally conversant with the oeuvres of Stephen Sondheim and Big Pun, of Alan Menken and Biggie, of XTC and Rubén Blades—and these days, he's tight enough with Sondheim himself to send the 85-year-old composer rap songs he thinks he'll like. Miranda credits a lot of his cultural nimbleness to the "bifurcation of my childhood," adding, "I've been code-switching since I was 5." He grew up commuting between a Hispanic neighborhood in northern Manhattan and a highly selective Upper East Side public school for gifted kids, while spending his summers in his father's native Puerto Rico, and later going on to college at artsy Wesleyan. He's been making art, putting on little shows, shooting home movies, since he was small—he wrote his first musicals before high school. So, yeah, Miranda has no call for a rhyming dictionary—he just needs to put his brain on shuffle.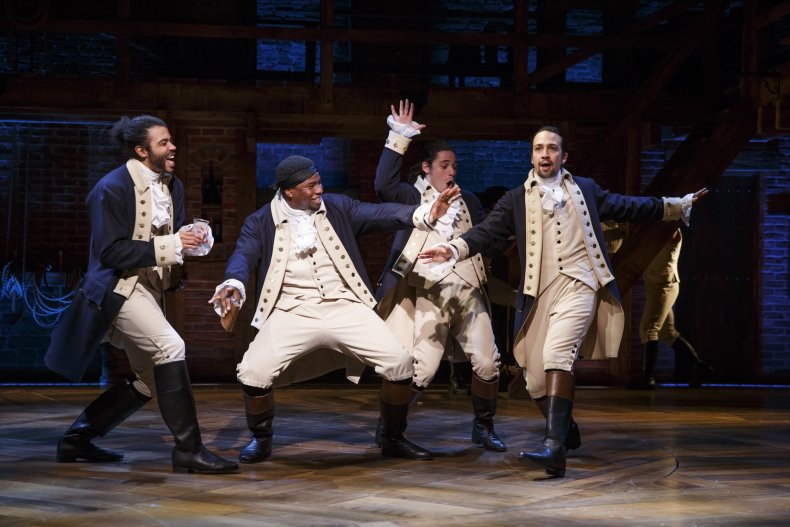 Miranda is 35 but looks weary enough to seem slightly older, a condition that's probably temporary. He's still puffy-lidded from the exhaustion of simultaneously tending to a baby musical and an actual baby—his wife, Vanessa, gave birth to a son, Sebastian, as Hamilton's tech rehearsals began. Sebastian, whose name is only tenuously linked to his dad's love for Menken's Little Mermaid score, just started sleeping through the night.
Related: Questlove on 'Hamilton' and Hip-Hop: It Takes One
Miranda has been a prominent Broadway figure since the 2008 debut of his first musical, In the Heights, which combined hip-hop, salsa and more-traditional show tunes. It won him a Tony and a Grammy; his acceptance speech for the former was itself a rap, half-freestyled in front of a TV audience of millions. Hamilton, though, is a much bigger deal: Profound, audacious and deeply moving, it's a universally acclaimed masterpiece, arguably the first real hip-hop musical. Though no movie is in the works quite yet, it's already transcending Broadway to become a full-on phenomenon—it may well be the first piece of pop culture ever to win equal praise from Barack Obama, Dick Cheney, Lena Dunham, Joss Whedon and Steven Van Zandt. It reconnects Broadway with contemporary music, and with a mostly black and Latino cast playing Washington, Jefferson, et al., it reclaims American history for people cast to the margins of the narrative.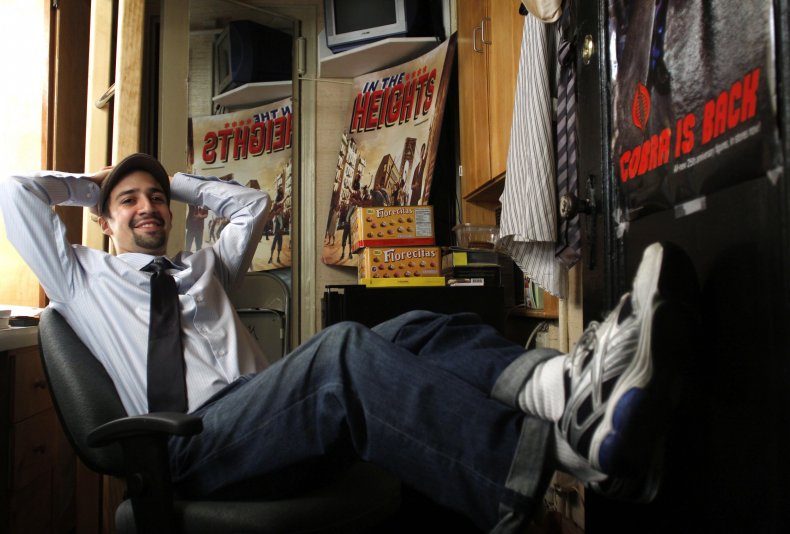 Perhaps inevitably, Miranda has been hearing the word "genius" thrown about. "You know what's a great way of tricking people into thinking you're a genius?" he says—when he gets excited, his speaking voice sounds nearly identical to Woody Allen's, while he raps in an addictive whine that lands somewhere between Eminem and the guys from the Pharcyde. "Write a show about geniuses!" He's in the back of an SUV on the way to the theater from his home in Washington Heights (where realtors use In the Heights as a neighborhood selling point). He's wearing his usual pre-show summer uniform of shorts, T-shirt and New Balance sneakers, his long Hamiltonian hair in a ponytail. "And then everyone goes, 'Oh, my God, he's a genius! Hamilton's a genius!' They conflate the two. I'm not a fucking genius. I work my ass off. Hamilton could have written what I wrote in about three weeks. That's genius. It took me a very long time to wrestle this onto the stage, to even be able to understand the worldviews of the characters that inhabit my show, and then be able to distill that."
Related: 500 Greatest Albums of All Time
With the show, the kid at home and songs for the upcoming Disney feature Moana to work on, Miranda is too busy to fully grasp the extent of his current success—which has to be re-established daily anyway. "We're not like filmmakers," he says. "It's not like we made the thing once. We're more like chefs. The 1,300 people are going to walk into the audience tonight and be like, 'I heard this restaurant was amazing.' But it's got to taste good that night."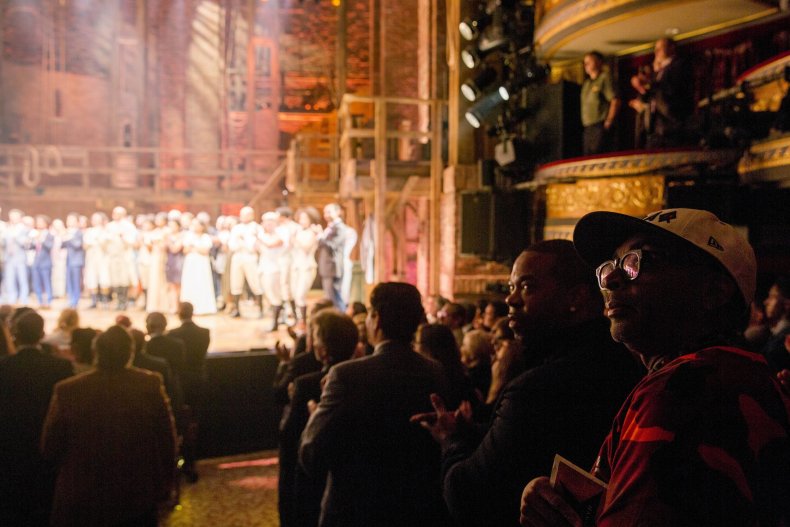 Hamilton is based on Ron Chernow's 2004 biography, a book Miranda randomly picked up as beach reading in 2008. Alexander Hamilton was an illegitimate child, an immigrant from St. Croix, who rose to become a pivotal figure in American history largely on the strength of his voluminous writing—including a good chunk of The Federalist Papers. After a hurricane devastated the teenage Hamilton's home, he published a piece of writing about the storm that was so impressive that local businessmen took up a collection to ship him off to North America for an education. "The second he writes a poem to get himself off the island, I was like, 'Well, that's very hip-hop,'" says Miranda. "To literally write verse that gets you out of your circumstances that's about how terrible your circumstances are, I mean, that's everyone from Jay Z and Marcy to Lil Wayne writing about Hurricane Katrina. As I was reading the book, all these hip-hop analogies couldn't help but pop up."
Hamilton's journey also reminded Miranda of his dad, Luis, another brainy Caribbean immigrant who ended up in politics. Luis was an adviser to late New York Mayor Ed Koch, and he continues to work as a campaign consultant. "When you come from elsewhere," says Luis, "and you have to handle a language that is not yours, a reality that is not yours, there is a drive and a perseverance that you must have, if you're going to make it." But Hamilton's frantic productivity and early death—he was just 49 when Aaron Burr shot him in a duel in Weehawken, New Jersey—also reminded Lin-Manuel of something inside himself.
Related: Revolution on Broadway: Inside Hip-Hop History Musical Hamilton
When he was 4 years old, a friend his age drowned in an accident. "I remember my parents telling me," Miranda says, dark eyes going darker. "I remember the ride to school that day because she used to ride with us. And she wasn't there. And I also remember sort of a year of gray." He became aware of his mortality freakishly early. "I imagine death so much it feels more like a memory," he raps as Hamilton, in a line he acknowledges as deeply autobiographical. "When is it gonna get me?"
Miranda is quite aware that some of his heroes, like Rent creator Jonathan Larson, died young and without warning. Another lyric from Hamilton goes, "How do you write like tomorrow won't arrive?/How do you write like you need it to survive?/How do you write every second you're alive?"
"What I share with Hamilton," Miranda acknowledges, "is that I want to get as many of the ideas out of my head as possible in the time I have."
Related: 100 Greatest Songwriters of All Time
Every night, without fail, one line in Hamilton gets such a big reaction that the music has to pause for two full bars: The French-born Marquis de Lafayette, played by rapper Daveed Diggs, says to Hamilton, "Immigrants—we get the job done!" In the age of Trump, the applause has only gotten louder. "I think of Trump the way I think of, like, pigeons," says Miranda, who can't bring himself to take the candidacy seriously. "It's just like a New York annoyance that's gone national, like, 'Oh, fuck, a pigeon shit on me.' 'Oh, God, a Trump building.' Pat Buchanan did a riff on 'The Mexicans are coming to kill us all' in fucking 1996. And before that it was Italians. It's an old song, and now Trump's singing it."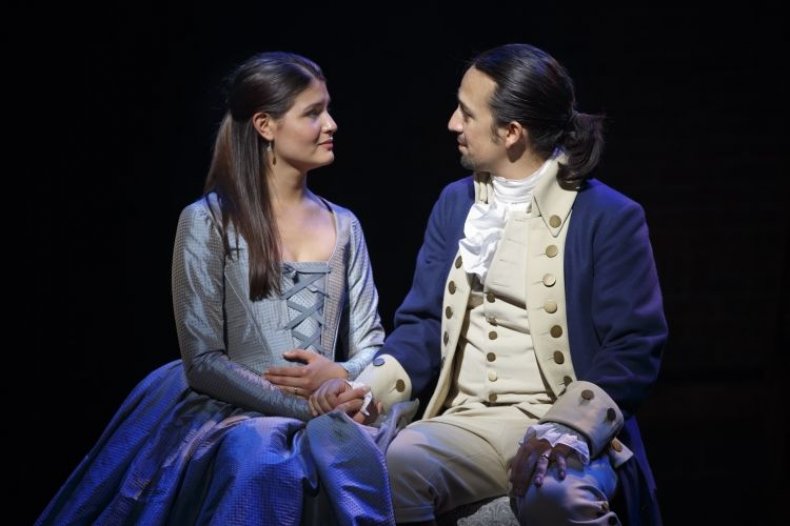 Miranda says he's experienced prejudice in his own life "as often as any other Latino male growing up in the United States. So—often." More than once, fellow attendees at black-tie events have assumed he was a waiter: "Even after In the Heights opened, I was at a thing and a lady waves me over and goes, 'She never got her salad.'"
Casting almost exclusively minority actors fit naturally with the show's musical approach. And there are variations on the theme: Thomas Jefferson is a little older, so he dresses like Morris Day and sings jazzy R&B. In the show's funniest bit, King George III sings British Invasion pop, a breakup tune addressed to the United States ("I will send you a fully armed battalion/To remind you of my love") that blatantly draws on the Beatles.
But now that he's brought hip-hop to Broadway, Miranda can't help dreaming of bringing Broadway back to the radio. "You used to hear a Cole Porter song on the radio," he says, "and then you'd go pay for a ticket to a Broadway show to hear that song in a show." He's enlisted the Roots' Questlove to try to make a cast album that sounds more like Hot 97 than the ultraclean, vocals-über alles sound of other Broadway LPs. "If any cast album could afford to push the limit of that," says Miranda, "it's this one."
Hundreds of people line up outside the theater before each Hamilton performance, hoping to win one of the two dozen prime seats that the show offers by lottery for only $10. Miranda, who admits to a certain innate hamminess, couldn't stand the idea of sending most of those fans home with nothing, so he came up with #ham4ham—quick, guest-star-assisted, social-media-friendly afternoon performances right outside the theater.
Today's surprise guest is Kelli O'Hara, a Broadway superstar who's currently appearing in The King and I—for the theater-y crowd outside, it's going to be roughly the equivalent of Taylor Swift bringing out Joe Jonas. Miranda meets O'Hara in the fifth row of his empty theater, where they quickly plot a performance: She's going to rap LL Cool J's "I Need Love"—which she happens to know by heart—and then burst into an aria.
The rehearsal, such as it is, lasts five minutes, and then Miranda simply pops open the theater door. "Thanks to you, we're going to run a nice long time," he tells the crowd, "so if you don't win today, don't be disappointed.... I have an incredible rapper on deck.... Please give it up for Kelli O'Hara!" He beatboxes while she does "I Need Love," she switches to her aria, and within minutes they're back inside. He gives O'Hara a hug, and beams as she sneaks out a side door—he just put on a show! "It's tough to nap after that," he says. "Because it's like a dopamine shot, total adrenaline for exactly four minutes with no prep. In a lot of ways, it's the most pure essence of what we do."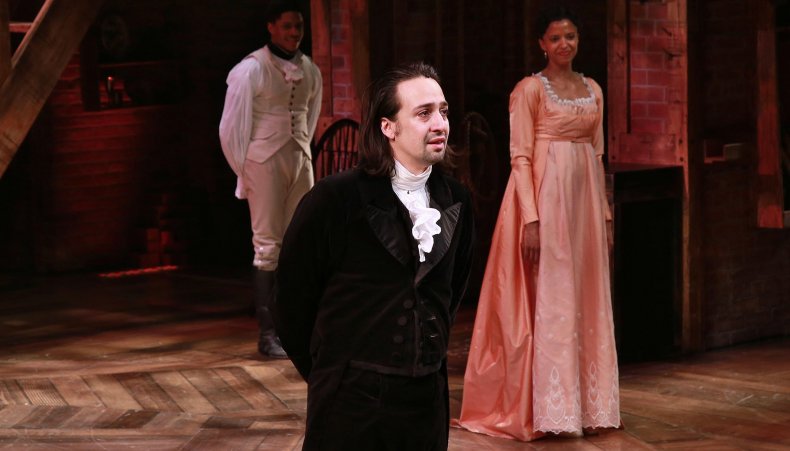 Miranda isn't sure exactly where he's going from here. There isn't much precedent for a Broadway composer-star, let alone one who can seriously rap. There are some stand-alone album projects he'd like to do, and there's always the temptation of Hollywood. "It's tricky for me," he says. "I have a couple of ideas for films. But, you know, Quentin Tarantino acted in a play, and I'm very happy that he got that opportunity, but I also want him to keep making movies because he's one of the best people in the world at making movies! I have these other interests, but I've worked really hard to get good at writing shows, so it's not a matter of stopping that to do other things. It's a matter of how much else can I fit in my life." There is one thing he won't try, though: "I like the quiet it takes to pursue an idea the way I pursued Hamilton, but I couldn't write a book," he says, then laughs. "Because there's no applause at the end of writing a book."