'Hamilton' Movie Release Date: Will Show Stay on Disney Plus After July 3?
Disney+ will soon allow the thousands all over the world who were not able to get Hamilton tickets the chance to see the Lin-Manuel Miranda musical, and the streamer released the first trailer for the live theatre recording on June 21. However, that promo ended with a caption saying the movie was "streaming exclusively July 3," leaving fans worried that the musical would only be available to view on that date.
However, this seems to be grammatical confusion on the part of Disney. With this title card, they mean that Hamilton is streaming exclusively on Disney+ from July 3 rather than just streaming on that date.
This was confirmed by Disney's press release announcing that the Hamilton 'movie' release date had been pushed forward a year. This release said that the musical would stream on Disney+ "beginning July 3."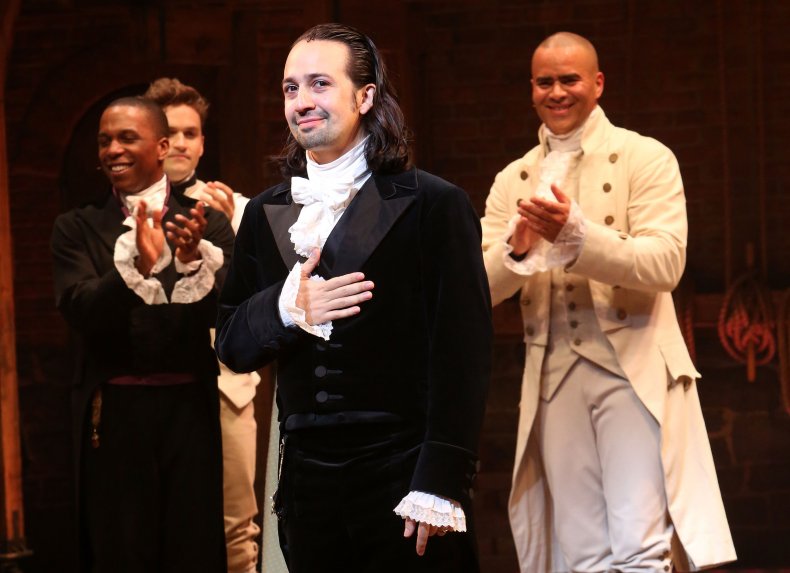 After all, Disney is reported to have paid eight figures for the rights to Hamilton, so the company will want to make the most of it. Deadline reported in February 2020 that the Mouse House paid $75 million for the worldwide rights to the live recording, filmed over three nights with the show's original cast.
Bidding started on the filmed performance of Hamilton in 2018, with studios having to pledge to not release the footage before 2020. Originally, Disney was set to release the Pulitzer Prize-winning musical into cinemas on 15 October 2021. However, with Broadway shut due to the coronavirus, this has been pushed to this summer.
Lin-Manuel Miranda said in a statement: "I'm so grateful to Disney and Disney+ for reimagining and moving up our release to July 4th weekend of this year, in light of the world turning upside down. I'm so grateful to all the fans who asked for this, and I'm so glad that we're able to make it happen. I'm so proud of this show. I can't wait for you to see it."
While Hamilton comes to Disney+ a year ahead of schedule, another Miranda project moves in 2021. The movie adaptation of his In the Heights was originally scheduled for June 2020 but will now not be released until June 18, 2021.
Though fans can be reassured that Hamilton will be on Disney+ for longer than one night, the streamer has prevented fans from watching the musical for free. Earlier in June, the streamer stopped offering seven-day free trials, with numerous publications linking this to the upcoming premiere of Hamilton.
Speaking to Variety, a Disney rep said confirmed: "We continue to test and evaluate different marketing, offers and promotions to grow Disney Plus. The service was set at an attractive price-to-value proposition that we believe delivers a compelling entertainment offering on its own."
Hamilton will be released on Disney+ from Friday, July 3.