'Hamilton' on Pornhub: First Act in Full Was Uploaded to X-rated Video Site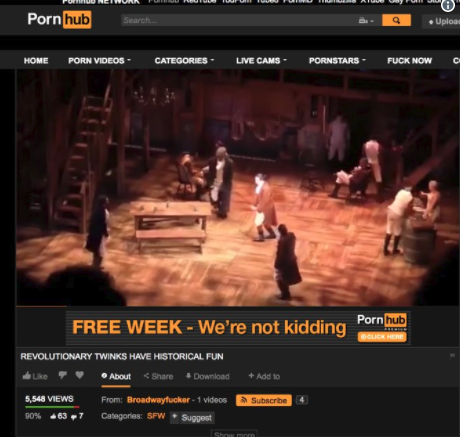 Of all the ways people could try to see Hamilton, catching the hit Broadway musical on Pornhub might not have seemed possible. However, until recently netizens were able to watch the show's first act on the X-rated website.
For reasons unknown, one uploader shared the musical before it was taken down from the pornography site.
Related: 'Hamilton' London review: Lin-Manuel Miranda musical finally arrives in U.K. and it's worth the wait
In the nine months it was active, the video (incongruously given the tags "twink bisexual," "gays boys" and "historical") was watched 5,721 times. Now a notice on Pornhub shows that it was removed at the request of the Hamilton Uptown Limited Liability Co.
Screen grabs of the video, uploaded by Pornhub user Broadway Fucker, showed the performance was recorded from a balcony seat. Lin-Manuel Miranda, who plays the lead character, can be seen performing. That means it was filmed more than a year ago, since Miranda performed for the last time in July 2016. The star and creator of the show left to work on the animated Disney film Moana.
It was not clear if the Hamilton upload to Pornhub was supposed to present the musical as an erotic work: It was given the title "Revolutionary Twinks Have Historical Fun."But it simply could have been done so fans who couldn't get tickets could see the show.
The upload seems to be part of a growing trend where users illegally place mainstream content on the X-rated site. The recent comedy film The Big Sick appeared on Pornhub over the holidays.
Pornhub tweeted on Monday that it was going through its videos to remove the movie. However, its creator and star, Kumail Nanjiani, embraced the upload. He took to Twitter, joking that families could watch The Big Sick together.
"For Those of you who wanna watch #TheBigSick with your families & don't have Amazon Prime or can't afford to purchase it: The whole movie is available on Pornhub. Don't ask me how I know," he wrote.
The Pakistani-American comedian added that the film, which is about the difficulties of dating across different cultures, was filed under "interracial."
By Wednesday, The Big Sick, like the first act of Hamilton, had been removed.
Representatives for the producers of Hamilton did not immediately respond to Newsweek for comment.