Hamilton San Francisco Performance Ends in Chaos, Injuries After Fake Gunshots Cause Panic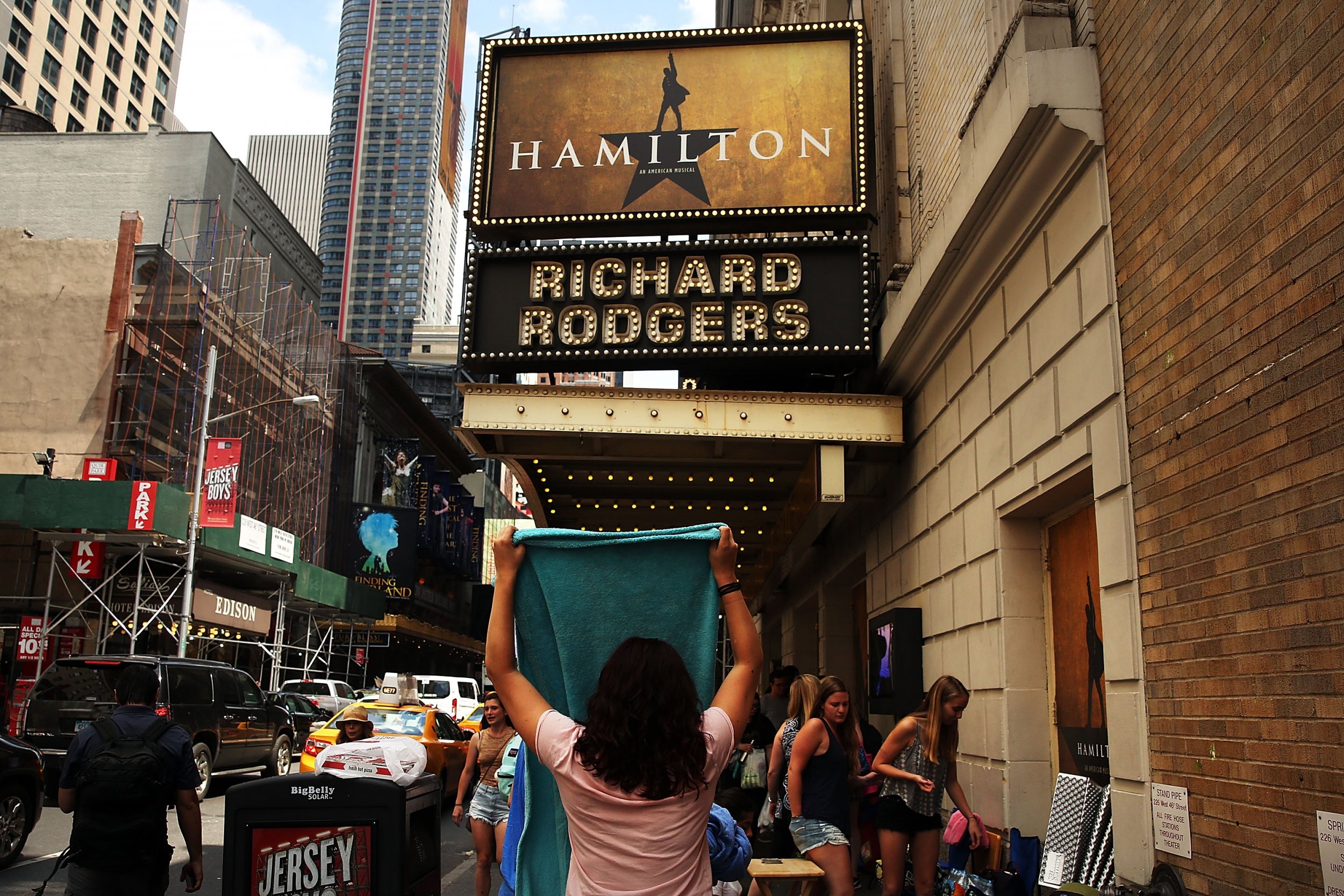 A performance of hit musical "Hamilton" in San Francisco descended into chaos Friday night as theater-goers fled the show in panic after a member of the audience suffered a medical emergency.
The mass hysteria appears to have been caused when a woman in the audience collapsed at the same time as fake gunshots rang out on stage as part of the show, CBS News reported. She is believed to have suffered a heart attack.
CBS reporter Shirin Rajee, who was attending the show, said she heard at least one person yell "gun" as fans fled the Orpheum Theatre in the Civic Center area of the city.
A tweet sent out by the Orpheum Theatre explained that while the medical emergency was going on, an audience member pulled the fire alarm as the panic spread, which encouraged people to exit the theater.
Police said three people were injured in the chaos, including one person who suffered a broken leg, SFGate reported. None of the injuries were life-threatening. NBC Bay Area reported that alongside the heart attack and the leg injury, one boy suffered a seizure and another person sustained a head injury.
The woman who initially collapsed is in hospital in a critical condition at San Francisco General Hospital. "The original patient who required an [automated external defibrillator] had a return of pulses with CPR and paramedic and remains in critical condition," the San Francisco Fire Department tweeted.
Rajee reported that audience members fleeing the theater were so scared they were jumping into police patrol cars to escape what they thought was an active shooter. A San Francisco Fire Department security officer was on the scene working door security, CBS News explained, and responded when the unplanned evacuation began.
According to SFGate, the audience began to calm down when emergency services arrived to assist. Once the panic had abated, most attendees returned inside to watch the end of the show.
San Francisco Police spokesman Officer Joseph Tomlinson confirmed that the panic was caused by audience members wrongly linking the fake gunshots to the woman's collapse.
Police Captain Renee Pagaon assured NBC Bay Area, "There was no one with a gun, there were no shots fired, at the end it was a medical emergency."
Hamilton, which won 11 Tony awards in 2016, made its debut on Broadway in 2015. Created by Lin-Manuel Miranda, the show first came to San Francisco in 2017.