'Hamilton's' Disney+ Premiere Reignites Controversy Over Depiction of Slavery
Even though many were thrilled with Hamilton's premiere on Disney+ on July 3, some revisited the controversial ways that Lin-Manuel Miranda's musical depicts slavery. On July 5, Tracy Clayton (cohost of Another Round podcast) tweeted about how the subject was handled.
Slavery and white supremacy has become a nationwide conversation, as Confederate monuments and statues of other controversial figures have been removed around the country.
"im (sic) late w the Hamilton criticism stuff & im (sic) clearly biased but.. i really like that this conversation is happening. Hamilton the play and the movie were given to us in two different worlds & our willingness to interrogate things in this way feels like a clear sign of change," Clayton began her Twitter thread.
"i totally get the frustration about it being a play about slaveholders that is not about slavery. ive (sic) felt that in lots of things i watch, but i flex the same muscle i use when i listen to hip hop as a black woman, we enjoy problematic things all the time," she added.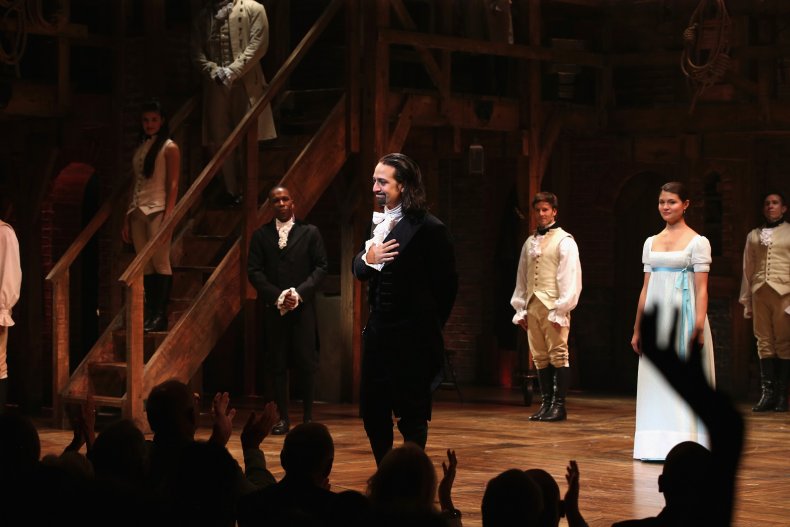 "after reading the critiques i would have appreciated more context about hamilton & slavery. but to lump it in with statues of columbus and robert e lee denies this conversation the nuance it deserves & we're capable of giving it that."
The podcast host also acknowledged that navigating history and historical figures is complicated. "humans are flawed and messy, both the ones who lived then & the ones reading and writing about them now," Clayton wrote.
"hamilton is a flawed play about flawed people written by an imperfect person that gave my flawed and imperfect little life a big boost when i needed it most," she continued. "so again i know im (sic) biased, but i do appreciate the change this illustrates & will be following the convo's evolution."
Clayton concluded her Twitter thread noting that she has yet to watch the film version on Disney+, and anticipates doing so this weekend.
In the musical Hamilton, his take on slavery was not made particularly explicit. According to Ron Chernow's 2004 biography Alexander Hamilton, which the Tony Award-winning musical is based on, Chernow noted that "Few, if any, other founding fathers opposed slavery more consistently or toiled harder to eradicate it than Hamilton." The Washington Post also mentioned that even though Hamilton despised slavery, he didn't confront George Washington or other slaveholders about the issue.
Miranda recently addressed slavery within Hamilton in an interview with NPR in June. "[Slavery] is the third line of our show. It's a system in which every character in our show is complicit in some way or another... Hamilton – although he voiced anti-slavery beliefs – remained complicit in the system. And other than calling out Jefferson on his hypocrisy with regards to slavery in Act 2, doesn't really say much else over the course of Act 2. And I think that's actually pretty honest."
The playwright responded to Clayton's Twitter thread, and was grateful of her examination. "Appreciate you so much," Miranda wrote. "All the criticisms are valid. The sheer tonnage of complexities & failings of these people I couldn't get. Or wrestled with but cut. I took 6 years and fit as much as I could in a 2.5 hour musical. Did my best. It's all fair game."
Newsweek did not receive comment from Lin-Manuel Miranda at the time of publication.