Hampton University Police Officers Fired for Sharing 'Racist,' 'Misogynistic' Messages
Hampton University fired nine police officers after they were discovered to have participated in the sharing of several offensive remarks via social media.
All employees at the private, historically black university are required to adhere to the university's code of conduct. After a full investigation, it was determined that the officers shared "misogynistic, racist and other offensive remarks" on unnamed social media outlets. This behavior, the university said, was an "egregious" violation of the code of conduct.
Earlier in the year, students at Mount Holyoke and Smith Colleges in Massachusetts protested the employment of Police Chief Daniel Hect over tweets he liked about immigration, gun rights and President Donald Trump. In April, Hect was placed on administrative leave because of concerns about his ability to "develop the level of trust required to engage in community policing." Ultimately, his employment at the colleges ended by "mutual and amicable agreement."
One condition of Hampton University's required guidelines for all members of the community, including students and faculty, is to use social media responsibly and respectfully.
"Individuals should utilize their best judgment before posting content and should specifically refrain from cyberbullying or using social media to cheat," the code of conduct stated. "Uses of technology or social media posts that violate any of the aforementioned tenets of this Code will subject one to disciplinary action."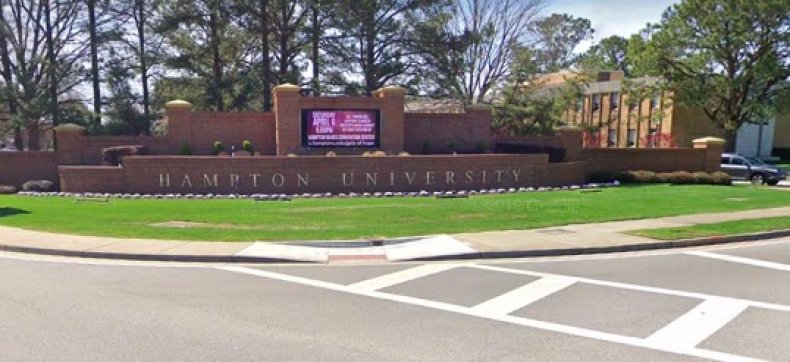 The university didn't elaborate on what the messages specifically said, but a letter from Hampton University Police Deputy Chief Ronald Davis, obtained by WVEC, said they were sent as part of an annual "Meme Wars." The letter described "Meme Wars" as a "jovial release of photographs and captions designed to levy insults at others in the group as well as persons outside the group." This was, according to the letter, the third year the "Meme Wars" took place. Newsweek reached out to Hampton University Police Chief David Glover but did not receive a response in time for publication.
Involvement in the group, according to the letter, was deemed "inappropriate behavior and unbecoming of an officer."
"The memes produced and shared in this group were egregious and extremely inappropriate to be shared in the workplace," the letter stated.
The Hampton University Police Department has 43 authorized positions, including 25 state-certified police officers, 10 security officers, 5 telecommunication personnel and various administrative personnel, according to the website. Those officers who are state-certified have full arrest powers.
Situated in Hampton, Virginia, Hampton University has an estimated 3,672 undergraduate students, according to the school's website, with about 93 percent of students identifying as Black.