Hamza bin Laden, Osama's Son, Denounces Saudi Arabia, Calls for Overthrow of Monarchy in New Al-Qaeda Video
Hamza bin Laden, the son of terrorist mastermind Osama bin Laden, renewed his call for Saudi Arabia's monarchy to be overthrown in a video released Thursday.
The young bin Laden said Saudi Arabia's monarchy should be punished for forming strategic historical alliances with the West and uniting with the British Empire against the Ottoman Empire. The video, released Thursday by the SITE Intelligence Group, is the fourth episode in a series of videos bin Laden has authored in recent months.
"So look—may Allah have mercy on you—how Ibn Saud made himself an obedient representative to the British occupant power, and an agent to it, where he surrendered everything that he can surrender in return for receiving money and weapons from it to fight the allies of the Ottomans. So would it be right after all this for him to become an idol for the Islamic Ummah?" the young bin Laden asked in the nearly 12-minute video.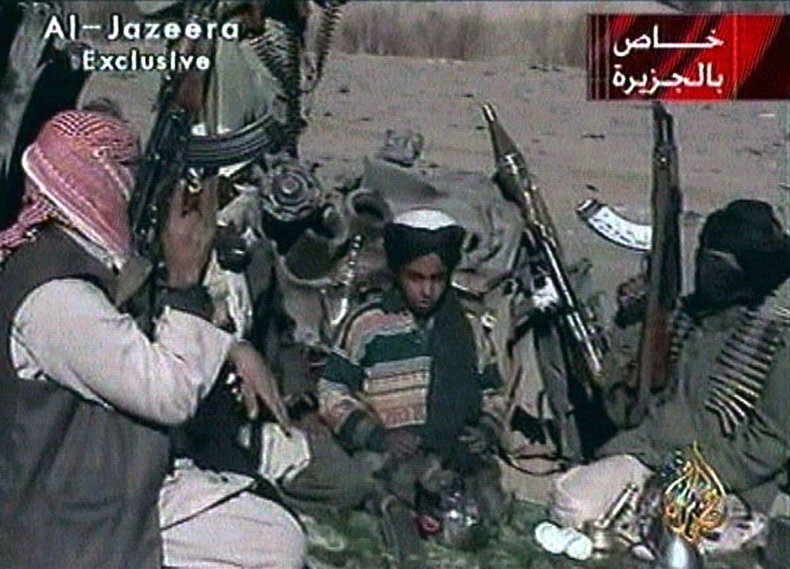 He declared the Uqair Convention, a 1922 protocol that established the modern boundaries between Saudi Arabia and Iraq, and the Darin Pact, a 1915 treaty between Saudi Arabia and Great Britain, to be treasonous because they allied Saudi Arabia with Great Britain.
"Do you know what the Uqair agreements are?" bin Laden asked viewers. "They are agreements to rally behind the disbelievers, and to denounce the believers, and to hand over the lands to the Crusaders so that they would occupy it officially yet indirectly."
He continued: "Through this, Ibn Saud terminated his loyalty to the Islamic Ummah outside his borders, and made himself a delegate for the Crusaders and a representative for them."
Hamza bin Laden was the favorite son of Osama, the mastermind behind the terror attacks against the United States on September 11, 2001. Many analysts suspect Hamza is the new face of the terrorist group Al-Qaeda. Experts said the group was trying to use bin Laden to promote its propaganda as it struggles to regain prominence on the international stage.
"From Al-Qaeda's early years, it has been opposed to the Saudi monarchy, whose king is known as the 'Custodian of the Two Holy Mosques.' This came to a head with Western troops being stationed in Saudi Arabia during the Gulf War," Harrison Akins, a security expert with the Howard Baker Center, told Newsweek.
"Hamza bin Laden's recent emergence as the new face of Al-Qaeda could come in the wake of the Islamic State's defeats in Syria, and Al-Qaeda attempting to leverage this opportunity to re-establish their relevance in global politics using the notoriety around Osama bin Laden's son for propagandistic purposes."