Palestinian Teacher of the Year on How to Help Traumatized Children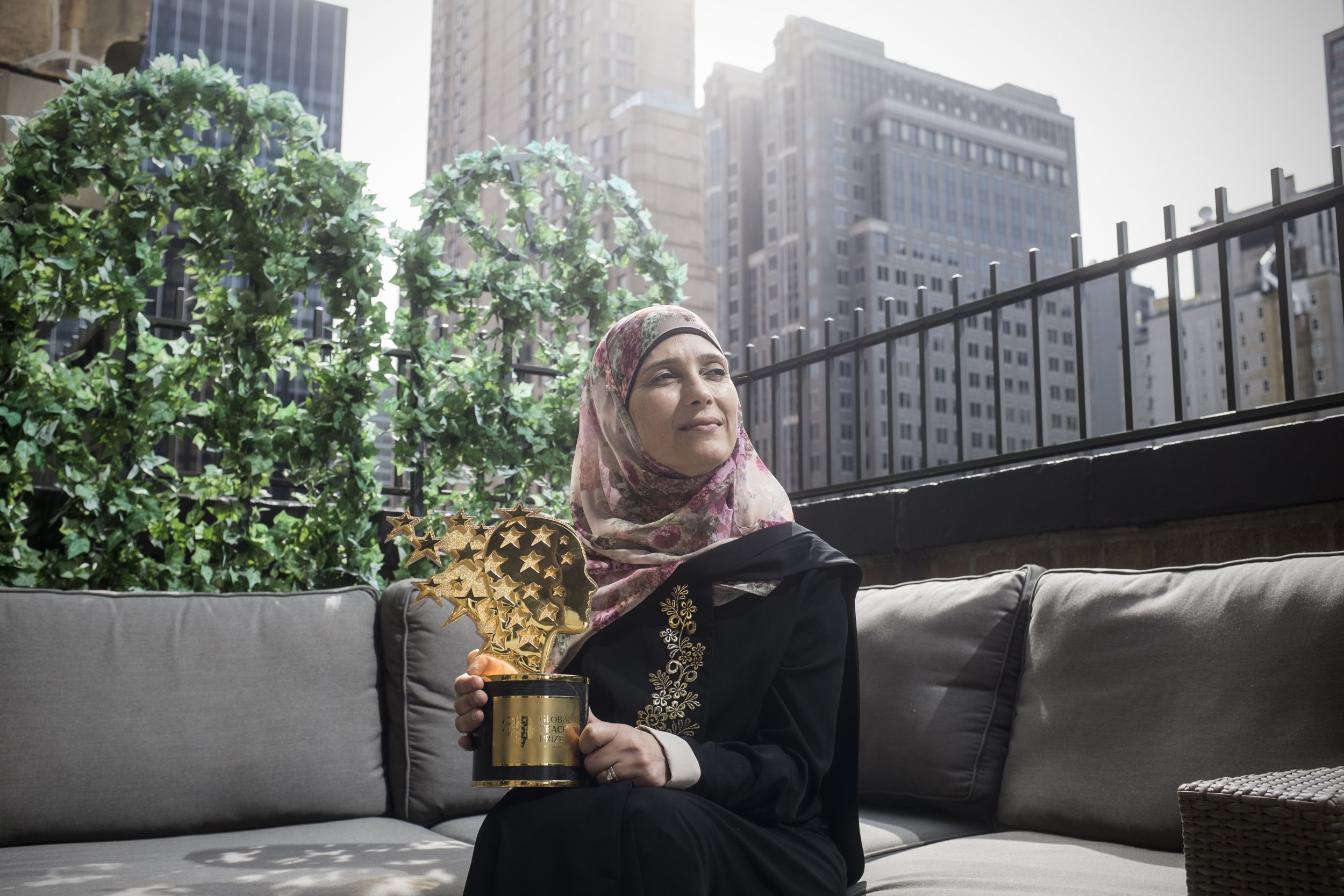 Like many teachers around the world, Hanan Al Hroub deals with many challenges in her job. Huge class sizes mean teachers can't spend as much time individually with each child, salaries are low and much of the education budget goes on administrative costs instead of programs for her students, she says.
But there are some concerns unique to places like the West Bank, where Al Hroub teaches, that are conflict zones.
"One of the challenges we face is the daily shock that children are facing from the occupation. At the same time, we don't have well-skilled teachers who can deal with this trauma," Al Hroub tells Newsweek in a Midtown Manhattan hotel. "The surrounding environment is not helping because it's a difficult situation. The situation is not encouraging for creativity. The question is, are you going to protect your life or are you going to be creative?"
"You don't know if you'll be shot and killed," she adds. "It's very difficult."
Earlier this year Al Hroub, 43, won the Global Teacher Prize, a $1 million award given annually to an exceptional teacher by the Varkey Foundation, a U.K.-based organization that focuses on improving educational opportunities for underprivileged children. The foundation's decision to award the prize to Al Hroub was controversial because her husband served time in an Israeli prison after being convicted as an accomplice in a 1980 bombing that killed six Israelis in Hebron. In March, shortly after awarding the prize to Al Hroub, the Varkey Foundation said, "The judging process examines the qualities and achievements of the candidates themselves only," according to a statement published by the Associated Press.
Born in the Dheisheh refugee camp on the outskirts of Bethlehem, Al Hroub currently teaches at Samiha Khalil School, near Ramallah, in the West Bank. She was in New York City during the opening of the 71st United Nations General Assembly to speak about her work helping traumatized refugee children overcome their behavioral problems through a technique she developed called "play and learn."
Al Hroub says she decided to become a teacher after three of her children—twin girls, aged 9, and a boy, aged 6, at the time—were shot at by Israeli soldiers in October 2000, at the beginning of the Second Intifada, or uprising of Palestinians against Israel. Back at home, the children were distressed, began to fight among each other and "lost the will to go to school," says Al Hroub.
"Day by day, my children became far away from me," she says. Al Hroub noticed, however, that her children were calmest when they were playing. "I created a corner in my home with games. After that, I started to link their games with their subjects in the curriculum. I started to notice them improving, day by day," she says.
By working with her own traumatized children, Al Hroub developed the "play and learn" technique, which she says helps give her students confidence and encourages them to work together and create a dialogue among themselves and with their teacher. The games Al Hroub has developed have two goals: "I use it to change their behavior, which is not acceptable for us, as a teacher and students. I don't just focus on changing the bad behavior, but to work on academic achievement."
"I make the link between what society needs and what I can do inside the classroom," she says.
The technique also promotes nonviolence and reduces selfishness among her students, she says. To teach the value of responsibility, Al Hroub brought pocket money to school, left it on the table and told her students that they could borrow it if they promised to return it. One day, the money was stolen and the students established a monitoring buddy system to check who took the money. They discovered it was an adult male staff member at the school, and later reprimanded him for what he had done.
"We are all of us, a team. This place we call class is our home. We are 29 students and me, 30 persons in this class, we are a family. Support each other, love each other," she says. "I make them love this place."
"The classroom became a very important place for them. They respect the place. This behavior, which I want to reinforce in society, starts with the students in the classroom," she says.
Al Hroub's prize helps to highlight the need to educate displaced and refugee children. More than 3.5 million of them around the world are out of school, according to Save the Children, and they are five times less likely than other children to attend school. Al Hroub stresses the importance of giving refugee children lots of attention and stability, and a warm welcome from their new country. ​
"One of the things that is hurting me [is that] when I went to Europe and came here to America, I saw the stability and how the teachers described their classroom, their school, the techniques they have," she says. "We still, as Palestinians, have all these difficult conditions. Despite that, we will keep saying no to violence. We have to live together with our children in peace. We have to see the fun, the happiness, in the eyes of our children."