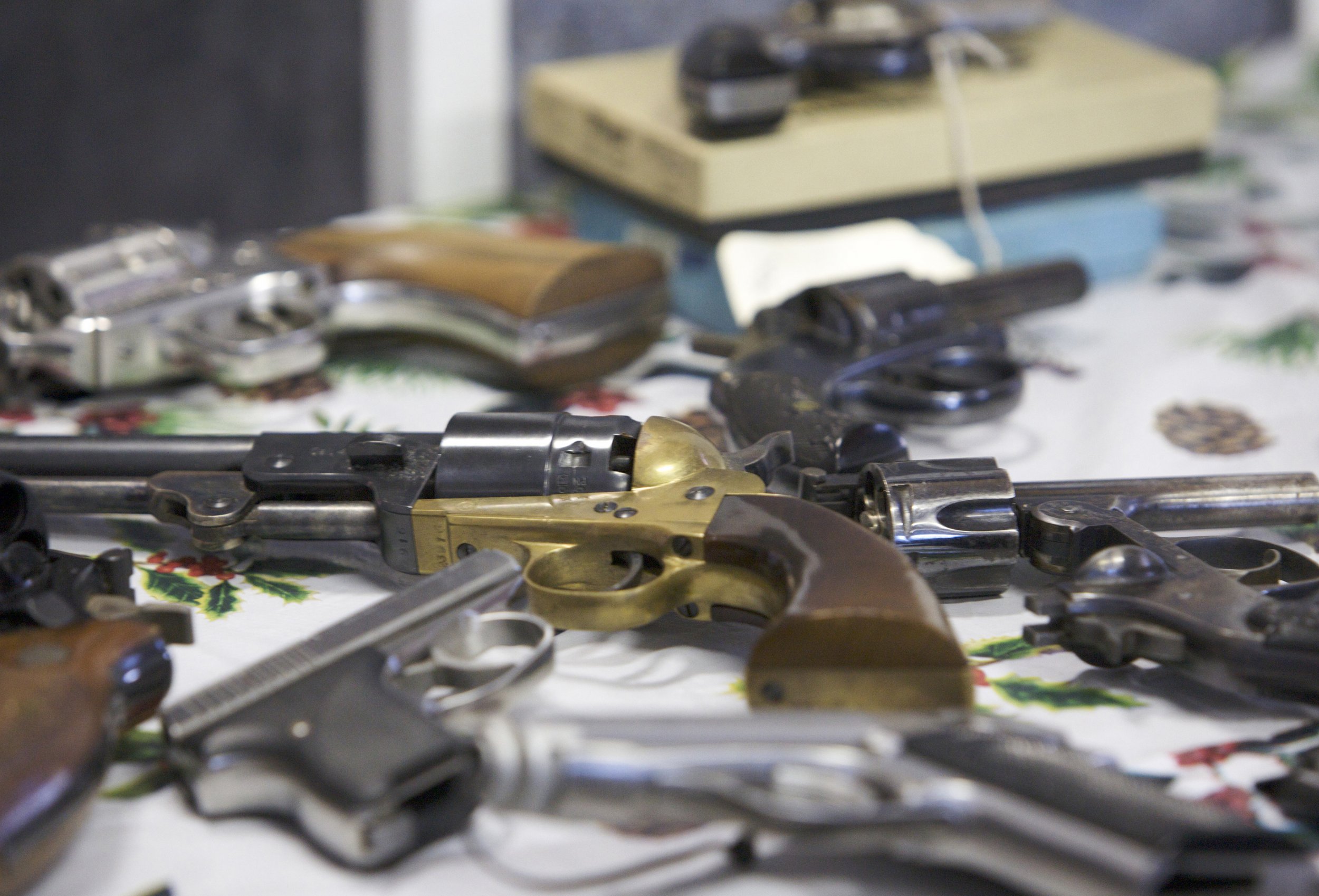 A decades-old gun law in Connecticut requiring residents to have a permit before purchasing a handgun is credited with helping to reduce the state's firearms-related homicide rate by 40 percent, according to a new study.
Legislators in the Constitution State implemented the handgun purchaser licensing law in October 1995. The study found a large drop only in killings involving guns, not in homicides carried out in other ways, according to the researchers from the Johns Hopkins Center for Gun Policy and Research. The study was published online Thursday in the American Journal of Public Health.
Handgun purchaser licensing laws, also known as permit-to-purchase (PTP) laws, "appear to reduce the availability of handguns to criminals and other people who are not legally permitted to buy guns," Daniel Webster, study author and director of the Center for Gun Policy and Research, wrote in a statement.
Researchers tried to discern whether the PTP requirement altered the trends in Connecticut homicides in a significant way that were different from other states with similar levels of killings.
They compared Connecticut's homicide rates in the decade before the adoption of the law, to the expected numbers 10 years after its implementation, had it not passed. For data within the decade after the law was approved, researchers analyzed three states with homicide rates that closely mirrored the numbers in Connecticut—California, Maryland and Rhode Island, Webster tells Newsweek. Those three states and Connecticut also had other similar types of gun policies.
Under the law, all prospective handgun purchasers must first acquire a license from the local police after passing a background check, regardless of whether they will buy the weapon from a licensed dealer or private seller, including on the Internet and at gun shows. The measure also raised the handgun purchasing age from 18 to 21 and made potential buyers complete at least eight hours of approved safety training.
Eighteen states and Washington, D.C., require handgun purchasers from private, unlicensed sellers to pass background checks. Washington, D.C., and 10 states have implemented PTP laws that strengthen the background checks system. The measures vary by state, but generally require background checks for all gun sales—including private sellers—to be completed by local law enforcement.
A loophole at the federal level allows Americans to buy and transfer guns on the Internet or at gun shows without first passing a background check.
Webster acknowledges that there was an expected lag time of about two years from when the Connecticut law went into effect and when the researchers first noticed a decline in gun-related homicides there. They chose Connecticut because it most recently adopted a handgun purchaser licensing law that could be analyzed under their conditions.
States with PTP laws typically have stricter standards for legal gun ownership than do states that don't license handgun purchasers.
The repeal of the 2007 handgun licensing law in Missouri was associated with a 25 percent increase in its firearm homicide rates, according to some of Webster's prior research. None of the states bordering Missouri had a significant change in homicides at the time, Webster says.
The majority of Americans—72 percent—and 59 percent of firearms owners support requiring people to obtain a license before buying a handgun, according to data from a public opinion survey conducted by Webster.
Connecticut received an "A-" grade and ranked second—behind leading California—out of all 50 states in the most recent scorecard published in 2014 by the Law Center to Prevent Gun Violence. Its high-ranking grade indicates the state last year strengthened gun laws, such as tightening restrictions against domestic abusers, banning large capacity ammunition magazines and requiring a permit for the purchases of long guns and ammunition.
The Johns Hopkins Center for Gun Policy and Research is part of the Johns Hopkins Bloomberg School of Public Health.