'Handmaid's Tale' Author Margaret Atwood Faces Backlash for Gender Neutrality Tweet
Margaret Atwood, the celebrated Canadian author best known for her novel The Handmaid's Tale, is facing criticism after tweeting a link Tuesday morning to an opinion article that questions the use of gender-neutral pronouns when discussing pregnancy.
Some social media users are already lumping her in with Harry Potter author J.K. Rowling, whom many believe is a TERF (trans-exclusionary radical feminist). But others have supported Atwood, including unlikely defenders from the right.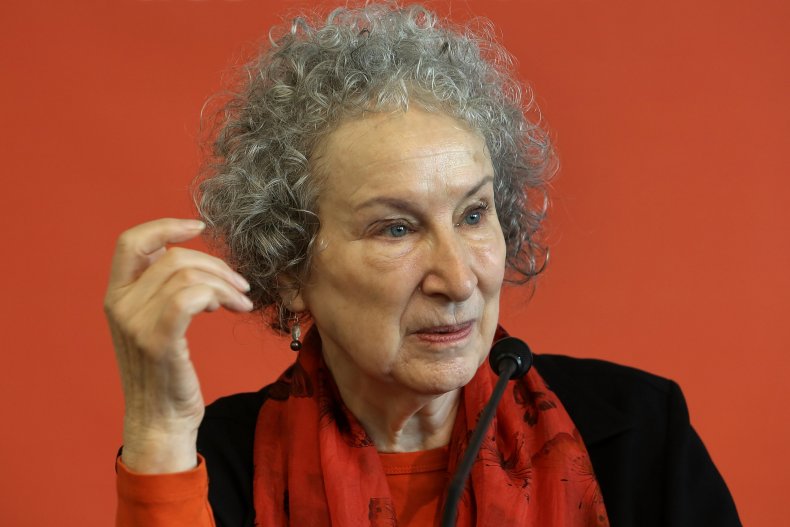 On Tuesday, Atwood tweeted out an article by Rosie DiManno from Friday's Toronto Star entitled "Why Can't We Say 'Woman' Anymore?"
The opinion piece argues that gender-neutral language, such as "pregnant person," equates to "an erasure of women" and causes "well-meaning" people to become "tongue-tied, lest they be attacked as transphobic or otherwise insensitive to the increasingly complex constructs of gender."
In response to one person's complaint about her tweet, Atwood responded: "Read her piece. She's not a Terf."
In her article, DiManno claimed the term "woman" is "in danger of becoming a dirty word" and could eventually be "eradicated from medical vocabulary and expunged from conversation." She blamed an "infelicitous evolution of language" and "trans activism run amok" when citing instances of when "woman" hasn't been used in favor of other terminology.
DiManno also stated that her column is not "an argument against gender self-identification" and that she supported LGBTQ+ equity. She also defended Rowling.
By posting the article, Atwood entered herself into the debate. Award-winning author Amanda Jetté Knox was among the first to debate Atwood in the comments thread, writing: "I'm nonbinary. I also menstruate and gave birth to 3 kids. Saying 'people with periods' includes women AND me."
A more sarcastic commenter wrote, "big fan of your fiction on the dangers of enforcing extremely rigid bio-essentialist ideas about gender btw."
But others supported Atwood's and DiManno's premise, including one person who said the word "woman" is being targeted "because the Patriarchal society always find a way of erasing women's rights and existences."
Meanwhile, conservative commentator Ben Shapiro seemed to offer support to Atwood, or at least saw an opportunity to attack progressives. He wrote: "The wokes are here for Margaret Atwood. Prepare the popcorn."
Over a career that has included novels, criticism, essays and poetry, Atwood has collected numerous awards, including two Booker Prizes, the Arthur C. Clarke Award and Franz Kafka Prize, as well as the National Book Critics and PEN Center USA Lifetime Achievement Awards.
Her works have been adapted for film and television multiple times, with perhaps the most well-known being the current hit series The Handmaid's Tale, starring Elisabeth Moss. The Hulu show has won eight Emmy Awards since its 2017 debut, including for Outstanding Drama Series.
Newsweek reached out to Atwood's representative for comment.