'Handmaid's Tale' Season 2 Trailer: Alexis Bledel Returns From the Dead
In a move that was surely planned, The Handmaid's Tale dropped a new Season 2 trailer on Thursday, aka International Women's Day. In the second season, the Emmy-winning Hulu series will veer even further off-book from Margaret Atwood's 1985 classic. When we left off in Season 1, Elizabeth Moss's character, June/Offred, had been taken away—whether by the good guys or the bad guys, we're still not sure. Meanwhile, Samira Wiley's character, Moira, had escaped to Canada, where she's living as a refugee.
Alexis Bledel's Emily/Ofglen hasn't been seen since Episode 5 of the first season, when she killed a guard with a car and was taken into custody. Many assumed she was sentenced to death, as is protocol in Gilead. (Also, in Atwood's novel, Ofglen hangs herself to escape the authorities' next punishment.) But this character may get a second shot at life in the Hulu series, because Bledel has been upgraded to a series regular for Season 2, and fans finally got a glimpse of her in this trailer. Then again, judging by her clothes and the setting (possibly a college campus), it's likely a flashback scene—so maybe she really is dead, after all.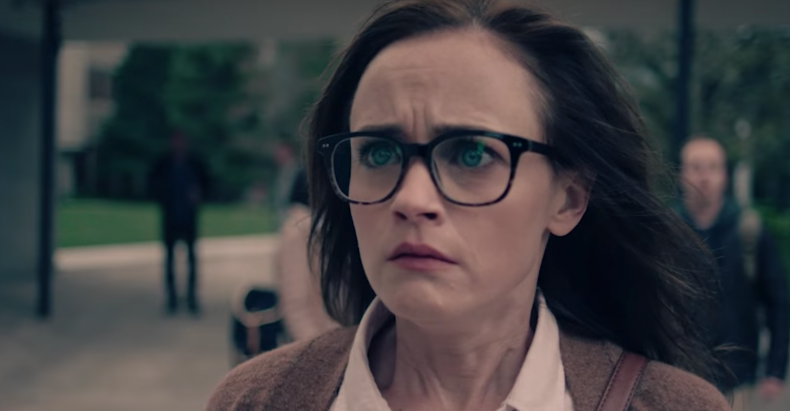 At just 20 seconds, many of which are dominated by shots of a billowing red cloak, this teaser doesn't tell us much else. We get a brief glimpse of Moira, who doesn't look like she's having much fun, despite being safe in Canada. Aunt Lydia, too, makes a split-second appearance. Actor Ann Dowd told Newsweek previously that fans should expect more heroism from her character this season.
The trailer ends on a gruesome note: Offred covered in blood, with her signature defiant scowl. "Seriously, what the actual f***?" says Moss in voiceover. Man, systemically oppressed millennials, right?
The Handmaid's Tale premieres two episodes on Hulu on April 25. The following episodes will be released weekly on Wednesdays.