Everything We Know About 'The Handmaid's Tale' Season 3: Release Date, Storyline & More
The Handmaid's Tale Season 3 trailer dropped Wednesday morning and fans are anxiously waiting to see if Mrs. Serena Joy Waterford will officially join the resistance. The third installment of the Golden Globe-winning series will debut on Hulu June 5 and finds Offred/June, played by Elisabeth Moss, searching for allies in high places.
"If I'm going to change things, I need allies–allies with power," Offred says in the newest season's trailer.
As the camera turns to Nick Blaine saluting, the view shifts to Mrs. Serena Joy Waterford as she walks down the stairs of a private jet.
"As Mrs. Waterford, you have influence," Offred noted.
"Up to a point," Mrs. Waterford responded.
"So move the point," Offred fired back.
Along with a tense conversation between Offred and Mrs. Waterford, audiences were also able to capture a quick glimpse of Aunt Lydia and Emily, whose survival was put into question after an attack during Season 2's finale.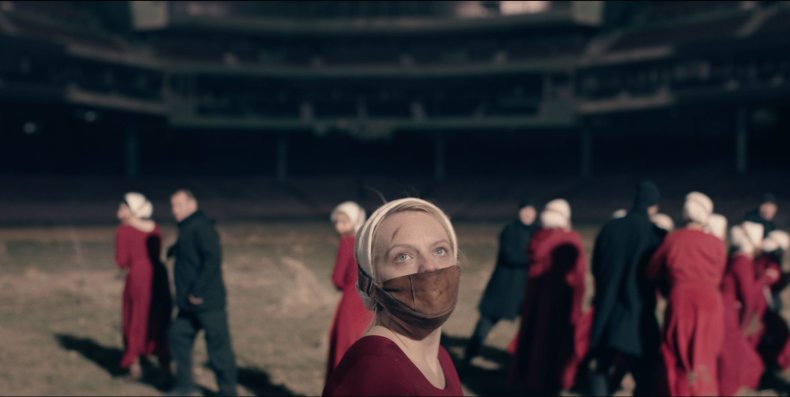 What to Know
Season 3 will return to Hulu with 13 episodes and fans can expect familiar faces and locations to come back as well.
"We will be revisiting the Colonies. It was really a such a stunning achievement in terms of art direction and cinematography and directing," Executive Producer Bruce Miller said during an August 2018 interview with IndieWire. "It was so beautiful and I would love to continue to dive deeper into how Gilead uses the discarded women."
While many characters' fates are currently unknown, by the looks of the Season 3 trailer, a glimpse of a quick hand-brushing moment suggests the relationship between Offred and Nick will continue to blossom.
How to watch The Handmaid's Tale Season 3
The Handmaid's Tale Season 3 premiere airs Wednesday, June 5 on Hulu. The show can be viewed online by anyone who has a Hulu subscription. Simply log into your account to watch live.
For anyone who doesn't have a Hulu subscription, the streaming service offers one month free for new subscribers. After that, the cost is $7.99 per month. There are some commercials, but there are plans that have no ads for an additional monthly cost.