Handpicked Incoming GOP NC Lawmaker Claims He Was at Jan 6. Riot
An incoming North Carolina state lawmaker told a Raleigh-based television news station on Friday that he was outside the U.S. Capitol Building on January 6, the day a protest against the certification of the 2020 election results in Washington, D.C. turned violent.
Donnie Loftis, who is to become a General Assembly member for North Carolina's 109th District in the wake of former state Representative Dana Bumgardner's death earlier this month, told WRAL he "peacefully exercised my first amendment rights in front of the U.S. Capitol" and was "surprised and disappointed to watch others storm the entrance as violence ensued."
"I had absolutely zero involvement in the rioting and categorically condemn the storming of our Capitol building that day," the station reported Loftis told them in a text message exchange.
The Gaston County GOP announced on Thursday that its executive committee selected Loftis during a Wednesday meeting held to discuss who would fill Bumgardner's seat. Three individuals were nominated for the position, and Loftis was chosen after two rounds of voting, according to the county GOP.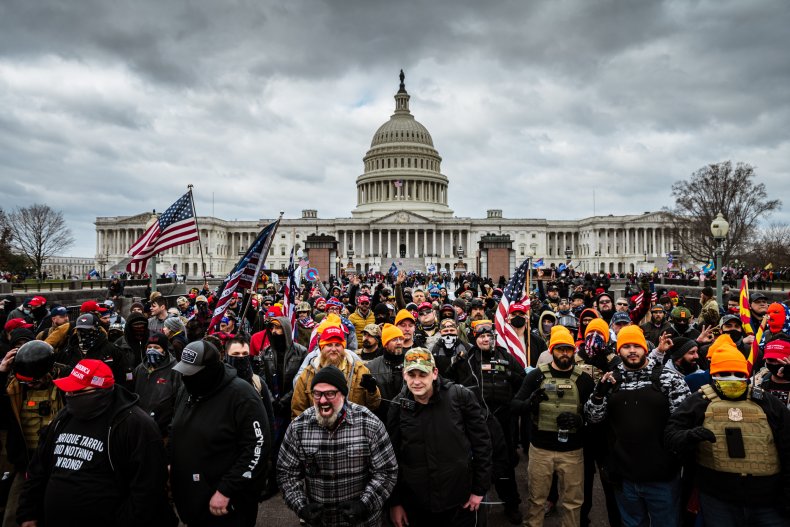 Gaston County GOP Chairman Jonathan Fletcher noted it is "important that we have a principled Conservative standing up for us" in a party press release and said of Loftis, "we know that he is ready to get to work immediately."
"The experience he brings to this position and his heart of service for the people of this district are exactly what we need in this difficult time," Fletcher added.
Before he was selected as Bumgardner's successor, Loftis was elected to serve as Gaston County's commissioner in 2000 and again in 2008. He served for years in the U.S. Army and the Army National Guard, earning the Legion of Merit and Bronze Star along the way, according to the county GOP's release.
Following news of Loftis' selection to fill Bumgarden's vacated seat, WRAL said it received screenshots of Facebook posts reportedly posted by Loftis' account. The posts appeared to have been from before former President Donald Trump's "Stop the Steal" January 6 rally and after the protests at the Capitol turned violent.
One post read, in part, "I got gassed three times and was at the entrance when they breached the door. I spoke to many service members and we all agreed that we didnt [sic] want to be there but we had no other choice. They don't get it that they work for us. And I mean that in a respectfully [sic] way."
The news station reported that the source who shared the screenshots said the posts had been deleted. Loftis told the station he had "peacefully exercised" his rights when asked about the Facebook posts.
When Newsweek contacted the Gaston County GOP about Loftis' comments regarding his attendance at the rally on January 6, Fletcher directed Newsweek to the local party's press release announcing Loftis' new position.