Hands On With the New Allbirds Eco-Friendly Performance Apparel Collection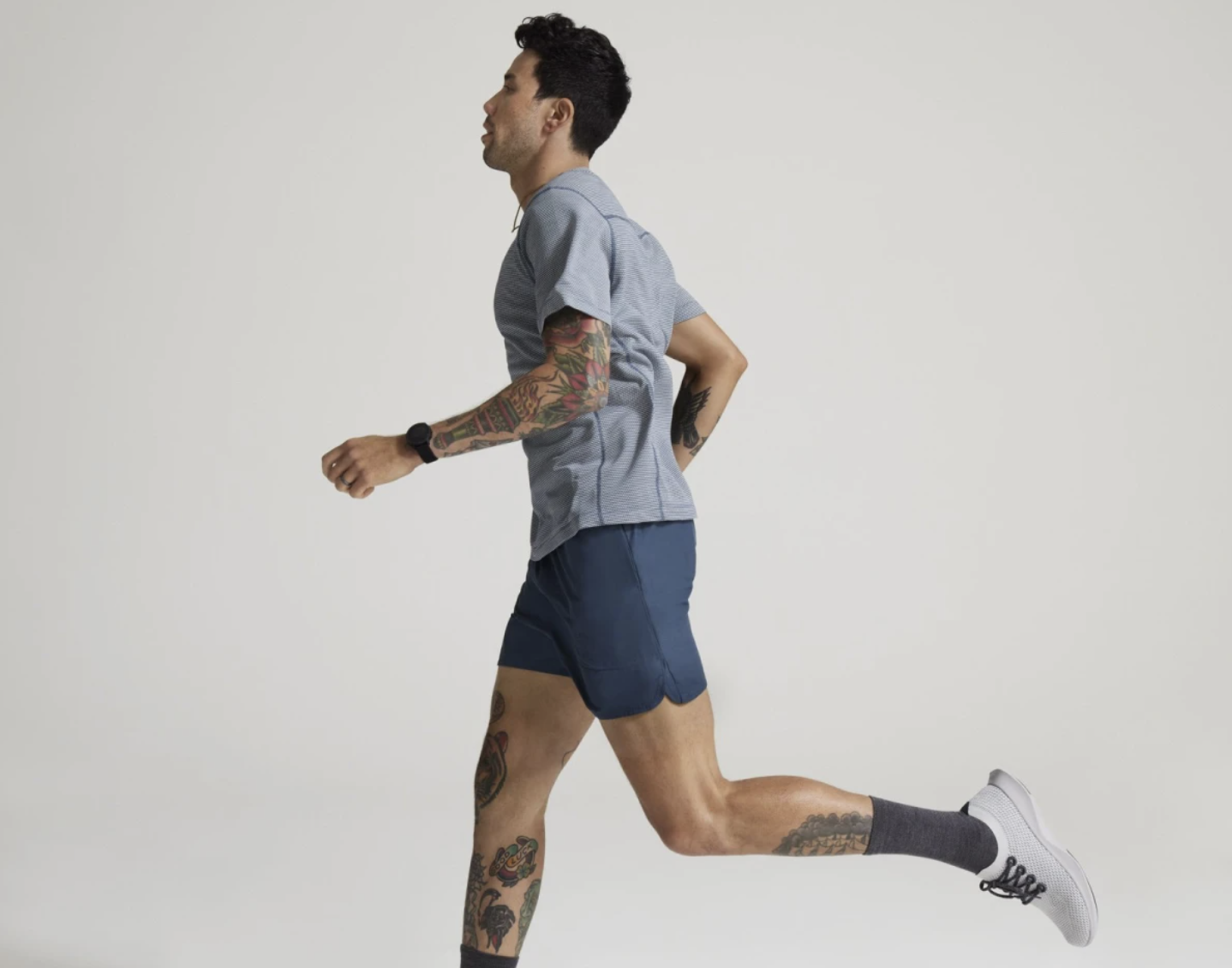 Allbirds is known for its sustainable, comfortable shoes, but the company has also been producing responsibly made products for clothing, too. It has shirts, jackets, sweaters and even underwater. Now, it's adding even more clothing options.
Allbirds is rallying around its running shoes and releasing a new collection of performance apparel. There will be more items for women than for men to start. The new line kicks off with a Natural Run Form Tank, Natural Legging, Natural Bike Short, Natural Run Short and Natural Run Tank for women. Then there will be a Natural Run Tee and Natural Run Short for men.

I went hands on with the Natural Run Short and Natural Run Tee for men to see what Allbirds has to offer runners.
TL;DR
Pros
Natural Run Tee handles sweat and moisture well
Handy side pocket on the tee
Attractive colors and design for the collection
Cons
Premium price
Tee has slightly scratchy feel
Buy at Allbirds.
Allbirds Performance Apparel Fit and Feel
I tested the Natural Run Tee for men and the Natural Run Short, which come in both men's and women's sizing. The Natural Run Tee is priced at $58, while the Natural Run Short is $68. The shorts do not have a liner, but they do include pockets.
Out of the box, each clothing item has a modern and stylish look. They each have a rough feel to them, as well. The texture is not offensive in the hand, but I wouldn't describe it as soft. It would have been nearly impossible to guess that both the shorts and tee were made from nearly 50 percent Merino wool. This is a hallmark material of Allbirds' and its attempt toward cleaner products that are less damaging to the planet.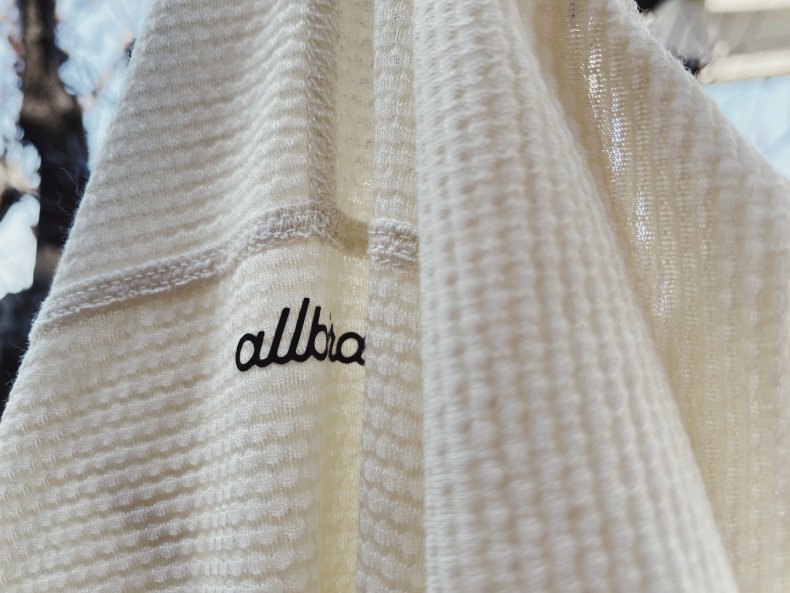 The Tee feels rumpled, in the realm of seersucker, but not quite. It's lightweight and airy, enough to be slightly see-through in white. Because of the texture and material, it does feel slightly scratchy, but never irritating.
The Natural Run Short too has a faint stiffness to them and crinkle in their movement. It doesn't make me want to lounge around in the clothes, but it instantly indicates it can handle moisture.
After being washed, the feel of each did soften a bit, though there wasn't a dramatic change. Both the tee and shorts fit me as expected and were comparable in sizing to other brands of running clothes.
Running Performance
I wore both the Natural Run Tee and the Natural Run Short out running several times and for varying distances. Each performed well out on the road. There was no restricted movement, and the clothing didn't distract from the task at hand.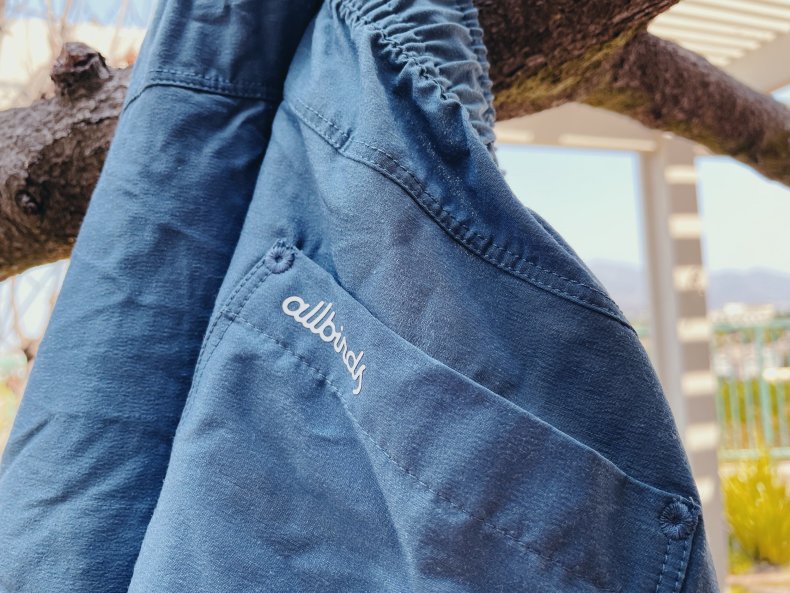 There are likely a few minor question marks around the shorts, in that they have pockets but don't have a liner. In this regard, they do seem geared a little more toward casual runners as opposed to people running on race day. You'll probably want some compression shorts to go under these, but the Natural Run Short will accommodate those nicely.
The side pockets are a little odd in that they don't have any zipper or way to secure them closed. This means they wouldn't be great to carry a phone or anything else substantial during a run because it could fall out. Including side pockets certainly wouldn't hurt anything here, but I'm not sure they add anything either.
Interestingly, the shirt also has a pocket, but it seems more useful. On the right side of the shirt, along the bottom, is a little pouch that is sized nicely for a case of wireless earbuds. Using it for an earbuds case or key ring with one to three keys will cause a bit of jostling, but the pocket is deep enough that they shouldn't pop out. The pocket might be able to accommodate a small wallet, but the thin shirt might not be able to handle that amount of weight.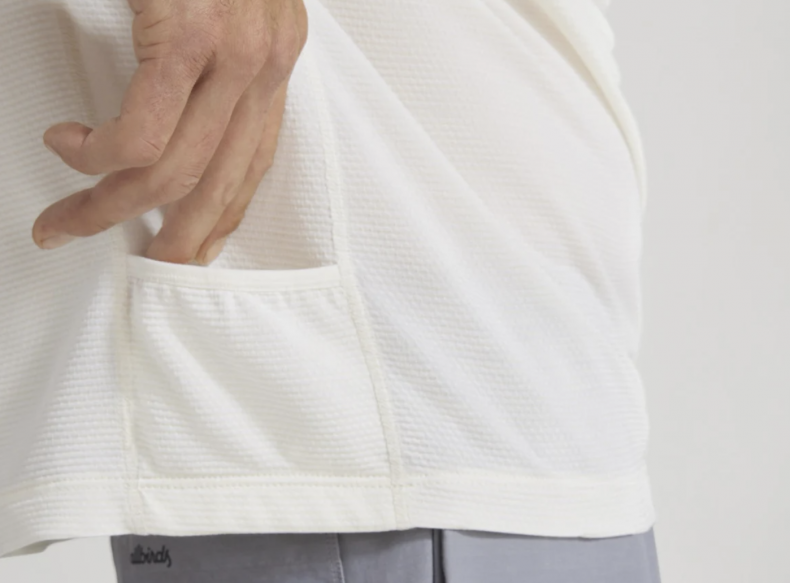 In terms of performance, the Natural Run Tee seemed to handle sweat well. It collected a bit in the ribbed texture, but I didn't notice any unfortunate side effects. And its overall airy nature was refreshing and pleasant each time out.
Should You Buy Allbirds Performance Apparel Collection Clothing?
The items I tried from Allbirds' new collection of clothing aimed at runners are a solid offering. There's a good chance that if you're a fan of Allbirds' prior clothing options or even its shoes, these performance clothes will suit you well. An offset carbon footprint is an admirable product feature.
The Natural Run Tee and the Natural Run Short both seem to be excellently made and performed as advertised out on runs. These two items don't have a smooth and silky feel, if you need that, but they should be able to handle sweat well.
Buy at Allbirds.
Newsweek may earn a commission from links on this page, but we only recommend products we back. We participate in various affiliate marketing programs, which means we may get paid commissions on editorially chosen products purchased through our links to retailer sites.