'Hangover Leave' Officially Tops List of Perks Americans Want at Work
A new poll has revealed that "hangover leave" is the most popular new job perk that Americans would like to see added to their employment package.
As more Americans quit jobs and move onto new careers in what has been dubbed the "great resignation," companies are rushing to offer better benefits, perks, and working environments to entice employees in what has been called a "workers market" for jobs.
With an estimated 10.7 million job openings in June, the U.S. Bureau of Labor Statistics reported that some 4.2 million Americans quit their jobs in May this year.
As CEOs and bosses rush to fill vacant job openings, a new poll of 1,230 Americans conducted by YouGov for Trusaic, a provider of equal pay compliance software and consulting, has found that the perks workers would like to see in their working lives are more widespread.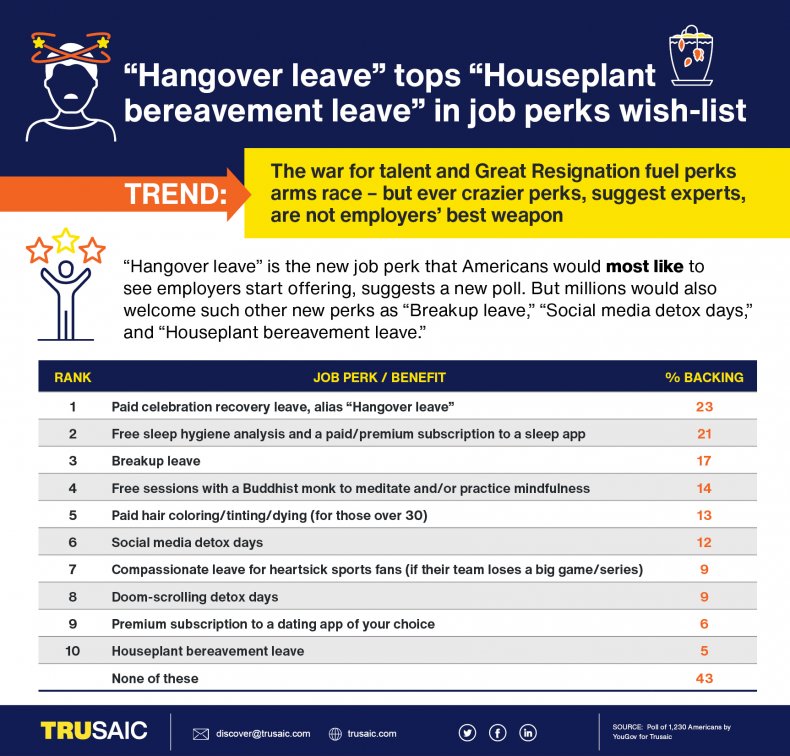 Organizational Psychologist and Culture Impact Strategist Angela R. Howard told Newsweek: "We're seeing a prominent shift in the world of work where employers must 'hack' the intersection between the interest of the business and the people they employ to stay competitive. The paradigm of the employer/employee relationship where the employee works solely for the benefit of the company in exchange of time and a paycheck is dying."
"Some employers already offer 'pawternity leave' (paid time off to bond with a new pet) and pet bereavement leave," says Matt Gotchy, Trusaic's executive VP of marketing.
But houseplant bereavement leave? "It may only be a matter of time," says Gotchy.
According to the new poll, 5 percent of Americans agree that they would like their workplace to offer a houseplant bereavement leave, while 17 percent said they would like breakup leave and 12 percent requested social media detox days.
Top of the fantasy perks wishlist though was the idea of "paid celebration recovery leave," otherwise known as hangover leave. Twenty-three percent of respondents said they'd be keen on the idea that would offer a paid day off after a wedding, bachelor or bachelorette party, graduation, or landmark birthday party.
The second most popular job benefit was free sleep hygiene analysis and a paid subscription to a sleep app, with 21 percent saying they would appreciate this from their employer.
"I believe we need to reframe our idea of creating a valuable and impactful employee experience that also considers the human experience as extras or perks," said Howard. "I think people are less likely to work for a place that doesn't offer an experience that enriches their life in some way."
While job perks are one way to attract and retain talent in a competitive job market, Gotchy says that employer emphasis on fair pay and pay equity could be more effective.
In the 2022 Harvard Business Review round-up of trends that will shape work in the coming year and beyond, the first one is listed: "Fairness and equality will be the defining issues for organizations." Referring not only to pay equity, but also fairness in terms of flexible working and taking into account elements like an employee's location when setting salaries to ensure fairness.
"In short, if you want to win the war for talent, pay equity may be one of your best weapons—even maybe more potent than houseplant bereavement leave," said Gotchy.