What 'Bachelorette' Spoilers Say About Hannah Brown's Future on the Franchise
Peter Weber's season of The Bachelor is nearing its end, but some viewers are still hung up on one crucial plotline from the start: Hannah Brown. While a handful of Bachelor fans want Brown to return and snag Weber's heart, others would rather see Brown return as Bachelorette for the second consecutive season.
That won't be happening, according to spoiler blogger Reality Steve.
Brown served as the Bachelorette in 2019. Viewers will remember her messy ending, which showed her engagement to Jed Wyatt end when she found out, publicly, he'd left a girlfriend at home to film the series. After the finale aired, Brown asked runner up Tyler Cameron on a date. Though the pair appeared to meet up without cameras, Cameron was then linked to model Gigi Hadid.
Her story wasn't over. Brown returned to wish Weber well at the start of his season but ended up breaking into tears about her lost shot with Weber. The pair held an emotional conversation about what could have been, and Brown admitted her regrets in letting him go.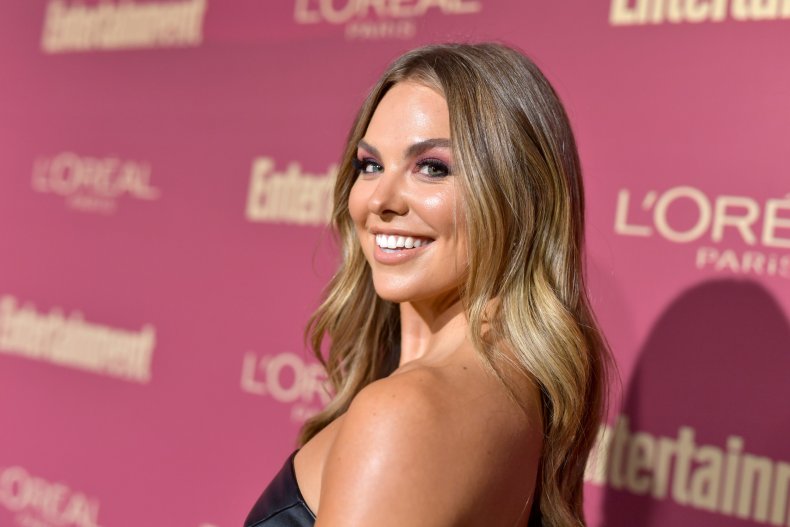 Weber did offer Brown a spot on his season of The Bachelor, which she declined. While this could have been for personal reasons, it's also known that Brown was filming Dancing With The Stars at the same time. Even if she would have agreed to fight for Weber's heart again, it likely wouldn't have worked out because of the conflicting filming schedules.
That appears to be the same reason Brown may not be the next Bachelorette. Dancing With The Stars revealed Brown will join their national tour on six new dates this March. The dates range from March 24 to March 29, all days that Reality Steve claims The Bachelorette will be filming.
"You can now cross Hannah B. off the list for Bachelorette," he tweeted. "This would be during filming and clearly she can't do both."
Some fans were happy to hear Brown is seemingly out of the running, claiming she's had enough time on the series. Others, though, said they're still hoping she could come back.
Fans that love Brown still want to see her on Weber's season again, too. Reality Steve has already clarified that won't happen. While Weber's finale is the first Bachelor ending unspoiled in years, Reality Steve did claim to have insider knowledge that Brown is in no way associated with the secret ending.
Now, fans can direct their attention to other possible Bachelorettes. Many have already asked for Madison Prewett to be the leading lady. Prewett could win Weber's season, though, as she's officially in the final three.
Others have pointed at Kelley Flanagan, the lawyer that Weber sent home. Flanagan floated above the intense drama throughout Weber's journey, which viewers applauded.
A new idea points to Demi Burnett as The Bachelorette. Burnett was engaged last summer on Bachelor In Paradise, though the relationship ended a few months after. Burnett was the first woman in a same-sex relationship on the franchise. Some want to see the first season with both sexes competing for the heart of the Bachelorette.