Hannah Brown 'Bachelorette' Sneak Peek: A Preview of Season 15 After First Promo's Revealed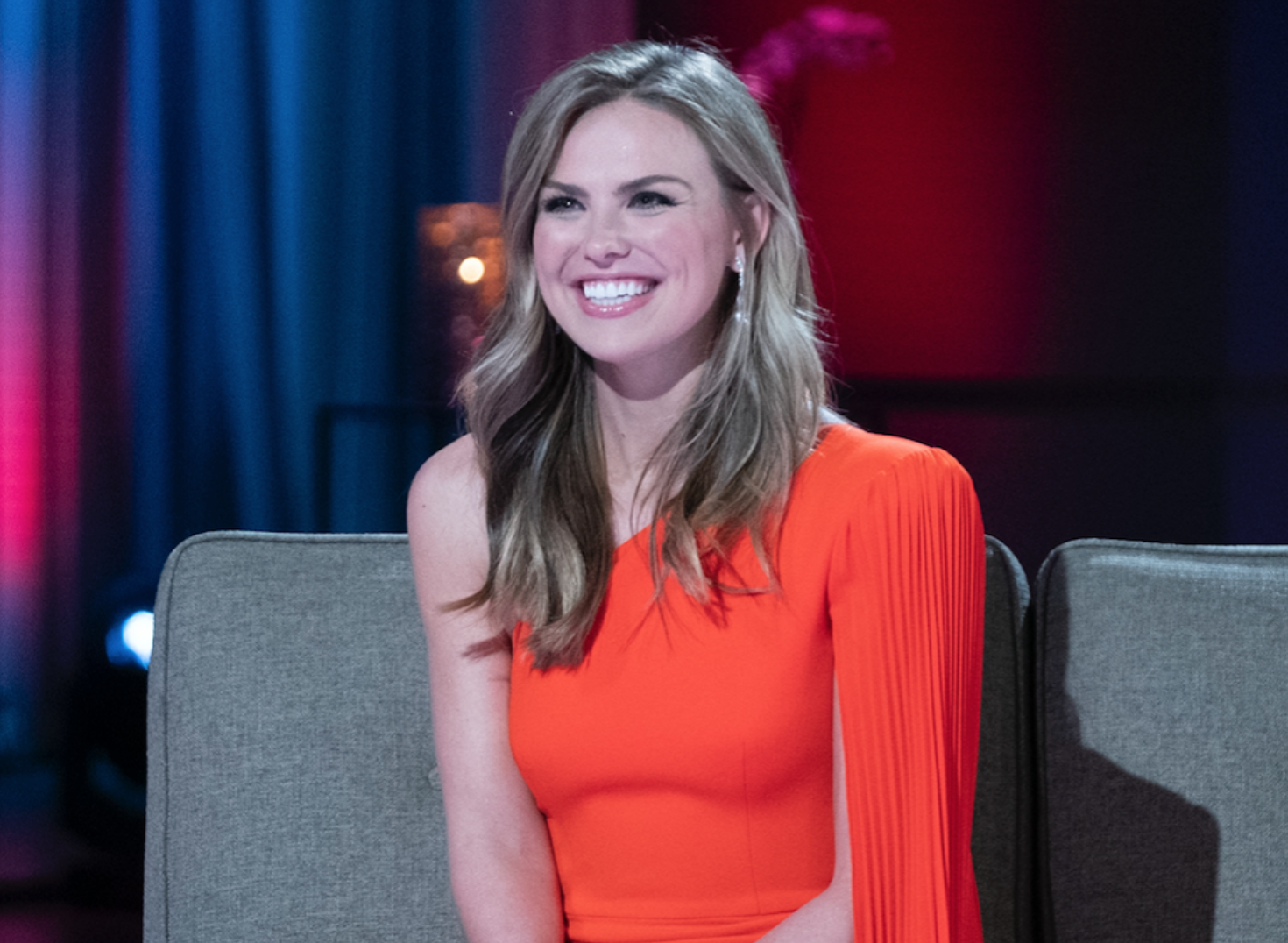 Bachelor Nation devotees got an early look at what Hannah Brown's leading turn on The Bachelorette will be like as the show debuted its first promo on Friday. And to be blunt, Colton Underwood's former flame looks stunning.
The Bachelorette premiered Season 15's first promo Friday on Good Morning America. The brief clip was also shared to the ABC show's respective social media pages. Brown, 24, is shown walking through an enchanted forest to Grace and G-Eazy's song "You Don't Own Me." She was wearing a crown and a light blue jumpsuit that boasts a long, flowing train skirt. The current reigning Miss Alabama was also wearing a beauty pageant-like sash that read "Beauty Queen" across it. The ad appeared to echo a fairytale princess theme, particularly resembling Cinderella as the Disney character notably wore a light blue gown to the ball.
Brown then took off her crown and tossed it, allowing her flowing blonde locks to drop out of its structured bun style. She then pulled off her "Beauty Queen" sash and unwrapped her skirt as well, which were both tossed as a path of roses bloomed behind her.
"She's here to find fierce love. Hannah's journey as #TheBachelorette begins May 13 on ABC," the promo's caption reads on Instagram.
This truly sets the stage for what fans can expect with The Bachelorette Season 15 as the promo varies from the ones created for previous Bachelorettes. Unlike other Bachelorette seasons, fans have also gotten an early glimpse at what's to come for Brown because Bachelor producer Mike Fleiss has shared several behind-the-scenes moments since production began on March 16.
Former Bachelorettes Rachel Lindsay, Kaitlyn Bristowe, Becca Kufrin, Jillian Harris, Ali Fedotowsky, JoJo Fletcher, Desiree Hartsock, Andi Dorfman, Ashley Hebert, DeAnna Pappas, Emily Maynard Johnson and Trista Sutter were pictured in a photo posted to Fleiss' Twitter on April 2. The ladies were all shown smiling and holding champagne glasses. While Brown wasn't pictured with them, it's safe to assume she'll face the group later on. In past Bachelorette premieres, the new leading lady sits down with former Bachelorettes who give her advice on how to best navigate her season.
Fleiss also indicated via his Twitter account that Brown has already had her first group date, she was photographed while roller skating with Joey J. on March 20, and her second rose ceremony was filmed on March 21. He has also posted a series of selfies featuring Brown. Before this, pictures of Brown's contenders were unveiled via the show's official Facebook page on March 13.
Brown was announced as the next Bachelorette on March 12 during the "After the Finale Rose" portion of Underwood's The Bachelor Season 23 finale. On The Bachelor, Underwood cut Brown right before hometowns week. She ended the competition in fifth place.