Hannah Brown Says She Can't Trust 'Dancing With the Stars' Partner After 'Bachelorette' Broken Engagement
Former Bachelorette Hannah Brown has had quite a year. From her first go on The Bachelor, to a broken engagement on The Bachelorette, it's no surprise Brown is identifying trust issues, even in her dancing.
Brown is currently a contestant on Dancing With the Stars and explained she has trouble trusting her partner, Alan Bersten, because of what she's been through.
"He's like, 'Do you trust me?' " Brown said in an interview with USA Today. "I'm like, 'No, why would I trust you? Did you watch my season?'"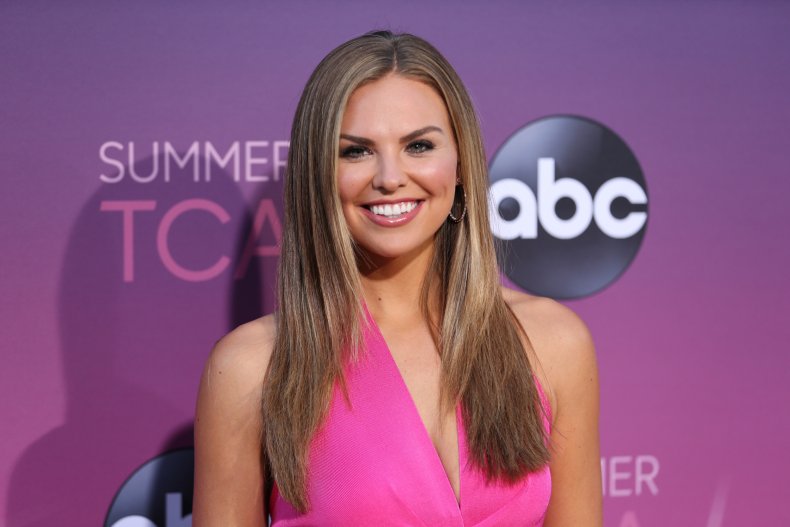 Bersten didn't watch Brown's season, apparently. "He doesn't sometimes understand that I'm dealing with a lot."
Brown's engagement premiered on the finale of her season, though by the time America saw the happy moment, it had already ended. Brown broke up with Bachelorette winner Jed Wyatt when she found out he had a girlfriend at home when he left to film the show. The woman, Haley Stevens, came forward in a People magazine article as the season aired.
For Brown, not only is trust an obvious pitfall in filming Dancing With the Stars, but her fear of failure also takes center stage.
"If somebody asks me, 'What's your hardest struggle?' I'm like, 'It's not pointing my toes ... I am scared to fail," she explained. "Like, the fear of failure is really scary for me, and I feel like everyone, but for me, I think ... sometimes if you're so scared to fail, then you won't even try."
It stems from her season as Bachelorette. "Let's be honest, there's a way you could look at my season, and it could look like, 'Oh, well she did win,' but there's a way to look at it and (think) it failed in the typical way," she expressed. "So, it's like, OK, so it failed, but what did I learn? And I think that's the way that I kind of look at it now."
Brown said it's obvious in dance rehearsals. "There have been some times in practice, where I'm like paralyzed," she revealed, "I cannot, like, step ... because I'm scared."
Despite her fear and roadblocks, Brown is making a name for herself as a talented dancer. She's been applauded for her ability to connect with the music and the message. On Monday night's episode, Brown and Bersten danced to Taylor Swift's "Lover" and made the dance feel like a "romantic dream" according to judges.
Still, Brown isn't entirely over her romances from The Bachelorette. She finds moments of mourning or healing. "I get overwhelmed, and I have my breakdowns, or I stare at a wall–yes I do," she explained. "I admit it. I will stare at a wall, I will lay on the ground and just, like, center."