Hannah Brown Just Broke Her 'Bachelorette' Engagement, According To New Spoilers
Bachelorette Hannah Brown is no longer engaged, according to new spoilers from reality show blogger Reality Steve. The usually-right source claimed rumors about her fiance and his time before the show threw a giant wrench into Brown's love story, and the engagement no longer stands.
Reality Steve first reported Brown chose Tyler C, but later updated his spoilers to reveal Brown had actually become engaged to the controversial Jed Wyatt, who allegedly left a girlfriend at home to promote his music career on the show. Wyatt did admit the promotional part to Brown, but hasn't revealed anything about a girlfriend, named Haley Stevens, who he had until he boarded a flight to Los Angeles, on the show thus far.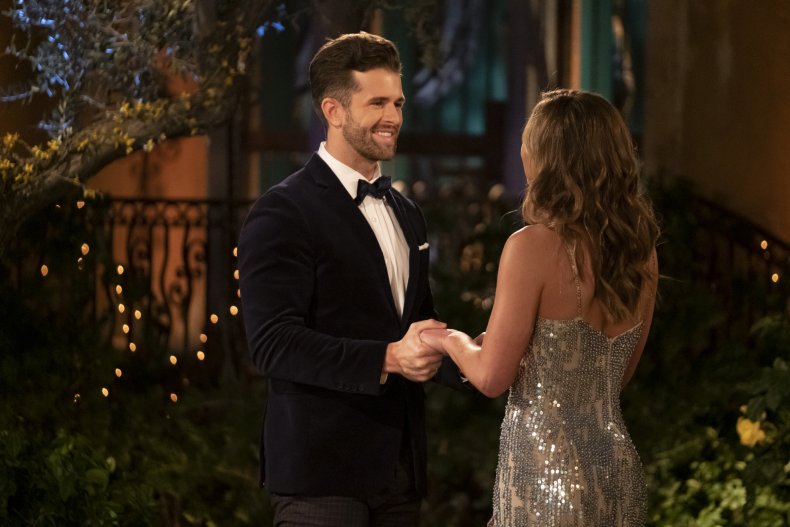 Newsweek subscription offers >
It seems Brown may have found out about Stevens the way the general public did: in a People Magazine interview that surfaced last week. According to Reality Steve, the negative publicity surrounding Wyatt was enough for Brown to take off her ring, but not to end their relationship entirely.
Brown and Wyatt are seemingly still together, but no longer engaged, according to the spoilers. "I can confirm that Hannah broke off her engagement to Jed earlier this week," wrote Reality Steve on his Twitter account Thursday. "They are still "together," but the engagement is off. This isn't a 'don't ever talk to me again' from what I'm being told, but it's also not all rainbows and daffodils either..."
In the Twitter thread, Reality Steve also suggested this could be an interesting way for the show to unfold. While Wyatt and Brown are still dating, it seems, he thinks there may be an opportunity for production to show Brown returning to Tyler C after all. "Knowing that for the next month, so many people will be tweeting at Hannah to get rid of Jed, they're so happy she ended the engagement, go back to Tyler, etc. my guess is this relationship will be over sooner rather than later," he wrote.
If there's still a connection between Brown and Tyler is unknown. "I know you will all ask me about Tyler, and will she get back with him, and are they together, have they talked, etc. I don't know," Reality Steve said. "Who knows if Tyler would even want that. Maybe he'd rather be the "Bachelor?" I'm not gonna answer for him."
In his opinion, the public drama and Wyatt's past may not be something the couple can get over. Brown has been known to put her foot down when men on the show have come forward with lies and wrong motives. If she's following the same format in her real life, Reality Steve doesn't see the pair together. "To end an engagement means Hannah has been bothered enough by what's come out. I don't see how Jed gets back in her good graces after this. Nor should he," he wrote. "This is something she will be, and should be, applauded for, & I just don't see them working thru this."
Brown has not commented on her engagement but posted about the negative remarks she's received all season on her Instagram Thursday. In the post, she said she refuses "not to stand in the sun" despite comments calling her a bad Christian and bad example.
Hannah Brown Just Broke Her 'Bachelorette' Engagement, According To New Spoilers | Culture