'Broad City' Season 4: Hannibal Buress Reveals New Details About Lincoln and Ilana [EXCLUSIVE]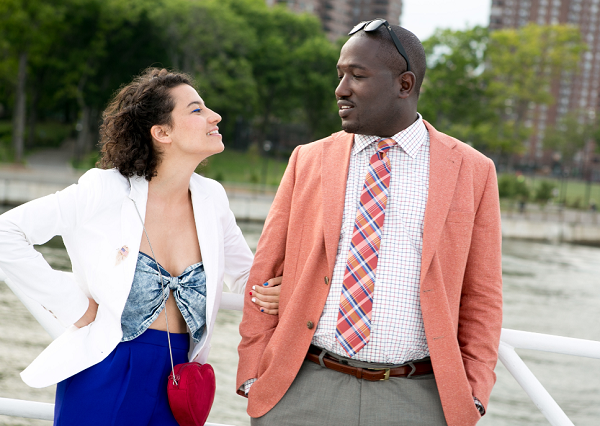 The last time Broad City fans saw Hannibal Buress on the Comedy Central series, his character, Lincoln, was cutting ties with his kinda-sorta-not-quite-girlfriend Ilana. The two had been in an open relationship since the ultra-chill and super sweet dentist was first introduced on the show in Season 1, but by the end of Season 3, Lincoln was ready for something stable and real: monogamy.
Buress's last scene in Season 3 initially alarmed fans, many of whom assumed Lincoln's split with Ilana (show co-creator Ilana Glazer) meant the comedian would no longer be on the show.
That's not the case. But Buress's Season 4 return doesn't mean Lincoln and Ilana's open relationship is back on either.
Newsweek chatted with Buress ahead of Wednesday's Season 4 premiere and got the dirt on Lincoln and Ilana's status, as well as everything else he has going on in his career, particularly his podcast, The Handsome Rambler, which has become an iTunes favorite since it was launched last year.
Check out Newsweek's condensed interview with Buress below:
So how are you? How are you handling being famous?
It's a lot of energy. I handle it well, but I have to do my best to be open and honest and try to be good to people but also not compromise my feelings in the process. People ask a lot of you, so you learn [to say], "I can't do that. I don't want to do that."
Some Broad City fans—especially when they only know me for that—they associate me with this nice dentist character. I'm generally a nice guy, but anything that's happening [when I'm out], I'm reacting. I'm not initiating. It's based on what a stranger is doing. I just match people's energies. But everything's good.
Speaking of Broad City, what are the biggest differences between you and Lincoln?
What the character tolerated from Ilana, as far as that type of situation where he's like, "It's cool. I'm just waiting around." Yeah, I wouldn't do anything like that. [Laughs] Yeah, that ain't happening. Lincoln the character hasn't been super developed as a personality type where I can explore the differences. It's just that he's a nice guy, thoughtful, and he's kind of funny. I'm getting better at being just a thoughtful person and a better listener. I think doing the podcast has helped with that. I was inquisitive before, but I'm more genuinely inquisitive. And lately, in my interactions, I've been able to get people to open up easily.
How much more of Lincoln will we see this season?
I'm in four episodes this season. So I'll be around. I'll be around briefly.
I know you can't tell me if Lincoln and Ilana reignite some old flames, but how will their interaction be when they see each other again?
It's nice. We run into each other. Ilana ends up in a situation where she needs some help, and I help her out. And then we talk about some stuff. Sorry for being vague, but it's TV. Can't spoil it. But yeah, we hang out, and it's all good. It's no arguments.
I feel like they have an interesting relationship. I don't always understand it.
I don't either. But he liked her for some reason. We improvised the story of them meeting up. I was just riffing one episode from Season 2, and I just made it up that I met her at a Foot Locker in Times Square, and she was just hanging out. They just let me make it up, so that's the backstory.
So you've been doing stand-up and appearances on screen, and now you've got the podcast. What made you want to branch out into that?
Around this time last year, I was prepping to go out on tour, and I had seen how it helped other comedians build their ticket sales. Initially, it was kind of a shrewd move just to make more money. But those podcasts that drive that type of ticket sales for people, that takes time to build. So I was a little misguided. That was the initial reason.
We were doing it on the road and just having fun with it. It's a good time. It's a good outlet to do comedy and tell stories that might not work in the stand-up setting. Or even just trying stuff, and it might work a little bit on the podcast, and then seeing that it might be a stand-up bit. It's a fun time, and the growth of it has been cool now that we're doing a lot of stuff with the music and goofy shit like that. Now, it's just trying to figure out how to make it accessible to people that might not want to listen to an hour episode. That's why we put up minute-long clips on Instagram and Twitter. In these times, with all the options people have, you gotta make things easy for people. It's been a great learning experience, and it makes your mind move in a different way, especially when you have [a guest on the show]. The level of research that you have to do, trying to figure out angles and different questions that everybody else hasn't asked this person, and trying to make it a fun, different experience for everybody, it's a challenge. I enjoy it a lot.
Where do you want to see it go from here? You've been doing it for over a year now.
Right now, just grow it, and maybe there's an opportunity to make it work in a television format or something. But besides that, just really have fun with it and use it as a good creative outlet. Recently, I've been spending more time working on it than stand-up. I still do a lot of shows, but [the podcast] hits more people than one stand-up show. Even an episode with the lowest amount of hits is going to reach more people than the biggest stand-up venue I do. We want to try to grow it. We've had some pretty good and interesting guests. So [we want] to get bigger guests and people who want to have fun. Probably do an album or something, some goofy songs—how we approach the ads with the podcast, I'd like to do that in a bigger way.
The ad skits are hilarious.
The first 11 episodes we were with Earwolf, which puts out a lot of other podcasts, and then I decided to go independent. But we would get this ad copy, and it would feel weird reading it. It's business talk. The way I felt when I was reading this stuff, I wasn't getting enough money to feel like that. So I decided, "I'ma just start rapping this shit, man. I'ma freestyle this shit, make a song. If I'ma be reading this shit and putting out this information, I need to have fun with it." So we just started rapping, and it was like, "They could take it or leave it. If they don't want to do it, then we don't have to do it." We just started having fun with it.
Do you feel like people's expectations of you have gotten worse since everything popped off for you?
It's not worse. It's just a difference. If a name's on a ticket, and that ticket is $40, then, yeah, you're supposed to be good. When it's my show, they expect me to put on a good show. And I should.
People always say that comedy is like a relief. It distracts people in moments of despair. Do you agree with that?
Entertainment, in general, is a distraction. Whether it's a comedy show, a concert, a football game, video games, watching a show for eight hours straight on Netflix, people like to be engaged. People, in general, need shit to do. Shit doesn't even have to be going poorly. You can still be in a great mood, you're still like, "I need to go see something. I wanna do something. I don't wanna just sit here and stare at the wall." People like stuff and being entertained in whatever way. If you wanna speak to just people talking about specific issues and bringing levity in a different perspective to current events, absolutely. In the political climate and just different things that are going on, people want to hear about that stuff. But on a bigger scale, people need to do shit. We're bored.
How do you feel to know you're one of the things that people are finding entertainment in?
I'm appreciative. I get messages from people like, "I was going through this shit, and you helped me. I was listening to your album back in the day." I'm 34, so my first album, My Name Is Hannibal, came out in 2010. So people [performing] in bars now at 21 are like, "I used to listen to you when I was in high school, man." And I'm like, "Shit! That math adds up." It's cool. I just try to do the best work I can and stay appreciative of my position.
What's next for you?
I definitely have other stuff I want to get into outside of entertainment. I've been doing some real estate investing, and that's really fun. I'm getting this spot on the West Side [of Chicago] about two blocks from where I grew up that I want to be an art center. To my knowledge, there's not anything on the West Side like that. I want writing classes, music classes, different things like that for kids around there, just a dope creative space.
The Broad City Season 4 premiere airs at 10:30 p.m. ET Wednesday on Comedy Central.