Is Hannibal Buress Going to Discuss His Miami Arrest in New YouTube Special?
Hannibal Buress might get candid about his 2017 arrest in his new YouTube standup comedy special, Miami Nights—that is, if the show's official video announcement is any indication.
The comedian and actor, who co-hosts Adult Swim's talk-show parody, The Eric Andre Show, has remained pretty tight-lipped about the special. So far, all we know is that it's set to stream on YouTube for free on Friday night at 9 p.m. And it will likely be based on his time spent in Miami—a portion of which was behind bars—three years ago. The nearly 15-second Miami Night's clip includes the police officer body-cam footage of Buress's arrest, during which he tells the officer, "Ayy, what's up YouTube? It's me. Hannibal Buress. This cop stupid as f**k."
Buress was in Florida for Art Basel when he was arrested and hit with a misdemeanor disorderly intoxication charge in Miami in December 2017. Body-cam footage depicted Buress, who appeared to be heavily intoxicated, after he reportedly approached and asked police officer Luis Verne to order him an Uber. Verne asked Buress to leave before eventually apprehending him in front of a crowd of bystanders.
In viral videos of Buress' arrest, the comedian can be heard laughing and yelling at the officer: "You don't have probable cause for anything and you look hella stupid right now."
"I'm under arrest right now for calling him a bi**h-a** n***a," he continued.
Buress was released and prosecutors dropped the charge in January 2018, noting the First Amendment protected the comedian's comments to the officer.
Speaking with Florida's Sun-Sentinel in January 2018, Buress said he didn't feel that he was at fault when he was suddenly arrested, and noted that the limited body-cam footage didn't reveal the full context of the situation.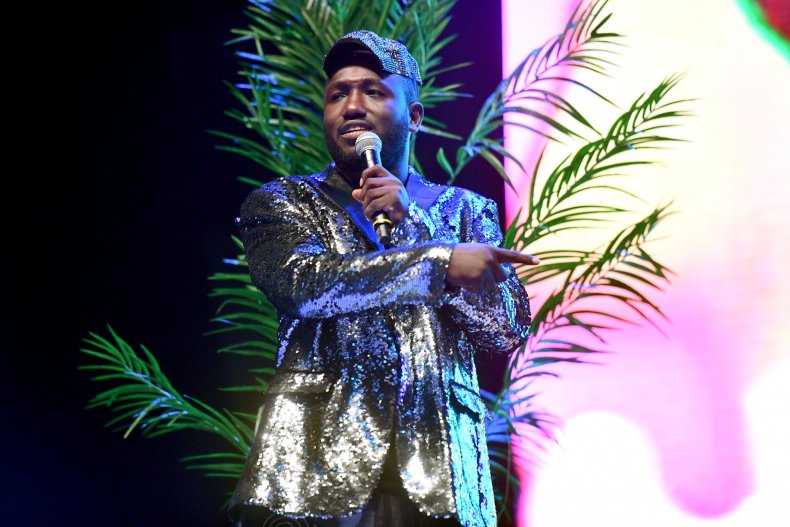 "What happened is that I asked the [officer] to call me an Uber, and he said, 'No.' He told me to leave the street. I go into this bar to get a phone charge or an Uber. He follows me into the bar and told me I'm too drunk to go inside. This is on the police report, but it's not in the body-cam footage," Buress explained. "'If I can't be on the street, where do you want me to be?' I ask him. I was in a state of trying to get home. The body-cam video starts after that. That's why I'm so vocal toward him. Without that context, it looks like I'm an a**hole. Obviously, it's an avoidable situation, but I don't really believe I was at fault."
The 37-year-old Chicago native's upcoming YouTube comedy show will mark his first standup special since 2016's Comedy Camisado.