Hannibal Lecter, Renaissance Man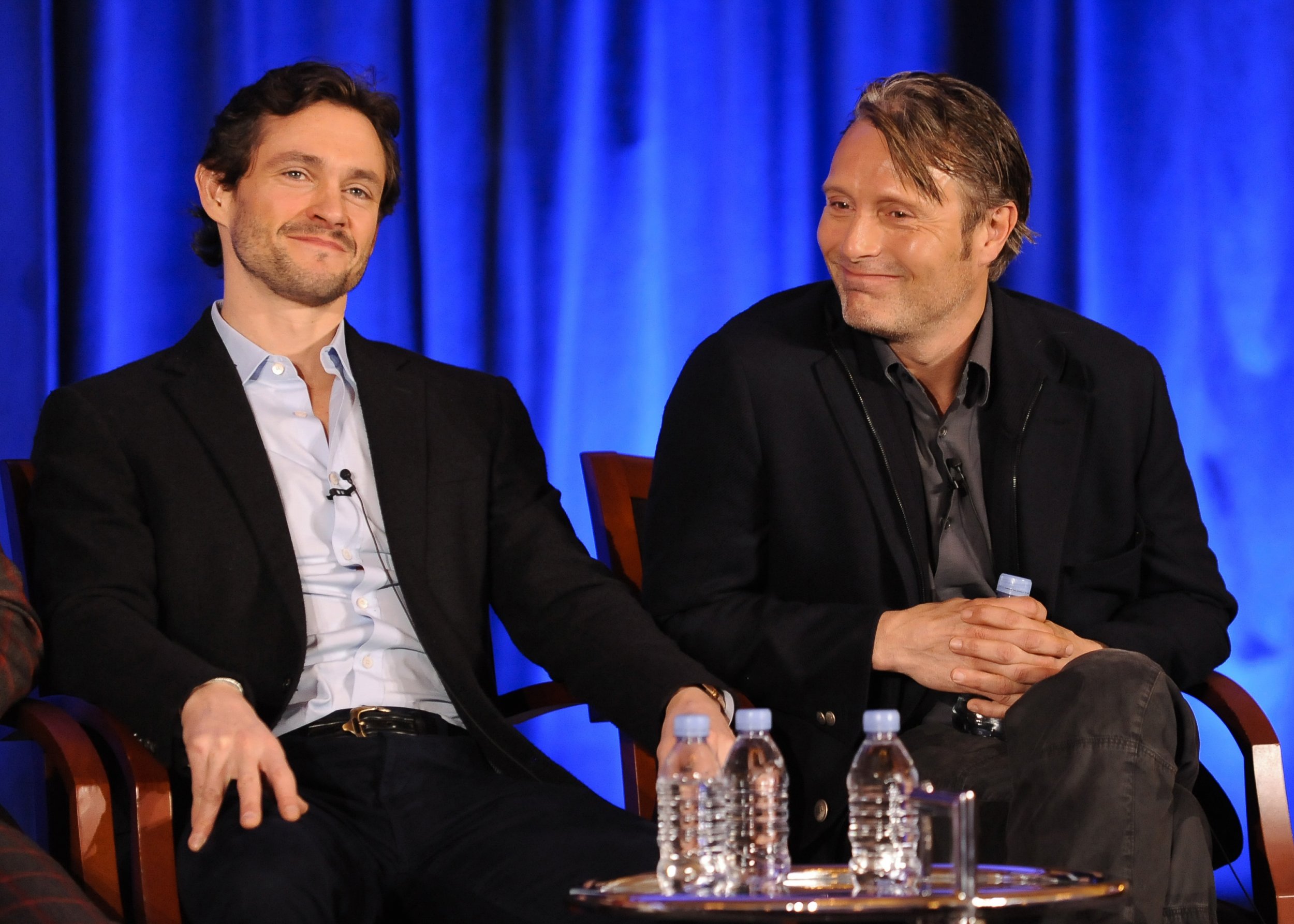 Crimes of passion and crimes of gastronomy are often inextricable. Take some of the scandals that have made headlines just during the past month: "Cinnamon Bun Argument Escalates, Myrtle Beach Woman Charged With Attempted Murder," and "Man's Anger Over Lack of Mac 'n' Cheese Leads to Charges, Police Say."
It appears that the hunger, and the thirst, is real, but it's a bit different when talking about a crime involving killing in the kitchen itself: cannibalism. The practice is gruesome, of course. Yet the eponymous cannibalist leading man of NBC's Hannibal—the latest iteration of the classic lore beloved by critics and a cult fanbase alike—doesn't eat his victims so much out of baseless cruelty as much as he believes that he's elevating life-taking to the level of art, arranging his victims to mimic Botticelli paintings, among other things.
Played by Danish actor Mads Mikkelsen, with his distinctive villainous mug, television's Hannibal is a curious character: He's a killer, yes, but he's also a bit of a savant. In his spare time he plays baroque instruments, flexes master chef skills, speaks nearly every language imaginable, paints and wears impeccable suits. "I call him the fallen angel because he's full of empathy, full of love, full of passion for beautiful things in life, but he has no patience with anything banal," says Mikkelsen of his character, who instead of settling for a normal meal would prefer to extract someone's liver to make human foie gras. It must be said that Mikkelsen, by his own admission, has "always been one of those strange kids that has tried to impress the girls by eating whatever gross is nearby." Bon appetit, viewers.
For two seasons, Hannibal has seduced audiences with gorgeous camerawork, delicious dialogue and dramatic takes buffeted by an ample dose of Instagrammable food porn, gore and all. But attention, Fannibals who think they've eaten it all, make room for more: Showrunner Bryan Fuller tells Newsweek he's just barely whet our appetites.
"Season three allows us to tell the story in a television format that's essentially the series that I always wanted to do," he says. This means Hannibal will see a shift from the FBI crime procedural that anchored the first two seasons, and set the table for the complicated relationship Hannibal fosters with his patient, Will Graham (played by Hugh Dancy). Will Graham is a criminal profiler bearing an unusual gift: a disorder that allows him to empathize with serial killers, and in thinking like them he helps the FBI catch them. As we've seen, this is his Kryptonite, both a power and what eventually breaks him.
In light of season two's epic bloody finale, which left four central characters dead or nearly dead, something had to give, especially as the series inches closer toward tackling iconic Hannibal Lecter territory. So Hannibal's latest third season instead sees the serial killer on the run, dashing off to his beloved Europe (Hannibal, we learn, is Lithuanian) with his former psychiatrist Bedelia Du Maurier, played by Gillian Anderson.
Hannibal's jetting off is both an escape from his crimes and a way to usher in a personal renaissance for the Renaissance Man. In Paris and Palermo, Italy, we see Lecter dancing, dreaming and scheming. Naturally, he can't help but kill people, including top-shelf academics at the university and taking their place. "The vanity is there," Mikkelsen says. "It's not just vanity though, he's curious: How much can he get away with?"
Given that the last time they saw each other Hannibal put a knife to Will's gut, the two of them, fittingly, go outside of themselves and their typical habits in season three.
"Hannibal is a little bit more open, free, his humor is a little more impulsive," Mikkelsen says. "[But] as a man who's on the run, he's not hiding a lot, is he? Being caught is inevitable, and that will just be a new day, a new phase. He's not afraid of it."
Hannibal has taken off his so-called person suit and has settled into who he really is. As for the troubled, square-jawed Will Graham, what's the first thing he does after licking his wounds eight months after Hannibal betrays and cuts him open? He trades in the remote pastoral life he lives with his pack of dogs in Wolf Trap, Virginia, and traipses off to Palermo to poke about for—who else?—Hannibal. The cannibal. "I like the idea of Will traveling. I can't even imagine Will getting on the subway, let alone getting on the train in Europe," says Dancy of his character.
But why go looking for someone who gutted you from the inside, literally?
"Under any normal circumstances, that's probably where you should draw the line. Step away," Dancy admits. "Haven't you ever made some bad decisions in your life? Just imagine that but writ large...it's just about being in somebody's vortex."
Everyone has made questionable decisions when it comes to relationships, but few have warranted a lover attempting to stick an ear down a throat, or frame one for murder. Which is the dynamic that precisely makes Hannibal Lecter and Will Graham a hell of a pair to gravitate toward one another. This is beyond an odd couple, Stooges, buddies or bros or pals. One is a cannibalistic psychiatrist and savant, the other a brilliant, flinching fellow with an empathy disorder...and they love each other unconditionally.
"[Hannibal and Will] realize that they absolutely share a language in that respect, and in fact they have a better understanding of the criminal mind, the violent mind, than anybody else," Dancy tells Newsweek. "It's not like two blokes are in love with each other and they should just get a room. It's more heightened than that."
Fittingly, the first few episodes of Hannibal's third season are contemplative meditations on what's happened in the past, where each character plans to move the chess piece next, and mimics the arc of a tumultuous and torrid affair. "I think the first season is the bromance, the second season is the nasty break-up, and the third season is that period of time after a relationship ends when you're really assessing who you were in the context of that relationship, who you are now, and what you have to resolve with that person you knew so intimately," says writer and showrunner Fuller of the pair.
Everyone in Hannibal is in search of an answer, attempting to find themselves again and perhaps one another in season three, which is largely about repentance, love and retribution. And the religious overtones present in this season are certainly intentional. But more than anything, Hannibal causes viewers to dissect the complexities of their own relationships and poses the fundamental question: Why is it that it often feels so good to be with bad people?
Fuller promises many "twists and turns" for viewers this season, especially in the latter half of the 12-episode run that takes place several years later. Part of that time lapse, he says, enables Hannibal to get into more of what's in Thomas Harris's Red Dragon books, which is what the series is based on.
"The second half of this season is almost like a self-contained mini-series," says Dancy. "It's going to be instantly recognizable to fans of the books or movies, but is also going to have a different shape because we've been building on that novel."
Mikkelsen notes that his character will be "getting to some of the more iconic moments" that fans might recognize from previous iconic portrayals, both by Anthony Hopkins in Silence of the Lambs and Brian Cox in Manhunter. Season three also sees the pair contending with a different kind of psychopath: the gritty, heavily tattooed Francis Dolarhyde.
But the crux of the series—the focus on the pair's complicated relationship—was intentional, as Fuller admittedly harbors a fascination with male friendships. "As a gay man I feel on the outside of that," Fuller says. "So I'm looking at it from the outside, and it boils down to the fact that straight men can love each other." Hannibal and Will—at once friends, enemies, confidantes, spies, lovers, haters and equals—have a relationship that neither of them understands, but both fully accept it for its gnarled weirdness.
And what else is that feeling but love?
"Straight men can have a romance. Straight men can experience incredible intimacy with each other and oftentimes we see that deflected by certain gestures of machismo that will obstruct the feeling," Fuller says. "I wanted to strip all that away and look at how men love each other outside of sexuality."
In this way, Hannibal is paradigm-shifting in that it displays the complexity of relationships between men that are intimate, affectionate and caring but still platonic. And that—especially with the high-profile nature of network television—is powerful, a renaissance of its own. Even when one of these fellows is a cannibal. So if you can stand the heat, dig in.