Hannity Calls for Putin to Be Removed by 'Whatever Means Necessary'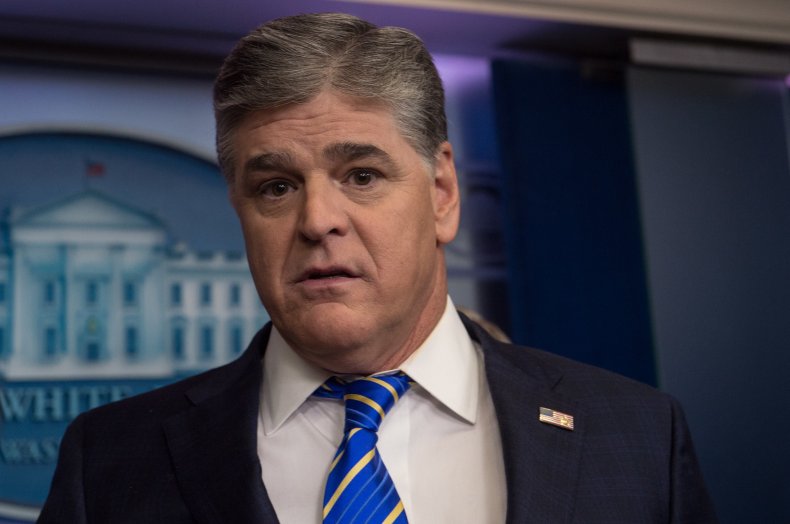 Conservative commentator Sean Hannity has called for Russian President Vladimir Putin to be removed from power "by whatever means necessary" amid Russia's invasion of Ukraine.
During the Monday night edition of his show Hannity, the Fox News host said that "civilized countries" should agree on Putin's removal while saying that members of the Russian military should attempt to end his reign. Hannity made the remarks after playing a graphic video clip of Ukrainian medical personnel on Sunday attempting to resuscitate a 6-year-old girl who had suffered a fatal injury due to the Russian invasion.
"Vladimir Putin killed that 6-year-old girl," Hannity said. "Vladimir Putin started this war. Vladimir Putin is a murdering thug who is willing to kill even children to satisfy his maniacal territorial ambitions ... If you are a murdering tyrant who invades a sovereign country and you kill innocent men, women and children, you forfeit your right to lead any country."
"The Russian military will hear about shows like this," he continued. "They need to stop taking orders from this murderer. They need to take him out. The world needs to agree that Putin should no longer be running Russia. He's a murdering, authoritarian thug killing innocent civilians. And civilized countries need to agree that he must be removed sooner than later, and by whatever means necessary."
Hannity added that "the people around Putin" could "figure that out." He went on to show images of other civilians injured in the invasion, saying that "scenes like this are everywhere as Russia blasts schools, playgrounds, hospitals [and] large apartment buildings."
"These are not targeted attacks against Ukrainian military institutions," he said." No, it's Vladimir Putin attempting to punish Ukrainians for their resistance and break their will through a campaign of indiscriminate violence."
United Nations High Commissioner for Human Rights Michelle Bachelet said Monday that the invasion had caused 102 deaths of Ukrainian civilians as of Sunday, including at least seven children, while adding that she feared the actual number was "considerably higher."
Ukraine's Ministry of Health said that the civilian death toll was at least 352, including 14 children. The ministry said that another 1,684 people, including 116 children, had been wounded during the attacks.
Hannity played a clip of former President Donald Trump blaming the invasion on President Joe Biden during his address to the Conservative Political Action Conference (CPAC) in Orlando, Florida, on Saturday. The clip also featured Trump calling Putin "smart," while U.S. leaders were "dumb."
"I would play what the current president Joe Biden said, but guess what, he was nowhere to be found this weekend," Hannity said. "While Putin was putting nuclear weapons in play in this conflict, Joey was taking time off in Delaware doing what? I don't know."
While Hannity blasted Putin for his "territorial ambitions" in the days before the attack, his fellow Fox News host Tucker Carlson defended the Russian president while asking viewers not to "hate" him at around the same time. Carlson later criticized Putin while blaming Biden for the attack.
Newsweek reached out to Fox News and the Russian Embassy in Washington, D.C., for comment.