Hannity Dismisses Vindman's Testimony As 'All Hearsay' That's Not 'Admissible' As Witness Draws Applause During Hearing
Fox News host Sean Hannity on Tuesday claimed that Lieutenant Colonel Alexander Vindman's impeachment inquiry testimony is "all hearsay" that will not be "admissible" during a segment on Premiere Radio Networks' The Sean Hannity Show.
"I honestly find this to be the biggest, most colossal waste of time, and I watch the media breathlessly acting like it's something when I see nothing, Gregg," Hannity told Fox News commentator Gregg Jarrett. "There's nothing here. Read the transcript, none of this testimony matters in the least."
"Vindman thought that he's above the Secretary of State, above the president, he's some super-special expert to which all, including Trump, should defer," Jarrett said, before accusing Vindman of "self-puffery."
The content of Vindman's testimony was also dismissed by the pair, with Hannity claiming that he was both unimportant and engaging in "hearsay." Vindman asserts he was directly on the line during the phone call between President Donald Trump and Ukrainian President Volodymyr Zelenskiy.
"It's all hearsay... None of it would be admissible," Hannity said.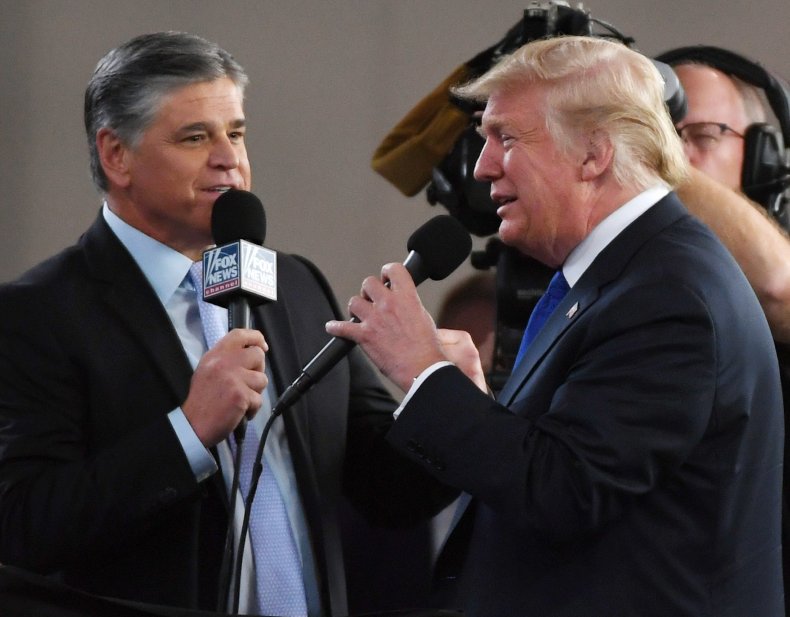 The Fox News host's remarks came as Vindman drew applause from the audience at his congressional testimony before the House Intelligence Committee after he proudly expressed his support for America.
In his opening statement, Vindman indicated that his father was concerned about him testifying at the hearing due to fears over possible reprisals. When Democratic congressman Sean Maloney asked him how he overcame the fears, Vindman suggested he was testifying because he believed it was morally the "right" decision to make.
"Congressman, because this is America. This is the country I have served and defended, that all of my brothers have served. And here, right matters," he said, prompting loud applause from spectators in the room.
Hannity, a vocal supporter of Trump, is often cited by the president during his political rallies. In August, Trump took to Twitter to congratulate Hannity for hosting the most watched cable news show in America. However, in his praise of Hannity, the president accidentally misspelled the "show" when he wrote "number one shoe in television."
Earlier this month, Hannity attacked his own network's polls over unfavorable results for the president. "New York Times-Sienna College poll shows Trump in a dead heat in battleground states, matched up against the three leading Democratic candidates, Biden, Sanders and Warren," he said. "And I always say, and I believe—Trump doesn't poll well, and I don't know what's up with the Fox poll."
Hannity added: "I look at their poll, I'm like, okay, you're sampling—oversampling Democrats by eight points. I'm like—some outside company they hire, I'm like, okay, they need new methodology because it's really wrong."