Sean Hannity, Who Said Seth Rich Was Murdered by Democrats, Staying Mum on Trump Lawsuit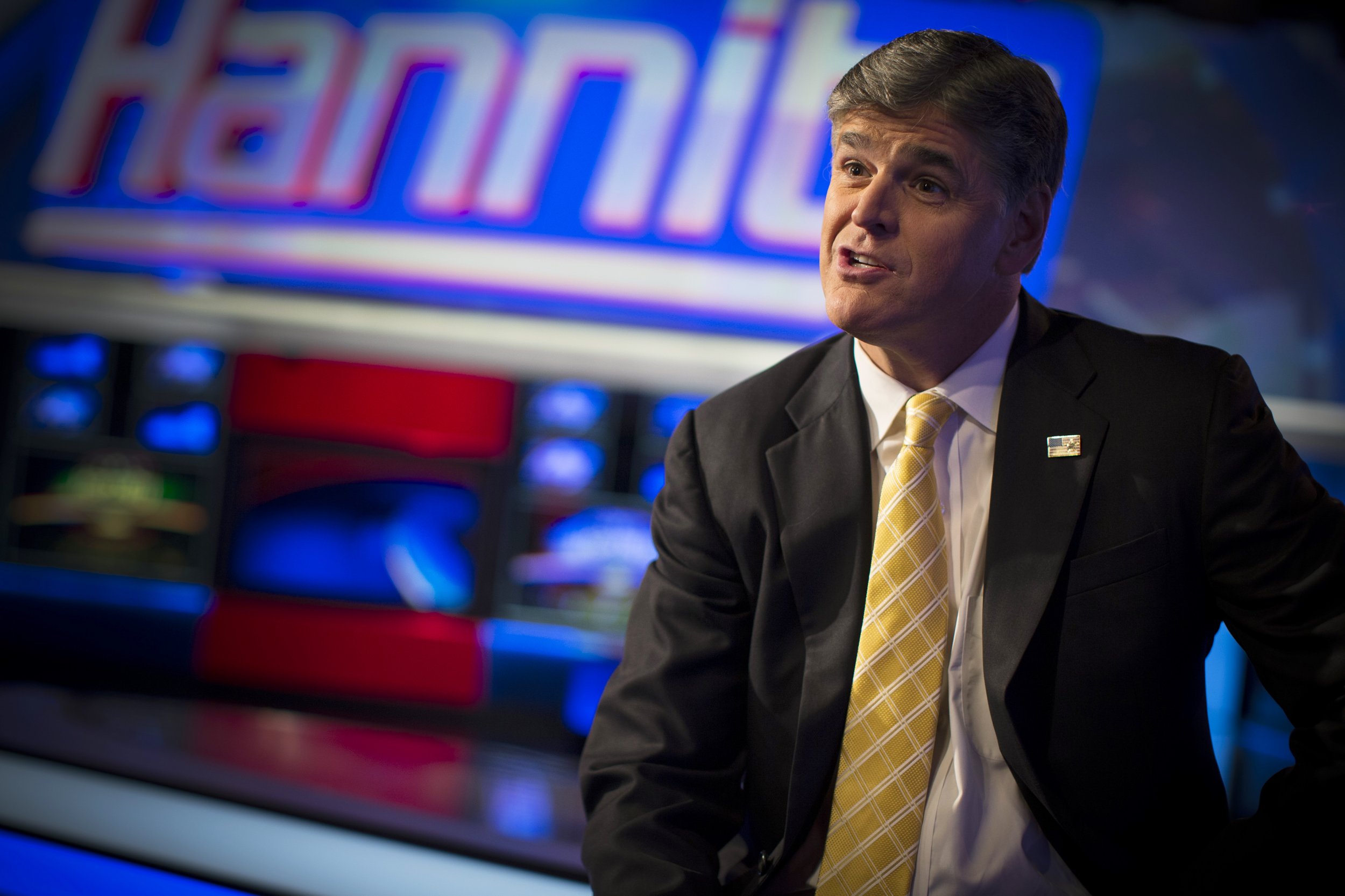 On Tuesday night, Fox News host Sean Hannity issued denunciations of the same forces he has assailed for months: the Clintons, the Deep State, the Democrats, Florida congresswoman Debbie Wasserman Schultz, mainstream Republicans and, of course, the media. Those targets, though, would be familiar to even an occasional viewer of Hannity's nightly program. More intriguing is a name that Hannity did not utter: Seth Rich.
Rich was the young Democratic National Committee employee slain in what appears to have been a botched robbery in the summer of 2016. Hannity was one of the most vociferous proponents of a conspiracy theory that held that Rich had "leaked" DNC emails, for which he was killed by Democratic operatives, presumably because those emails proved embarrassing to then-candidate Hillary Clinton.
There is no evidence supporting this claim.
Hannity strongly supported that theory, but abruptly ceased his "investigation" into the Rich murder in late May, amidst a furious advertising boycott campaign that sought to marginalize and depose the prime time anchor. Hannity backed down, but told viewers he'd return to the Rich investigation in due time. "To the extent of my ability, I'm not going to stop trying to find the truth," he said on May 23rd. He subsequently turned to less lurid tales of Democratic malfeasance involving nuclear materiel and sabotaged hard drives.
Now, there is a development in the Rich case, but it's unlikely that Hannity will be acknowledging it anytime soon. That's because, according to a report by NPR media reporter David Folkenflik, the Rich conspiracy may have been promulgated by Fox News and a Dallas-based supporter of President Donald J. Trump under White House supervision. Even more astonishingly, the conspiracy theory may have been approved by Trump.
Since this conspiracy theory had no cheerleader louder than Hannity, he may be facing renewed questions about his fixation on the tragic murder of a young man. "Sean Hannity ate this conspiracy theory up," CNN media critic Brian Stelter said on Tuesday. "Remember, he has close ties to the president."
The allegations of White House involvement and journalistic impropriety come from a lawsuit filed in the Southern District of New York on Tuesday by Rod Wheeler, a private investigator and longtime Fox News commentator. The suit's defendants include Fox News; Fox News reporter Malia Zimmerman (who wrote on May 16 that Rich "had leaked thousands of internal emails to WikiLeaks," an assertion she made by citing Wheeler's apparent investigations); and Ed Butowsky, an investor and conservative commentator who hired Wheeler to investigate the murder and, according to the suit, led him to believe the White House was acutely interested in his findings. Butowsky, according to the suit, has "close ties" to Stephen K. Bannon, the former Breitbart News chairman and current White House political adviser.
The lawsuit opens with a screen-capture of a text from Butowsky to Wheeler, sent on the evening of May 14. "Not to add anymore pressure but the president just read the article," Butowsky wrote, in apparent reference to the report Zimmerman was about to publish. "He wants the article out immediately. But don't feel the pressure."
The article was published on the Fox News website two days later. In his lawsuit, Wheeler charges that the White House hoped to "shift the blame from Russia and help put to bed speculation that President Trump colluded with Russia in an attempt to influence the outcome of the presidential election." He bases that assertion on correspondences between himself, Zimmerman and Butowsky. He cites a text message in which Butowsky appears to be coaching Wheeler on forthcoming Fox News appearances: "The narrative in the interviews you might use is that your and Malia's work prove that the Russians didn't hack into the DNC and steal the emails and impact our election."
That was, indeed, the argument preferred by Fox News. Wheeler charges, however, that he was never able to independently substantiate such allegations. He alleges that the article published on May 16 contained "false quotations from Mr. Wheeler that were clearly fabricated to lend support to the claim that Seth Rich, and not the Russians, was the source for the DNC emails released on WikiLeaks."
Sean Spicer, the recently departed White House press secretary, acknowledged to NPR that he met with Butowsky and Wheeler in the White House in April, but he denied that Trump had any knowledge of the Rich conspiracy. Butowsky told NPR that the allusions to Trump's interest in the case had been made in jest.
Douglas H. Wigdor, the Manhattan attorney representing Wheeler, says Butowsky's claim is not credible. "There was no emoji or smiley face," he says of the text message suggesting Trump's acute interest in the Rich story. "It wasn't a joke."
Whatever the case, Hannity took Zimmerman's online report and made it a right-wing cause célèbre. Hours after Zimmerman published her summary of Wheeler's findings, Wheeler appeared on Hannity's program.
"What did you discover in terms of the contacts with WikiLeaks?" Hannity asked Wheeler. Wheeler tried to qualify his findings while giving Hannity what he quite plainly sought: evidence that it was Rich who gave WikiLeaks the DNC emails, as opposed to the Kremlin-associated hackers suspected by the U.S. intelligence community.
"I have never seen the emails myself directly," Wheeler answered during the May 16 segment. "I haven't even seen the computer that Seth Rich used. Here's the problem with all of this: I don't even know where the computer is."
Wheeler continued by explaining that a "federal investigator" who was "very credible" provided him with information that suggested that "perhaps there were some email communications between Seth and WikiLeaks."
In fact, as Wheeler's suit alleges, it was Butowsky and Zimmerman who told him about the federal investigator. If true, that would have the duo feeding Wheeler the exact story they wanted to spread, effectively using the private investigator to give their fictions the imprimatur of a legitimate probe. And there Wheeler was, telling that very story to Hannity, even if, as he now claims, he had questions about its veracity.
"Connect the dots here," Wheeler said a few minutes later. "It's all starting to come together."
The following day, May 17, the FBI appointed Robert S. Mueller III as special counsel to investigate the Trump campaign's contact with Russia during the presidential election, as well as questions of obstruction of justice regarding the firing of FBI director James B. Comey by Trump.
That seemed to only add urgency to the Rich counter-narrative. "This is getting more mysterious by the day," Hannity said on May 18th of his investigation. "Does this blow the Russia collusion narrative out of the water?" The following day, Hannity aired clips from his interview with Julian Assange, the WikiLeaks founder, who averred that the DNC emails did not come from Russia. The obvious implication was that they came from Rich.
Hannity also promoted the "investigation" of Megaupload founder Kim Dotcom, the New Zealand-based techno-rogue who claimed to have information on the Rich murder.
Nothing substantive ever came of Dotcom's investigation. Nor did Hannity's own inquiry into the Rich murder appear to advance beyond what Zimmerman had reported.
By the following week, that reporting was being called into question. Hannity was forced to back down because the story Zimmerman wrote—and which she supposedly based on Wheeler's investigation—was retracted by Fox News on May 23. The network issued a statement that said the story had not been "subjected to the high degree of editorial scrutiny we require for all our reporting."
"Out of respect for the family's wishes, for now, I am not discussing this matter at this time," Hannity said. He nevertheless returned to the Rich story the following week, if only to announce that he was "making progress" with his investigation. He countered charges that he was a conspiracy theorist by making the same accusation against liberal MSNBC host Rachel Maddow.
Wheeler now calls the entire Rich narrative "fake news." His accusations are, unsurprisingly, in heated dispute. FoxNews provided two separate statements, one regarding the allegations made in the Wheeler lawsuit, the other answering Newsweek's questions about Hannity's involvement in that affair.
"The accusation that FoxNews.com published Malia Zimmerman's story to help detract from coverage of the Russia collusion issue is completely erroneous," said Jay Wallace, president of news at Fox News, in the first statement. "The retraction of this story is still being investigated internally and we have no evidence that Rod Wheeler was misquoted by Zimmerman."
The other statement, issued on Hannity's behalf, "strongly denied" that the commentator "received direction from the White House surrounding his coverage of Seth Rich."
Later, a spokesperson for Fox News provided a third statement, which said that the network had "retained outside counsel on the matter" and would not make further comment on the Wheeler lawsuit.
Wigdor, Wheeler's lawyer, declined to speculate about Hannity's involvement in the creation of the Rich narrative. "I don't like to engage in conspiracy theories," Wigdor tells Newsweek. Yet he remains confident that evidentiary discovery and sworn testimony will reveal the extent to which Fox News and the White House worked in concert to push the Rich story.
As for the White House, press secretary Sarah Huckabee Sanders said during Tuesday's press briefing that Trump, "had no knowledge of the story." She also denied that "he or the White House" collaborated with Fox News.
Huckabee Sanders also discussed a litany of other "investigations" related to Democrats that Hannity had touted the night before. His favorites, recently, have been the Uranium One deal and the meeting of a DNC operative with Ukrainian embassy officials to obtain compromising information on Paul J. Manafort, the second of Trump's three campaign managers.
Hannity dined with the president last week. Also at the dinner was Anthony Scaramucci, the communications director who lost his job shortly thereafter, and Bill Shine, who in May lost his own job as a Fox News executive over the handling of that network's sexual harassment allegations.
Shine may take over Scaramucci's former position, according to The New York Times. That would put Fox News at the heart of the West Wing, potentially giving Hannity's conspiracy theories an even greater sway over the president.
This story has been updated to clarify Sean Hannity's employment status at Fox News in late May. The timeline of Fox News statements on the Wheeler lawsuit, and Hannity's potential involvement in the events described therein, has also been updated. A third statement from Fox News has been added.
Sean Hannity, Who Said Seth Rich Was Murdered by Democrats, Staying Mum on Trump Lawsuit | U.S.