The death of a man in China who had a hantavirus spread by rodents has prompted fears of a new outbreak similar to the COVID-19 pandemic. But experts have stressed the case is no cause for concern.
The man, identified by his surname Tian, was traveling on Monday to Shandong, eastern China, for work, when he started to feel unwell, China's state-run Global Times newspaper reported. The man was taken to a hospital in Ningshan county, in northwestern Shannxi Province, and died. It was not clear when he was tested for hantavirus.
His 29 fellow passengers were screened for hantavirus, with their results pending, Ningshan county government said according to the Global Times. Tests for COVID-19, meanwhile, came back negative.
Amid the ongoing coronavirus pandemic, which is thought to have started from a germ jumping from an animal to a human before spreading across the world, the report prompted panic online.
However, hantaviruses are not new and, according to the U.S. Centers for Disease Control and Prevention, cases of person-to-person transmission are very rare. Such instances have mostly been reported in people with close contact with those sick with a type of hantavirus called Andes virus in Chile and Argentina.
Agnieszka Szemiel, a research fellow at the MRC-University of Glasgow Centre for Virus Research told Newsweek people shouldn't be concerned about hantavirus. "The main reason that hantaviruses will not cause an outbreak like COVID-19 is that they are not spread from human to human, whereas coronaviruses do spread between people."
Szemiel explained, "There isn't enough evidence to determine whether hantaviruses actually spread from person to person. There are literally few reports suggesting such possibility. In the cases where human to human transmission was suspected, people were exposed to considerable amounts of bodily fluids of an infected person."
Alan Radford, professor in veterinary health informatics at the University of Liverpool, U.K., told Newsweek hantavirus "already occurs rarely in most countries. People get it from rodents, not other people.
"Whilst it can be a severe infection in individuals, the pattern is not changing and health authorities know how to respond to it."
Yang Zhanqiu, virologist at Wuhan University, told the Global Times: "There is no need to worry about the hantavirus."
Part of the difficulty with stopping the spread of COVID-19 is that as it is new there is no vaccine for it yet. However, Zhanqiu explained: "Hantavirus disease is preventable and controllable and there are vaccines to prevent it. Its incidence in urban cities is very low as the disease is mainly found in rural villages where rats tend to appear when people are working in the field."
Yang said: "Unlike the COVID-19, the hantavirus in most cases does not transmit through the respiratory system. But the human excreta and blood of an infected patient can transmit the virus to humans."
According to the European Center for Disease Prevention and Control, hantaviruses are spread by rodents, like bank voles and the yellow-necked mouse. Humans can catch a hantavirus if they breathe in the aerosoled particle from the contaminated urine, feces or saliva of a host. This family of viruses can cause a range of diseases with varying degrees of severity, from no symptoms at all to death.
Hantaviruses causes three main syndromes. Haemorrhagic fever with renal syndrome (HFRS) which largely occurs in Europe and Asia; while a mild version of HFRS called Nephropathia epidemica is seen in Europe. Hantavirus cardiopulmonary syndrome (HCPS) meanwhile occurs in the Americas.
Anyone can catch a hantavirus, but those who work in forestry and on farms are more at risk of encountering rodent carriers.
In most cases, when a person catches a hantavirus they must simply manage the symptoms of the resulting disease, for instance by maintaining a balance of fluids, and in cases of kidney problems, dialysis.
In the U.K, the NHS states cases of hantavirus cases in Asia are more common in the spring and summer months due to planting and harvesting activities.
This article has been updated with comment from Professor Alan Radford and Agnieszka Szemiel.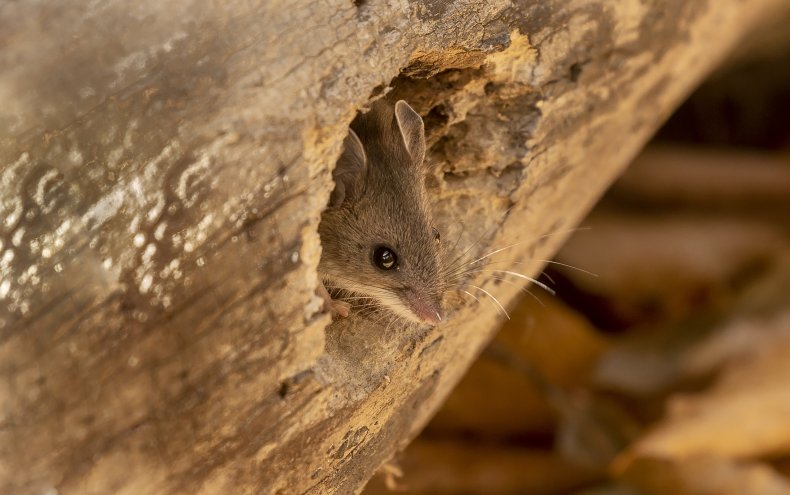 About the writer
Kashmira Gander is Deputy Science Editor at Newsweek. Her interests include health, gender, LGBTQIA+ issues, human rights, subcultures, music, and lifestyle. Her work has also been published in the The Independent, The Independent on Sunday, The i Newspaper, the London Evening Standard and International Business Times UK.