Hanukkah Miracle: Doug Jones's Victory Over Roy Moore Celebrated on First Night of Holiday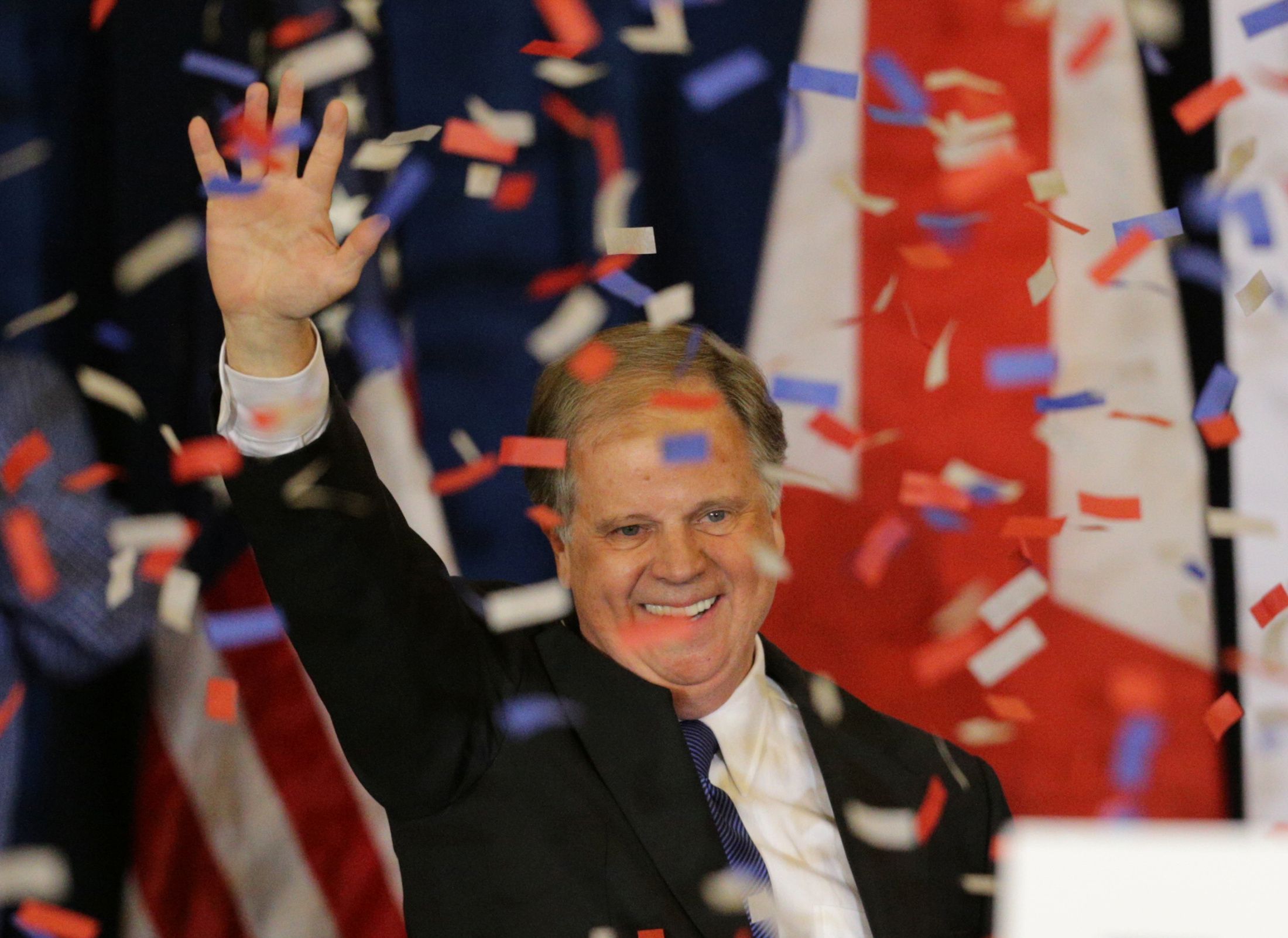 The special election in Alabama on Tuesday coincided with the first night of Hanukkah, and some onlookers are hailing Doug Jones's triumph over Roy Moore as this year's Hanukkah miracle.
The Jewish holiday is a joyous festival that celebrates the miraculous victory of an underdog resistance movement led by the Jewish priest Mattathias and his son Judah Maccabee more than 2,000 years ago against the armies of the king Antiochus IV Epiphanes.
In Alabama, the Senate race upset saw the Democratic candidate prevail over his Republican opponent, who has been embroiled in controversy in recent weeks over allegations of sexual misconduct (specifically that he engaged in inappropriate relationships and molested underaged girls when he was a district attorney in his 30s).
Before and after the results came in, observers took to social media to draw a connection between the election and the Jewish holiday, riffing on the themes of an unexpected triumph of good over evil, of the underdog who saved a community and of the holiday miracle.
And the tweets spanned the spectrum, from Hollywood to academia.
The actress Debra Messing tweeted:
Daniel W. Drezner, a professor of international politics at the Fletcher School at Tufts University, also weighed in:
The musician and frontman for the Airborne Toxic Event Mikel Jollett shared a photo of a menorah:
Josh Gondelman, a writer for Last Week Tonight With John Oliver, amended a classic holiday tune:
Amanda Litman, co-founder of Run for Something and a former email marketing director for Hillary Clinton's campaign, referenced a statement made by Moore's wife:
Philip Gourevitch, a staff writer at The New Yorker, shared a transliterated Hebrew phrase meaning "a great miracle happened there" minutes after news outlets projected Jones's victory:
The expression is closely associated with Hanukkah; the Hebrew letters on the four sides of the dreidel, or a spinning top used for holiday games, are Nun, Gimel, Hei and Shin, meant to spell out "nes gadol haya sham." (In Israel, the last letter is Pei instead, to reflect that the miracle happened poh, or "here," not "there.")
Gourevitch wasn't the only one to invoke the phrase:
Of course, it wasn't just well-known Twitter figures drawing Hanukkah comparisons. Other users got in on the action, too:
One person got really creative, writing a haiku for the occasion:
Someone else found a different kind of inspiration—to watch 300 as a way of celebrating the election and the spirit of Hanukkah:
And some of the missives made gave a nod to Hanukkah via a parody of "The Twelve Days of Christmas":
Remember folks, pace yourselves: We have seven more days of Hanukkah to go.