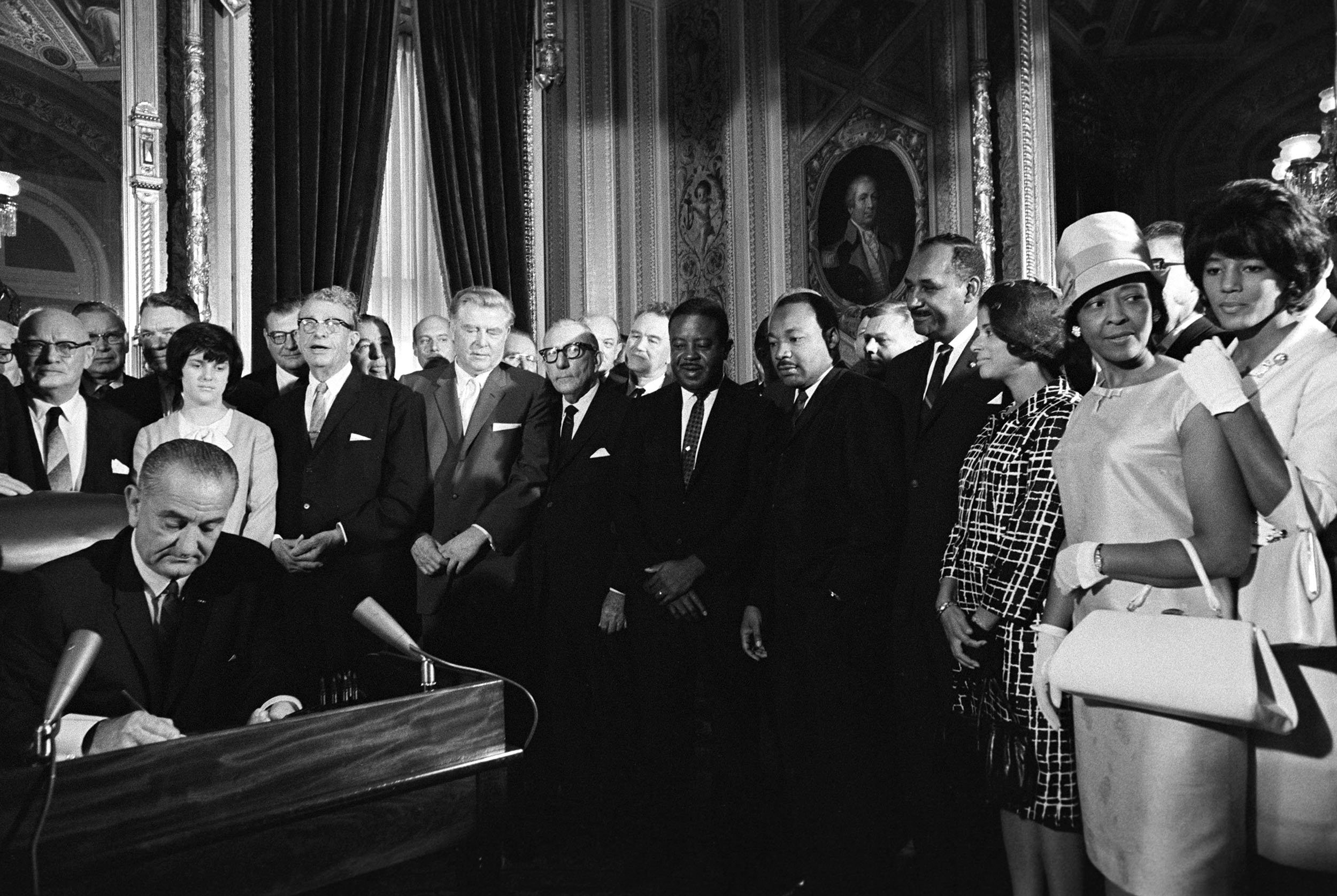 Fifty years ago on Thursday, then-President Lyndon B. Johnson signed the Voting Rights Act into law. It became arguably one of the country's most influential pieces of legislation, banning discrimination in voting. The stroke of Johnson's pen on August 6, 1965 allowed previously disenfranchised Americans to exercise their constitutional right to vote.
A year earlier, Johnson had signed the Civil Rights Act of 1964, the landmark bill that banned discrimination based on gender, race, religion and nationality. But the measure didn't stop all injustices against black people, who were often prevented from voting by discriminatory laws in the South. Poll taxes and literacy tests were often used as a prerequisite for casting a ballot.
The law continues to be challenged in 2015. At the local and state levels, voting rights groups are fighting voter identification laws. A number of states have implemented voting requirements in the wake of a landmark ruling by the U.S. Supreme Court in 2013. The justices struck down a key part of the act that had forced certain states to obtain federal clearance before implementing changes to voting laws. That part of the law affected states with especially egregious histories of disenfranchising voters.
Wednesday, just a day before the 50th anniversary, an appeals court in Texas struck down a voter ID law it deemed "discriminatory." The decision involved one of a series of laws enacted in Republican-governed states requiring voters to show certain forms of identification before casting a ballot.
On Thursday, President Barack Obama called on Congress to update the Voting Rights Act, and urged Americans to register to vote.
"There are people of goodwill on both sides of the aisle who are willing to do it, but it keeps slipping as a priority," Obama said. "This has to be a priority. If this isn't working, nothing is working." He discussed the law at a national teleconference with Representative John Lewis of Georgia and Attorney General Loretta Lynch, both voting rights advocates.
Earlier, Obama wrote an op-ed for the website Medium, in which he called voting "one of the most fundamental rights of any democracy."
"Fifty years ago, registering to vote across much of the South meant guessing the number of jellybeans in a jar or bubbles on a bar of soap," he wrote. "And while the Voting Rights Act broke down many of the formal and more ridiculous barriers to voting, today — in 2015 — there are still too many barriers to the vote, and too many people trying to erect new barriers to the vote."