'Happy To Be Alive'—Video Shows Extent of Severe Turbulence on Texas Flight
A video showing the aftermath of turbulence during a flight has stunned the internet this week.
Monica Raygada is passionate about travel, but even the most seasoned travelers can have experiences that shock them.
In a video on TikTok that has been viewed over 10 million times, Raygada shared the moment her Lufthansa flight from Austin, Texas to Frankfurt, Germany hit massive turbulence.
The text overlaid on the video read: "I almost died on a Lufthansa Austin to Frankfurt flight."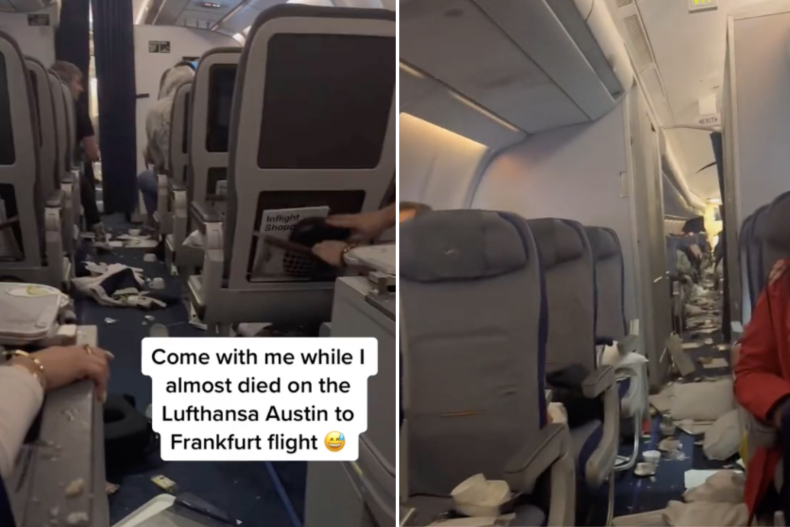 Just an hour and a half into the flight, while passengers were eating dinner, the plane suddenly dropped and Raygada wrote that it "felt like we were in zero gravity for some time."
Surrounded by food trays, trash, and leftovers, the passengers all sat in shock as the flight steadied itself after the shocking moment.
"After the initial drop where everything flew and everyone was screaming, everything came to the ground and it seemed like we just kept falling," wrote the passenger. "That's where everyone became dead silent. That's when we all thought this was it."
On the ceiling of the aircraft, there were visible signs of liquid and food after the passengers' meals had been thrown in the air during the extreme turbulence.
What Is Airplane Turbulence?
Turbulence occurs when the air around the aircraft changes in pressure and flow velocity. Sometimes this is referred to as "rough air." Irregular motions in the atmosphere create air currents that can cause an unpleasant jolt during a flight that many passengers will be familiar with.
There are many causes for these air irregularities, but the most common are mountains, jet streams, and storms.
Last year, a viral video showed how a woman "cured" her fear of turbulence with a simple jelly pot.
Anna Paul amassed millions of views on her video as she demonstrated using a pot of jelly to represent the air and a small piece of napkin inside to represent the plane. As the paper sits in the center of the jelly pot, she explains that pressure from the top, bottom, and sides keeps it in place—just like a plane in the air.
"It's not gonna automatically fall just because it's shaking," she said, adding, "You do not have to be scared."
On the flight to Frankfurt, Raygada explained that she frantically searched for her phone that she had stowed away: "So I could text my family goodbye," she wrote.
After what seemed like a long time, the crew were able to get out of their seats and started to check on anyone who had been injured.
"We still didn't know what happened or if we were gonna do an emergency landing," she recalled. "Thank god most of us had our seatbelts on because this could've ended way worse."
A spokesperson for Lufthansa Group told Newsweek: "Lufthansa flight LH469 on March 1 from Austin, Texas (AUS) to Frankfurt, Germany (FRA) encountered brief but severe turbulence about 90 minutes after takeoff. The Lufthansa flight made an unscheduled landing at Washington Dulles Airport as a precautionary measure."
After around 30 minutes, the passengers were informed that the flight would be landing at Dulles International Airport, 26 miles from D.C. in suburban Virginia.
When they landed, the runway was swarmed with emergency response teams and paramedics boarded the aircraft to support any injured passengers. Raygada described how she felt "happy to be alive" after the ordeal.
"After the Airbus A330-300 landed, affected passengers received medical attention. Lufthansa ground staff at Dulles attended to the well-being of passengers and [rebooked] them accordingly," said the Lufthansa Group. "Lufthansa regrets the inconvenience caused to passengers. The safety and well-being of passengers and crew members is Lufthansa's top priority at all times."