'Happy Birthday Dr. Fauci' Messages Flood Twitter As Scientist Turns 80
Dr Anthony Fauci's turns 80 today, and his birthday was marked with a string of messages from supporters on social media.
The U.S.'s leading expert on allergies and infectious diseases has become a recognisable face since heading the federal response to the coronavirus pandemic.
He has also become known for openly criticising President Trump's approach to countering the threat from the virus.
However, politics was put aside today as well-wishers shared their love for the director of the National Institute of Allergy and Infectious Diseases.
A Twitter account named 'Dr Anthony Fauci Fan Club' led the birthday well wishes, with a tweet that read: "Happy 80th Birthday and #DrFauciDay from the #Fauci Fan Club! #HappyBirthdayFauci."
President-elect Joe Biden and first lady-elect Jill Biden recorded a duet of "Happy Birthday" to the immunologist. Joe Biden signed off with the message: "Hey pal, happy birthday it's Joe and Jill Biden."
Washington D.C. Mayor Muriel Bowser tweeted: "Happy Dr. Fauci Day, DC. We are incredibly proud to count him among the many DC residents who are sacrificing so much to keep our communities healthy and safe."
Bowser also tweeted a picture of a proclamation declaring December 24th 'Dr Anthony S. Fauci Day' in Washington D.C. The accompanying message said: "In honor of Dr Fauci's 80th birthday tomorrow, I proclaim Thursday, Devember 24, 2020, "Dr Anthony S. Fauci Day" in Washington, DC."
American former world number one women's tennis player Billie Jean King joined in the celebration, tweeting: "Today is Dr. Anthony Fauci's 80th birthday. With a brilliant scientific mind and a trustworthy voice over the last 9 months, Dr Fauci has been a leader through the #COVID19 pandemic. Happy birthday, Dr Fauci!!"
Author and political TV pundit Michael Beschloss tweeted a black-and-white photo of a much-younger Dr Fauci looking into a microscope slide, with the message 'Happy eightieth birthday today to Dr Fauci'.
Gun safety campaigner Fred Guttenberg revealed he shares a birthday with the immunologist. He tweeted: "So today is not only my birthday, I share it with some amazing people. Happy birthday @SRuhle and Dr Fauci," tagging Stephanie Ruhle, the MSNBC news anchor.
A number of TV personalities also sent birthday messages, including local TV anchor Jaciel Cordoba and meteorologist for NBC4 in DC Chuck Bell.
Dr Fauci revealed earlier this month that, due to social distancing restrictions, he will not see his three adult daughters at Christmas for the first time this year.
"The Christmas holiday is a special holiday for us because Christmas Eve is my birthday. And Christmas Day is Christmas Day. And they are not going to come home ... That's painful. We don't like that. But that's just one of the things you're going to have to accept as we go through this unprecedented challenging time," he said in an interview with The Washington Post.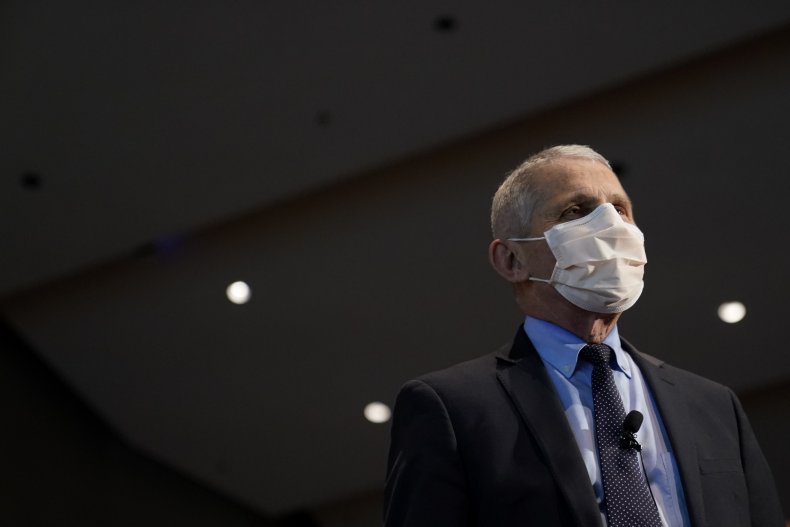 Dr Fauci stressed the importance of Americans keeping Christmas as small as possible to avoid further spreading the virus - warning the country was in for a holiday season like no other.
"Stay at home as much as you can, keep your interactions to the extent possible to members of the same household ... This cannot be business as usual this Christmas because we're already in a very difficult situation, and we're going to make it worse, if we don't do something about it," he said at the time.