Happy Birthday Spyro: 'Spyro The Dragon' Turns 20 Today
Happy birthday Spyro! And happy anniversary to Spyro the Dragon. The original Insomniac game that started an entire franchise was released on this date back in 1998. That makes Spyro 20 years old! (Also happy birthday to my sister, but she's a lot less famous.)
To celebrate the birthday, and hype the upcoming Spyro Reignited Trilogy release, we have a special video clip with Spyro receiving a tasty-looking cake from another dragon. How heartwarming!
The Spyro Reignited Trilogy will release for PS4 and Xbox One Nov. 13. This wasn't it's original release date, but developer Toys For Bob and publisher Activision haven't confirmed why there was a delay. Sources say the delay is due to printing information on the Reignited Trilogy discs. As of right now, the Reignited Trilogy website says Spyro 2: Ripto's Rage and Spyro: Year of the Dragon will need to be downloaded separately. It's possible this delay was to provide more time to get all three Spyro games on the disc without any downloads required.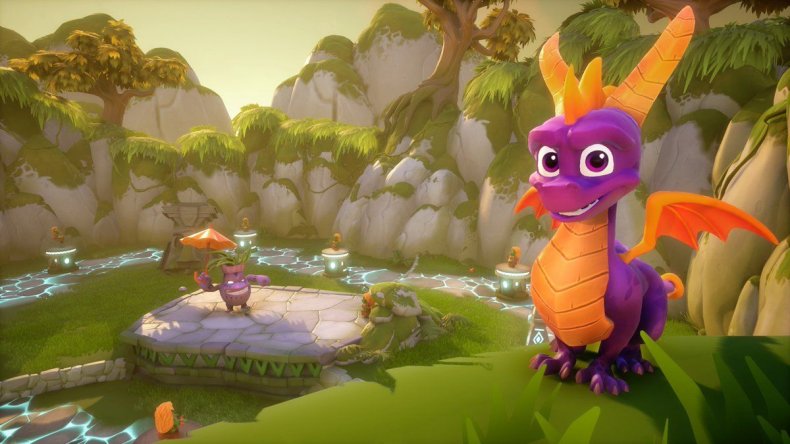 Regardless of the reason for the delay, Spyro Reignited Trilogy looks amazing and plays very fluidly. Be sure to read our full hands-on impressions with the Reignited Trilogy, but the short story is fans will definitely want to pick up a copy to relive the magic of the original games. Newcomers will have a lot to enjoy as well.
As for a PC and Switch release of Spyro Reignited Trilogy, it looks like fans will just have to wait. Activision was also behind the recent Crash Bandicoot remastered trilogy, which exclusively launched for PS4 before making the jump to other consoles. Given enough time, I bet Spyro will follow suit as well.
So what do you think? Are you excited to play Spyro Reignited Trilogy for the first time? Do you have any fond memories of Spyro from 20 years ago? Share your thoughts in the comments section below.