Yes, today is Thanksgiving, but only if you're from the Great White North. Known as Canadian Thanksgiving outside of its home country, the holiday shares much in common with its better-known American counterpart, though there are several key differences.
Of course, the most obvious variation is found on the calendar. Canadians celebrate Thanksgiving on the second Monday of October, as opposed to the fourth Thursday in November. Why? It may come down to something as simple as weather. Like the "other" Thanksgiving, Canada's is a day of feast meant to celebrate the harvest and overall blessings of the year. Due to much of the country being significantly colder than the United States, its harvest arrives earlier.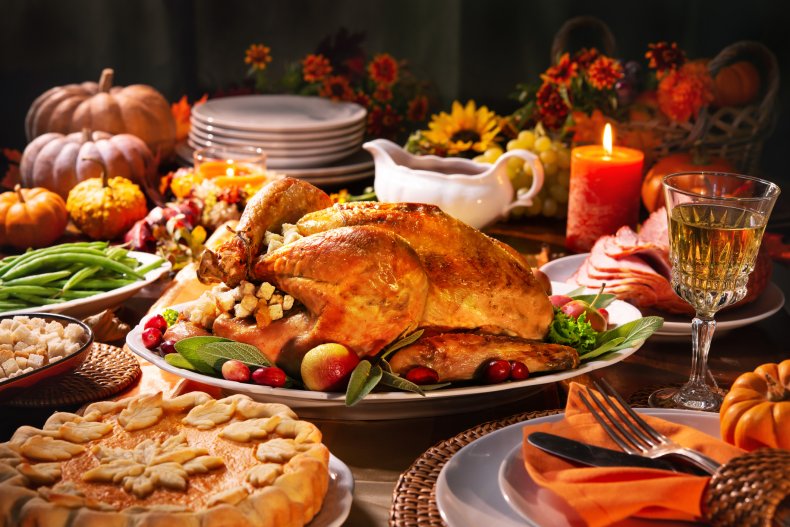 Canadians are also a bit more lax about when they actually gather for a family feast. They are just as likely to have the big family gathering the weekend before—especially on Sunday—the actual Monday holiday. (Hence, their restful Monday sometimes becomes more like the Americans' Friday after Thanksgiving.)
You also won't find any Pilgrim decorations. That's because Canadians trace their Thanksgiving back farther—to the 16th century, more than four decades before the 1621 gathering in Plymouth, Massachusetts, that kicked off the American tradition.
Native Americans and indigenous Canadians had celebrated fall harvest with a feast long before white settlers, but Canadian Thanksgiving's present-day form goes back to 1578, with a meal of salt beef, biscuits and mushy peas enjoyed by English explorer Sir Martin Frobisher and his men after a particularly treacherous journey during their search of the Northwest Passage. The next Thanksgiving came during French explorers' ill-fated attempt at settling along the Atlantic coast, which resulted in a scurvy epidemic after winter ice trapped them on the island Île-Ste.-Croix. Many died before Indigenous Canadians saved them, which led to the celebration called Order de Bon Temps ("Order of Good Cheer") in 1606.
But Canadian Thanksgiving didn't become a proper national national tradition until 1859, when Protestant clergy called for a day to thank God for their blessings. This was four years before Abraham Lincoln made it a national holiday in the U.S. after the Battle of Gettysburg in 1863. However, it took Canada's parliament until 1957 to establish the second Monday in October as the official date.
This leads to another major difference between how the holiday is celebrated in the two countries: In Canada, it's not as big of a deal. In many parts, families gather for a large feast, and it is a day off for federal employees, with all banks and post offices are closed. However, it's considered an optional holiday in Nova Scotia, Prince Edward Island and New Brunswick. In the predominantly Catholic Quebec, the day (with its Protestant roots) is barely recognized at all.
Another huge difference is that Canada's isn't the shopping event it's become in the United States. There is no Black Friday with long lines at electronic stores, nor any Cyber Monday. In fact, many stores in Canada are open on more limited hours on Thanksgiving and the day before. (Canada's big shopping day of the year is Boxing Day—December 26.)
There are similarities between the two holidays, though. The menus stick to traditional North American fare introduced to settlers by the indigenous populations. That means turkey, pumpkin pie, squash, corn, etc. However, there are some unique dishes associated with different provinces, such as Jiggs' dinner in Newfoundland. (This boiled meal consists of salt beef and vegetables like turnip and cabbage, though it can also contain turkey.) Another regional dish are Nanaimo bars—a wafer, nut, and coconut crumb base; custard icing in the middle; and a layer of chocolate ganache on top—in British Columbia. In Ontario, folks are partial to butter tart pastries.
And while harvest season may play a part in the roots of both traditions, the holiday is seen on both sides of the border as a time for friends and families to gather for a big meal and give thanks for general well-being and all the past year has offered them.
Oh, and football. The Canadian Football League always plays a double-header on Thanksgiving—until this year, that is. Due to COVID-19, the CFL canceled its 2020 season, marking the first time since 1919 that it won't award a championship. Canadian officials also encouraged citizens to celebrate Thanksgiving with others already living together in a pod, or to only gather outdoors or online.
Last month, Prime Minister Justin Trudeau said canceling Thanksgiving may give Canadians "a shot at Christmas." He also released a video on Monday, in which he asked the country to remember all that they have to be grateful for, even during these hard times brought on by the pandemic. He also expressed gratitude for essential workers.
This may be another unfortunate commonality this year. As Canadians were the first to celebrate Thanksgiving historically and every year on the calendar, their experience this year may give an indication to Americans of what to expect for their own holiday, next month.