Happy Diwali 2018: Best Wishes, Greetings and Quotes for Hindu Festival of Lights
Today is the midpoint of Diwali—one of the major Hindu religious festivals—which means that for many celebrants around the world, festivities are reaching their peak.
Known as the "festival of lights", Diwali (also known as Deepavali) falls on a different day every year (always between mid-October and mid-November). The exact dates vary depending on regional interpretations of the traditional Hindu calendar.
The festival revolves around the symbolic victory of light over darkness, representing the triumph of good over evil, purity over impurity and knowledge over ignorance.
During Diwali—which typically lasts five days—temples, homes, shops, offices and streets across India are decorated with elaborate light displays and colorful garlands. People also light small earthenware lamps filled with oil—called "diyas"—placing them around the home or setting them adrift on rivers and streams.
Newsweek subscription offers >
For many people in India, the lighting of the oil lamps is intended to honor Lakshmi—the goddess of wealth, fortune and prosperity—and guide her presence into the home. This practice also celebrates a Hindu legend regarding the return of Rama—the seventh incarnation of Vishnu, one of the principal deities in Hinduism—after a long exile.
Read more: Diwali 2018 WhatsApp: How to download Hindu festival stickers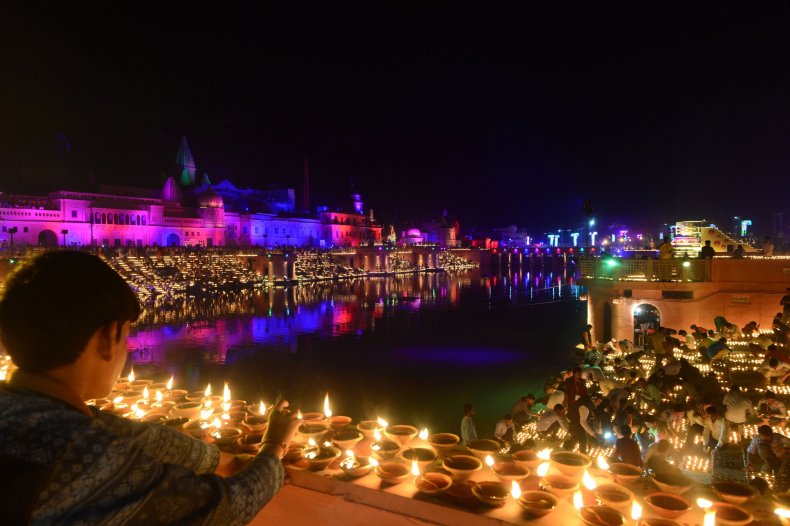 Generally, Diwali is a time for rejoicing, visiting friends and family, cleaning and decorating houses, exchanging gifts, feasting, setting off fireworks, wearing new clothes and settling business deals, according to the Encyclopedia Britannica.
Newsweek subscription offers >
Diwali is also important to people of other Indian faiths, such as Jains, Sikhs and some Buddhists, who celebrate it for differing reasons. Due to the large Indian diaspora, Diwali is commemorated all over the world. In fact, aside from India, it is also a national holiday in Fiji, Guyana, Malaysia, Mauritius, Myanmar, Nepal, Singapore, Sri Lanka, Suriname and Trinidad and Tobago.
It is common for people send greetings to family and friends during the festival. Below are some greetings you can share to wish people a happy Diwali:
Your dreams are beautiful, may all of them be fulfilled this Diwali. Happy Diwali!
Let's make this Diwali joyous and bright, Let's celebrate in true sense this festival of light. Happy Diwali!
A festival full of sweet childhood memories, a sky full of lights, mouth full of sweets, and heart full of joy. Wishing you all a very happy Diwali!
May the light of the diyas guide you on the way to happiness and success. Happy Diwali to you and your family!
With the gleam of the diyas, and the echo of the chants, may happiness and contentment fill your life! Wishing you a very happy and prosperous Diwali!
Happy Diwali 2018: Best Wishes, Greetings and Quotes for Hindu Festival of Lights | World