Happy Diwali 2020 Wishes for Friends and Family, Messages From Around the World
More than a billion people across the world will be celebrating the Indian festival of Diwali over the weekend, with the main day of celebrations taking place on Saturday, November 14.
While different religions celebrate Diwali for different reasons, typical Diwali traditions include placing lights and oil lamps on the streets and in houses, watching firework displays, and visiting family.
Diwali celebrations may look a little different this year due to social distancing guidelines amid the coronavirus pandemic, and though the gatherings may be a little smaller, there are still plenty of ways to celebrate the holiday.
Happy Diwali Messages for Friends
If you're celebrating Diwali but not able to visit family and friends this year, there are plenty of messages you can send to wish them a happy Diwali—take inspiration from the Diwali wishes below.
The Times of India suggests sending one of the following messages to family and friends this Diwali.
"May this Diwali your life be as colorful and bright as the lights of Diwali. Joy and gaiety surround you and your family forever. Happy Diwali!"
"An occasion to celebrate victory over defeat, light over darkness, awareness over ignorance, an occasion to celebrate life. May this auspicious occasion light up your life with happiness, joy, and peace. Happy Diwali!"
"Thank you for the light and prosperity you bring into my life. Have a joyful Diwali!"
Business Insider India has plenty more ideas of messages to send to loved ones.
"May this Diwali bring with it fresh hopes, brighter days, and new dreams! Wishing you and your family a very happy Diwali!"
"Hoping this Diwali turns out to be an extra special one for you and your dear ones, and may success be always with you."
"Let us enjoy this Diwali with all its charms, the glow of candles, the warmth of loved ones, the laughter shared, and moments that are cherished time and again."
The Oprah Magazine has a few more message idea that would be perfect to send this Diwali, inspired by celebrities' messages over the years.
Vice President-elect Kamala Harris, the first Black woman to be elected vice president of the United States and also the first person of South Asian descent elected to the vice presidency, is yet to share a Diwali message this year.
However, the vice president-elect shared the following Diwali message in 2014: "Wishing all a Happy Diwali, a celebration of the power within each of us to fill the darkness with light. Saal Mubarak."
In 2018, Priyanka Chopra said: "Diwali... The festival of lights that celebrates the victory of light over darkness, good over evil and knowledge over ignorance. Wishing everyone a very Happy Diwali... hope you're spending it with loved ones!"
Sameera Reddy said in 2017: "Happy Diwali to you and your families! May Goddess Laxmi bless us all with good health."
Self-help guru Deepak Chopra said in 2013: "Happy Diwali! May the flame of awareness lighten up your path and guide your evolution."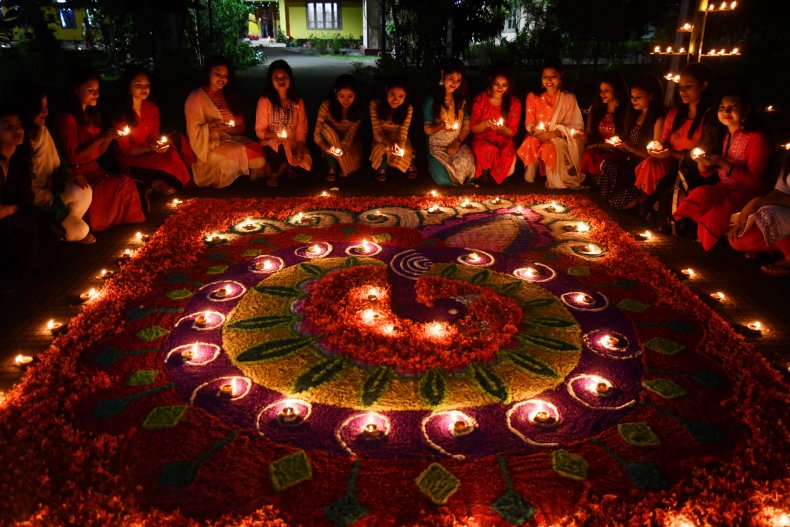 Diwali Messages from Around the World
Notable people from India and the diaspora have taken to social media to wish their followers a Happy Diwali, including stars from the entertainment and sports industries, as well as international leaders.
Actor Akhil Akkineni said: "May your life be full of light and prosperity! Wishing you and your family lots of happiness and good health my dear friends. Happy Diwali"
Former cricketer Kapil Dev said in a video posted to Twitter: "Happy Diwali to everybody and I hope this year brings lots and lots of happiness to everybody. Thanks for your wishes, I'm healthy, I'm happy, heart is working good. But I want to wish everybody lots and lots of love and happiness around the world."
Indian Prime Minister Narenda Modi said: "This Diwali, let us also light a Diya as a #Salute2Soldiers who fearlessly protect our nation. Words can't do justice to the sense of gratitude we have for our soldiers for their exemplary courage. We are also grateful to the families of those on the borders."
Publicist Mahesh S Koneru simply said: "Happy Diwali in advance folks"
International leaders are also wishing their followers a happy Diwali, such as Canadian prime minister, Justin Trudeau, who said: "Diwali reminds us that truth, light, and goodness will always prevail.
"To celebrate that hopeful message and mark this important festival, I joined a virtual celebration earlier this evening. Happy Diwali to everyone celebrating!"
From England, The Prince of Wales and The Duchess of Cornwall said: "This brings you all my warmest greetings on the occasion of Diwali and, for those of you marking a New Year, let me wish you a happy, peaceful and prosperous year ahead."