'Happy Endings': What the Cast Has Said About a Reboot As Show Comes to Netflix
Happy Endings may have finished back in 2013, but the show still regularly features in lists of shows that TV fans think ended too soon. Now, with all three seasons so far coming to Netflix, there is sure to be talk of the show coming back for a Season 4 reboot featuring Jane (played by Eliza Coupe), Alex (Elisha Cuthbert), Dave (Zachary Knighton), Max (Adam Pally), Brad (Damon Wayans Jr.) and Penny (Casey Wilson).
What the cast of Happy Endings have said about returning
In 2020, the show filmed a Zoom reunion episode. As well as featuring a surprise Penny and Max wedding and revealing that Alex now has a baby, this reunion led the cast to discuss a potential Season 4 for the comedy show.
The general tone conveyed that all the actors were willing to do it, but were wary that it would ever happen. Speaking to Entertainment Tonight, for example, Coupe said: "All of us would love that, [but] about 900 people need to sign off on that before that can happen—all the different networks, all the things."
This came after a 2019 announcement from ABC Entertainment president Karey Burke that the network was exploring bringing back the sitcom.
At the time, the exec said: "That is a dream of a lot of people at ABC. I'm hearing that there's a remote possibility of something. It's at the very beginning."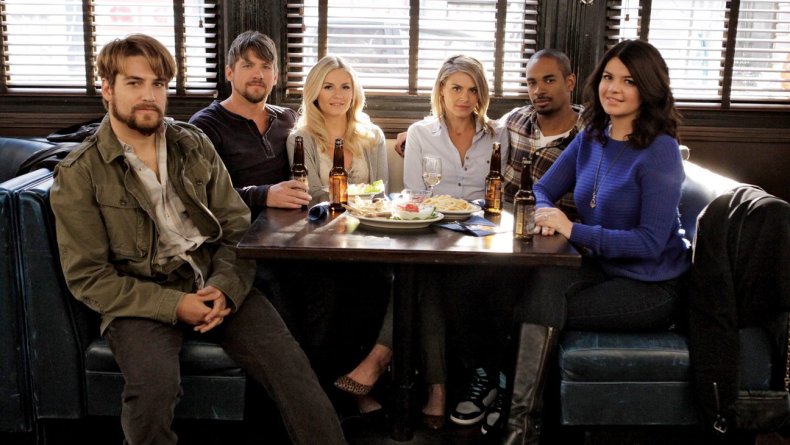 So far, no official announcement has been made about the show's future past the 2020 reunion.
In 2019, Knighton said of the discussions around a reboot: "There were some rumors and it was news to me, but I think Sony reached out... I know everybody who was on Happy Endings wants to go back and do something, so we'll see."
There is, however, a crucial obstacle in the way—some of the cast members have busier schedules than others, which might make it impossible to film another network sitcom. Wilson, for example, is part of the cast of Showtime's Black Monday, while Knighton stars on CBS's Magnum, P.I.
Referring to his commitment to that show, Knighton said: "Everybody's on shows right now and everybody's kind of contractually obligated to other places, other networks, but we'd love to do the show."
In a Q&A after the Zoom reboot, Happy Endings creator David Caspe said: "Everybody is sort of in a different place as far as getting everybody together, making it work business-wise for all these different companies. I know we're all willing and want to do it. I know it'd be fun. Yeah, we want to do it, man. Anyone out there? I think we all want to do it."
However, plans for Season 4 have fallen through at least once. Coupe told Us Weekly: "There was going to be one. That's the truth. You thought there was going to be one, we all really thought there was going to be one and then there's not going to be one... It's pretty funny actually, when we thought we were coming back, it was some of the funniest text threads I've ever read."
Happy Endings Seasons 1 to 3 are streaming now on Netflix.